'The Orville': EP David A. Goodman Talks Season 2, Season 3 and More
With The Orville's second season wrapped up and awaiting a third season, executive producer David A. Goodman opened up on a wide range of topics – ranging from his Star Trek background and what is adapted into The Orville to his thoughts on the show's future. Goodman's relationship with series creator and star Seth MacFarlane spans over 14 years with animated comedy Family Guy – which Goodman also serves as executive producer.
In an interview with to TrekMovie, Goodman examined how the show progressed from the first to the second season:
"We had a couple of goals at the beginning of the year. Seth [MacFarlane] really felt strongly – and we all agreed – that even though Seth's brand is comedy, people who tuned in to this show were okay with this show being serious. There were obviously light character moments throughout, but we definitely went away from the harder-edged humor. There are always comedic elements of humor in our show. There is always strong character comedy in the show and how people relate. But now, we really felt that this show lives in the space of doing serious drama and serious issues with this light touch in it, but that we don't need to lean into the comedy as heavily as we might have earlier in the first season.

The other big takeaway after the first season was that we set up this universe, it is our own universe, and people like to play in that universe. People like to have continuity from one episode to the next and build out our alien species. So, for instance, we went back to the Moclans a couple of times this season and really explored stuff that we started early in season one. And we got to see our Union Council chamber and our Union president and built out the admirals. We had these great guest star admirals: Ted Danson, Ron Canada, Kelly Hu, and of course Victor Garber, who has been our central admiral. This season really filled in the details of our universe.

And then it was really getting into nuts and bolts of where our characters really lived. So, Ed and Kelly and making sure we kept that central dynamic fresh and alive and fun and interesting. So, we have Kelly with a boyfriend and Ed dating younger Kelly. That was what I think fans and what we as writers really enjoy about these characters. We also felt like Gordon needed more screen time this year. We really didn't give him his own episode last year, so Scott [Grimes] got two really big episodes and he is a terrific actor and that character is so much fun. And I think the Claire/Isaac relationship was something we started talking about at the beginning of the season and we wanted it to play out the way it did and we were so happy getting to watch Mark Jackson and Penny [Johnson] act with each other, and her boys, who are both such terrific child actors. In all of that way, we are filling in the details of our universe both in a broad sense and in a small sense."
Goodman also addressed what goes into finding that perfect balance between stand-alone and serialized episodes:
"Yeah, that is the balance we are trying to strike. Like even with the Kaylon two-parter, those could have been your first two episodes and everything established in there. That two-parter works for people who have never seen the show before and for those who are fans. There is stuff in there for both. That is the balance we as writers take very seriously.

We feel like you could start watching this show with any episode. You don't have to go back to the beginning. If you do, you will see stuff in there as you watch all the way through. But if you just turned on an episode, our goal is to make sure people who are new aren't confused. And that is a more traditional way to do a show and it works for us.
But it raises an interesting point. Are there going to be repercussions for what Isaac did? We didn't do any repercussions in season two, so that is a question for season three."
Goodman also addressed the comparisons between The Orville and Star Trek: The Next Generation (ST:TNG) – whose characters are more refined to their environment by comparison:
"I think our characters are more flawed than the Next Generation characters. We embrace that society has become much better, but people haven't necessarily. They are still jealous; they still get pissed off. One of my favorite scenes is in the season premiere where Ed steals a shuttle and spies on Kelly with her new boyfriend, which was Seth's idea. To me, that is great. This captain on this ship borrowing a shuttlecraft to spy on his ex-wife while she is making out with her boyfriend. That is not something you would ever see Captain Picard do. [laughs]

And, we are really seeing Moclans being part of the Union causes difficulties for us and raises a lot of interesting issues this season especially which is really cool. With this Moclan society, we are criticizing it. It is flawed and has some parallels to contemporary issues. So, I think the flaws in the characters really separate us out and that gives us our humor too. Gordon is a hugely talented helmsman, but he is a goof-off. Alara in season one is this strong girl who is sort of lovelorn and had this weird relationship with her family we see in season two. And we have bigotry, like Klyden in season two. And Klyden's difficulties with his relationship with Bortus is not something we saw in Next Gen. It is the flaws in our characters that separates us."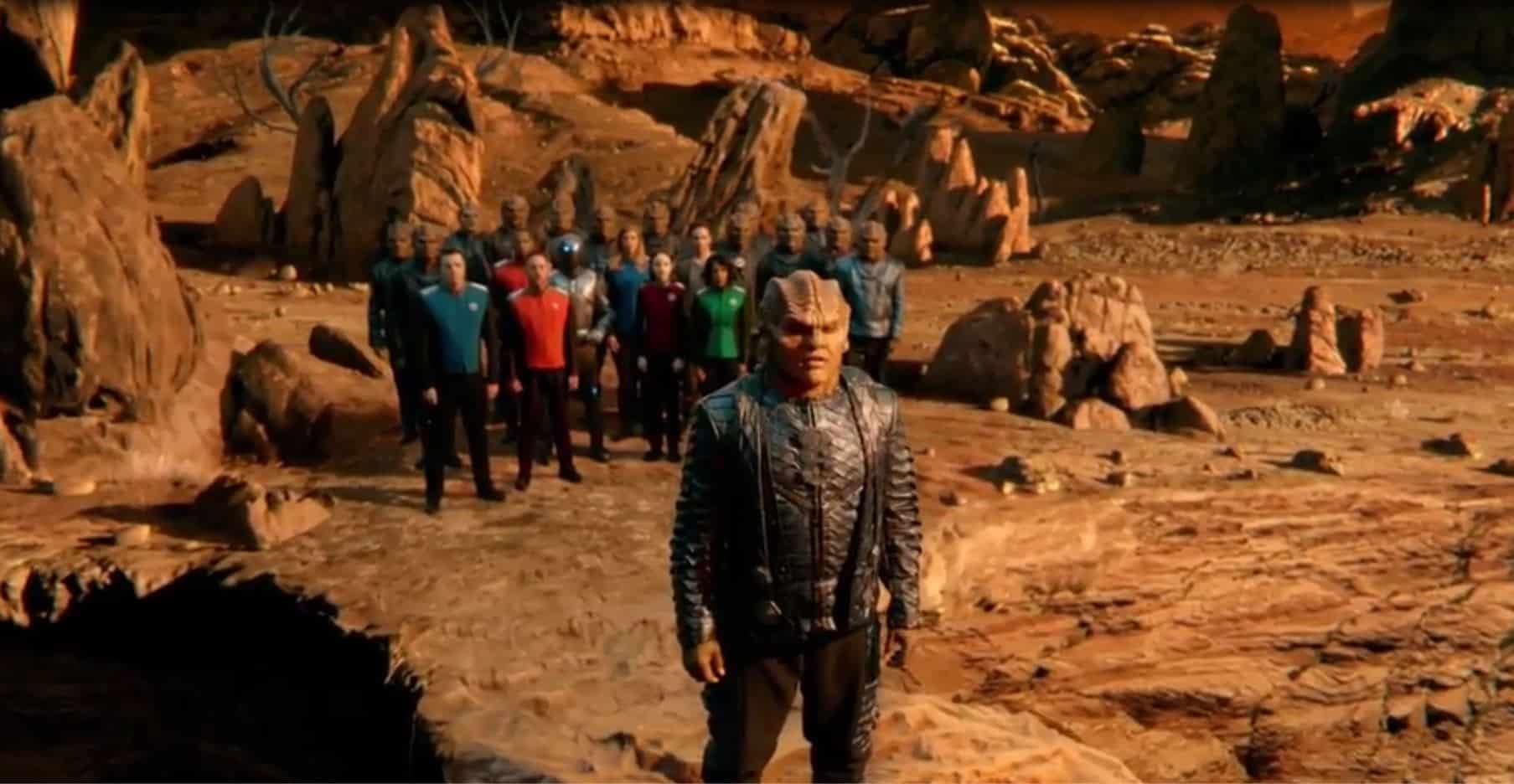 When it came to it's Mercer's destiny to become a captain following the events of "The Road Not Taken," Goodman said that despite all his flaws, Mercer came to the position in the traditional sense:
"That is up to the audience to decide. We have shown Ed to be a really good captain. He is flawed, but he is a really good captain. What is destiny? If you say he is only a captain because of Kelly, then was it destiny that he ends up with Kelly so she helps him fulfill his destiny to become captain? When does somebody get to be their fullest in a job and in their life? Usually, they are not doing it alone. They are doing it with the support of friends and family and colleagues.

That might be more of our point, that this is a real family and this is Ed's family. And even in this alternative timeline, we showed Ed with an enormous amount of capability escaping from the Kaylon from the beginning. He has survived the Kaylon takeover of the galaxy, which says something about him as well. There are lots of things that tell us that Ed is a hero in the true sense. He is flawed, but he is a captain in the greatest tradition. But we are also maybe emphasizing the family aspect."
Goodman said discussions for a third season are ongoing, but he's optimistic – and that he doesn't believe the format of the show will change.