'The Orville' Season 2 Finale "The Road Not Taken": A Quantum Leap of Faith [SPOILER REVIEW]
The season two finale of FOX's The Orville "The Road Not Taken" shows how one fateful decision can change the fate of everyone.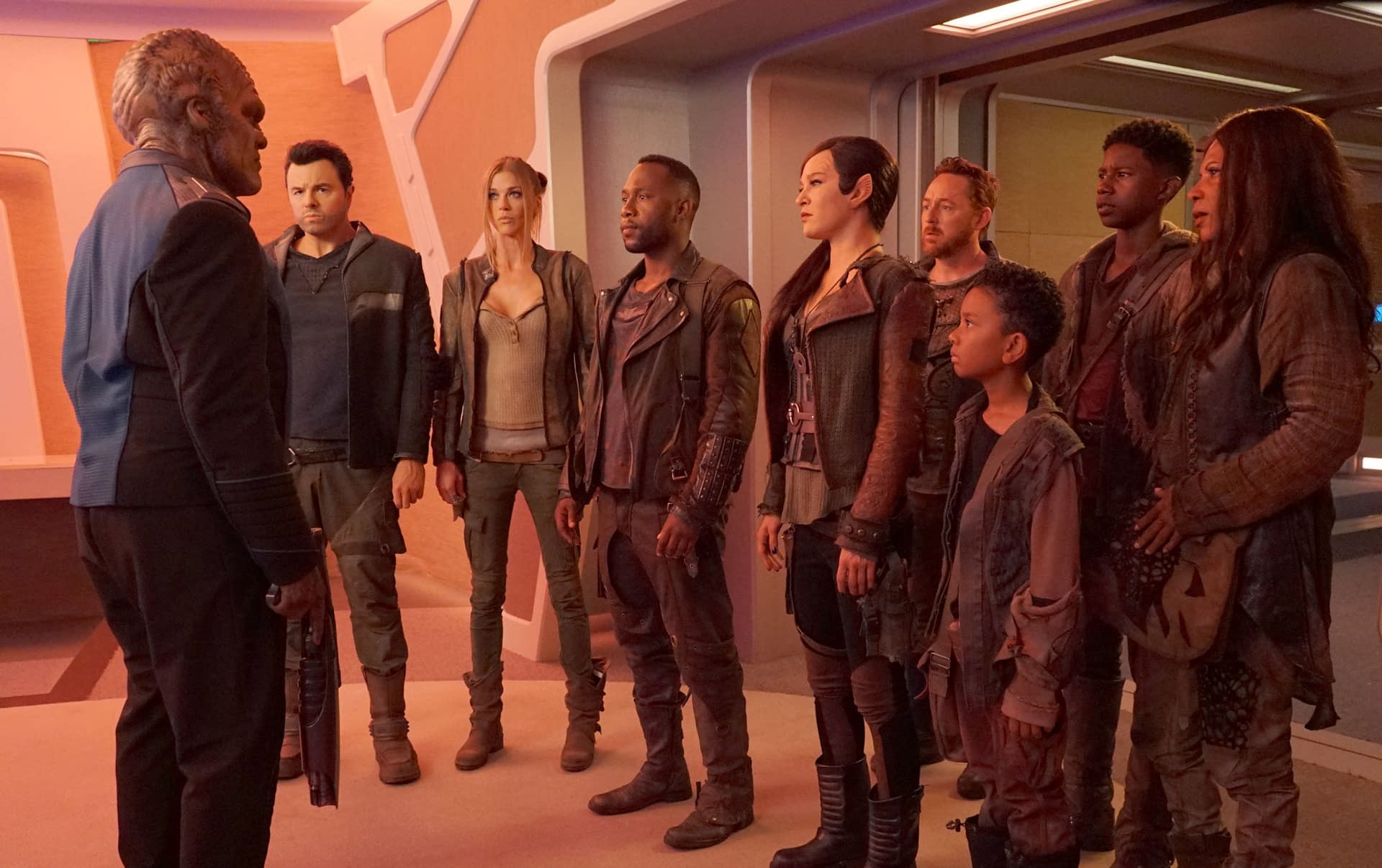 Following previous episode "Tomorrow, and Tomorrow, and Tomorrow", when a memory wipe of the Kelly Greyson (Adrienne Palicki) from seven years ago didn't take: she changed her mind from going on a second date with Ed Mercer (Seth MacFarlane). In turning him down, Ed never becomes captain of the Orville and subsequently, the Kaylon invasion in this timeline succeeded.
The episode began with Ed and Gordon Malloy (Scott Grimes) going to a Union outpost to smuggle a food synthesizer to their shuttle. Without the context of the previous episode, the audience might not be fully aware why both resorted to scavenging and that it was an alternate timeline.
After escaping Kaylon pursuit with some crafty piloting from Gordon, a freighter uses a tractor beam to snare the shuttle and Kelly greets the two with most of the senior officers she met during the primary timeline – except for Bortus (Peter Macon) and Isaac.(Mark Jackson). She discusses the plan to restore the timeline.
Confusing timelines aside, why does Kelly wait seven years to assemble the crew from her memories? How is it that all of them survived this long? Guess for the purposes of plot and getting everyone involved – including a surprising cameo from Halston Sage as Alara, who leads a resistance camp – we should put those questions aside.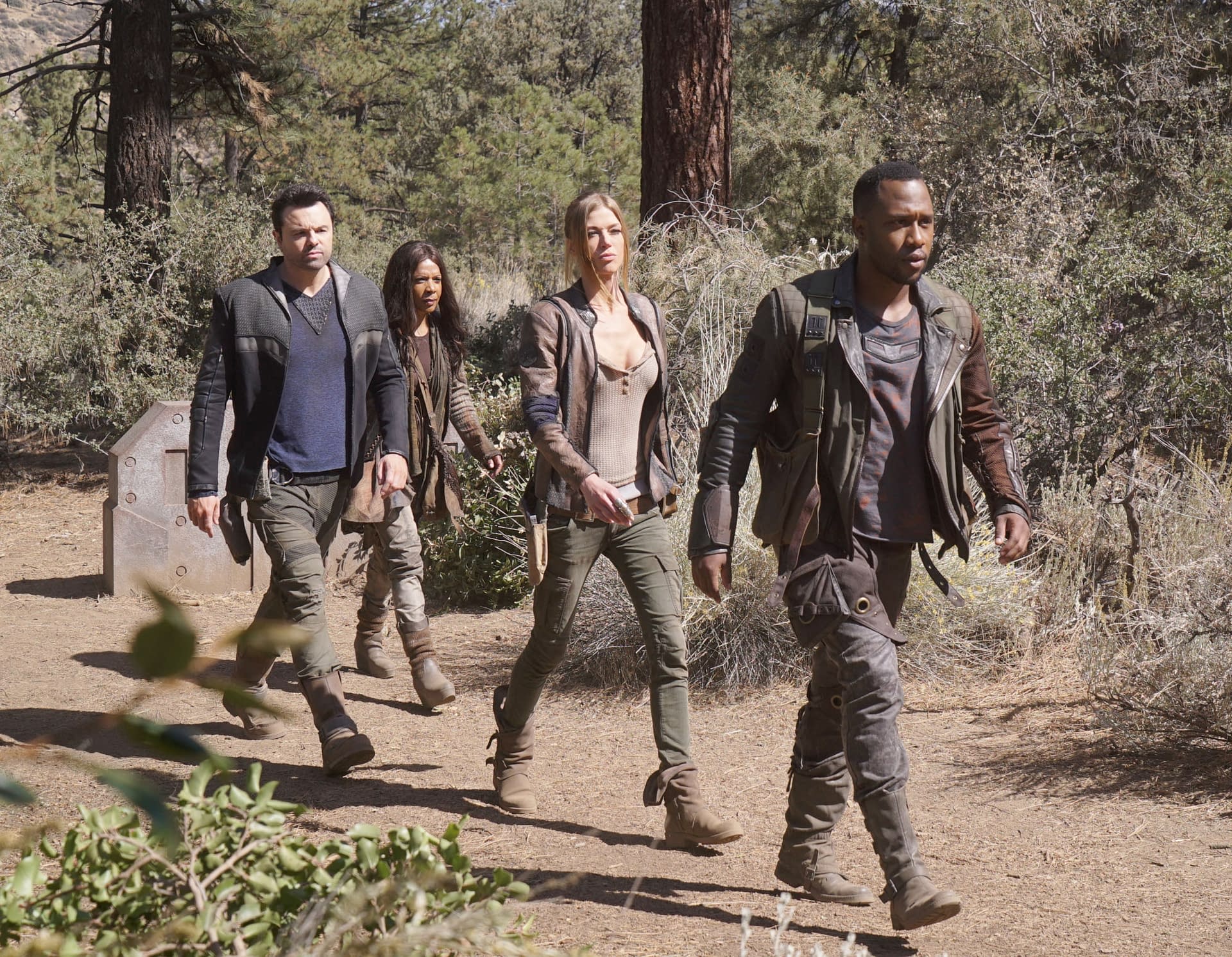 In trying to work Kelly's plans, John Lemarr (J Lee) does most of the legwork of the episode – restoring the Orville to operating conditions and providing enough power for the time machine to send Dr. Clair Finn (Penny Johnson Jersald) back to implement the missing catalyst for younger Kelly's memory wipe to take.
The season two finale emphasizes the importance of how experience defines characters. We are the sum of our parts and Palicki played Kelly with a lot of humility and restraint given that it was her decision that changed everyone's future. MacFarlane could have played this a number of ways and was careful not to go over the top with the "I told you so" approach.
Directed by Gary Rake (who also directed the previous episode) and written by MacFarlane and David A. Goodman, the pacing was consistent and nothing felt out of place like a traditional Star Trek episode. While it's hard to top the two-part "Identity," the season finale more definitively explored Ed and Kelly's relationship beyond the one-sided regrets from Ed. The season's conclusion marks a satisfying end for the show's sophomore season, and positioned The Orville for a strong future.
What were your favorite moments from season two? Let us know in the Comments section below…
---
---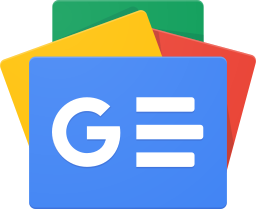 Stay up-to-date and support the site by following Bleeding Cool on Google News today!