'The Orville': Season 2 Premiere "Ja'loja" is a Rare Signature Episode
Going into the season two premiere, there was an uncertainty how The Orville could top its first season, and it provided a wonderful serving of why – its heart. In a sea of science fiction tropes of continual one-upmanship, we often look for each next big crisis or threat the crew of the Orville will face, but the show delivers with an unexpectedly introspective storyline focusing on character's own insecurities.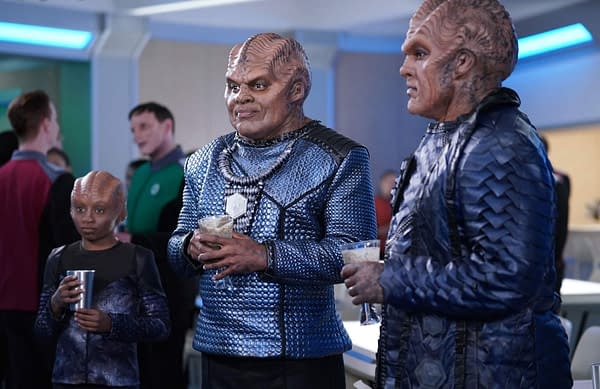 While the start of the show was hardly a crisis as the crew of the Orville are diverted to an emergency where Bortus (Peter Macon has to head to his home planet for his annual excretory ceremony, Ja'loja
The episode involves multiple arcs. First, Ed (Seth MacFarlane) in a moment of self loathing talking to bartender Olix (Jason Alexander). It turns out the captain still can't get over his unresolved feelings for his first officer, his ex-wife, Kelly Greyson (Adrianne Palicki).
Second, Gordon Malloy (Scott Grimes) is infatuated with a new science officer (Alicia Leigh Willis), but struggles to engage socially when he's used to reacting. With the help of his best friend, John LaMarr (J Lee), he hopes to build his confidence.
Third, Alara Kitan (Halston Sage) remains overcritical of herself and her past relationships as she finds difficulty finding someone to invite to accompany her to Bortus' ceremony.
Finally, we see Dr. Claire Finn (Penny Johnson Jerald) continually having difficulty communicating with her son, Marcus (BJ Tanner) as he is acting out with a new friend at school. Isaac (Mark Jackson) is fortunately there to stay at her side as a voice of reason.
While we don't see clear resolutions with these arcs in the episode, we do see a natural progression of the ongoing struggles that the crew faces, likely setting the groundwork for ongoing plot threads later in the season. It's been a prominent theme throughout the show: the characters' attempts to be ready for all these different scenarios as trained members of the ship. What connects the audience to the characters is that while they're working within a futuristic setting on a spaceship flying across the galaxy, their personal struggles are ones that we can relate to.
It's the outside-the-box thinking that makes The Orville a success. Written by MacFarlane, it's the anti-season premiere, because when you expect a strong start, you get a reminder of what makes the show special. By no means is the episode perfect with the sitcom overtones and overacting, but it is the rare opportunity that reminds the viewer that you can appreciate the risks the show is willing to take.
The Orville airs regularly Thursday evenings at 9 p.m.