ABC's The Rookie used the last twenty-four hours to put their fans through an emotional rollercoaster. At about 3 p.m. EDT Sunday afternoon, the show's official Twitter account posted a countdown clock promising a "big announcement" on Monday afternoon. The countdown – which featured Nathan Fillion's floating head – told fans to expect big news at about the same time the following day, Monday. Here is the now-deleted countdown image:
Fans stalked The Rookie's Twitter account, and Bleeding Cool fed rampant speculation. Finally, the appointed time arrived and the announcement was made:
Well these two look familiar! Seamus Dever and Jon Huertas meet up with their good friend Nathan Fillion on #therookie! #CastFromThePast pic.twitter.com/SsPUACOfOi

— The Rookie (@therookie) September 16, 2019
Yes, ladies and gentlemen… you are reading that correctly. Please take a moment to compose yourselves as needed.
Seamus Dever and Jon Huertas will be guest-starring on an episode of The Rookie this season. The duo previously co-starred with Fillion on Castle as buddies Ryan and Esposito, respectively. If you didn't watch Castle, you might recognize Huertas as Miguel Rivas from NBC's This Is Us. It was nice of NBC to loan Huertas to ABC for the episode.
The folks at The Rookie have not yet announced any plot details surrounding Dever and Huertas' guest appearance – but after this much hype? It better be a damn good story. Shows don't usually conduct a 24 hour countdown only to announce guest stars that everyone – including me – had to look up on IMDB.
There has to be something more to this. Right? Right?
Fans will just have to wait and see. The actors will appear on the show as part of ABC's network wide #CastFromThePast event. During the week of October 7, episodes of primetime ABC shows will reunite their current stars with former costars. The stunt will involve high profile guest star reunions on numerous shows. Fans will get to see stars such as Dan Aykroyd, Kirstie Alley, Rhea Perlman, and Ken Jeong pop up on some of their favorite shows. Deadline Hollywood has a complete list of #CastFromThePast guest stars.
ABC's The Rookie Season 2 premiers Sunday, Septembet 29, at 10 p.m.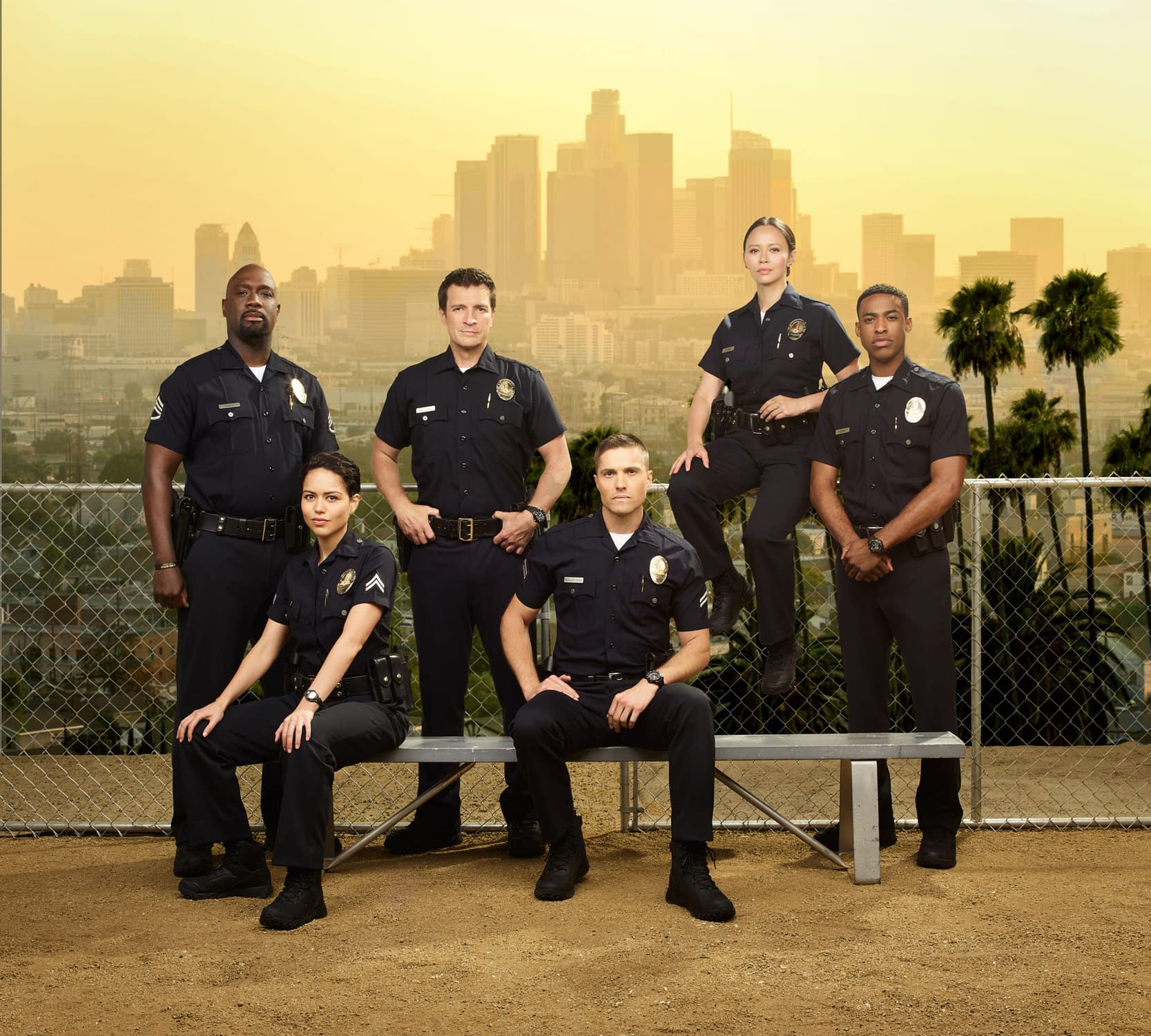 Six months into his career as a cop, John Nolan, the oldest rookie in the LAPD, has used his life experience, determination and sense of humor to keep up with rookies 20 years his junior. But as he embarks on the second half of his rookie year, Nolan will be put to the test by a host of new challenges, romantic relationships and deadly criminals, as he looks to figure out what kind of cop he ultimately wants to be.

The Rookie season 2, episode 1 "Impact: Danger is ever-present as the officers of the Mid-Wilshire precinct grapple with the aftermath of a plotted attack on the city of Los Angeles, leaving Officer Bradford fighting for his life in the season two premiere. Flash forward two weeks and the rookies receive the shocking results of their latest training exam, leaving one officer questioning what the future holds. Meanwhile, tension develops at home as Nolan and Lopez advance in their relationships with Jessica and Wesley. Written by Alexi Hawley and directed by Mike Goi.
Enjoyed this article? Share it!