Netflix is set to release The Society, a 10-episode suspense series in the vein of Lord of the Flies. In The Society, a group of teenagers wakes up to realize that they're completely alone, without any sort of adult supervision. Things go poorly, quickly.
Here's the brand new trailer for The Society, which will debut in its entirety on May 10th:
https://youtu.be/UJzU-b5EU9c
The Society stars Rachel Keller (Legion), Kathryn Newton (Paranormal Activity 4), Alex Fitzalan , Kristine Froseth (Sierra Burgess is a Loser), Jacques Colimon, Sean Berdy, Toby Wallace, Grace Victoria Cox, Alex MacNicoll, Natasha Liu Bordizzo (Crouching Tiger, Hidden Dragon: Sword of Destiny), Jose Julian, Salena Qureshi, Jack Mulhern and Olivia DeJonge (The Visit).
The Society was created by Christopher Keyser (Party of Five), who will be an executive producer and writer on the series. The series will be directed by Marc Webb, who previously directed 500 Days of Summer and the Andrew Garfield Spider-Man movies.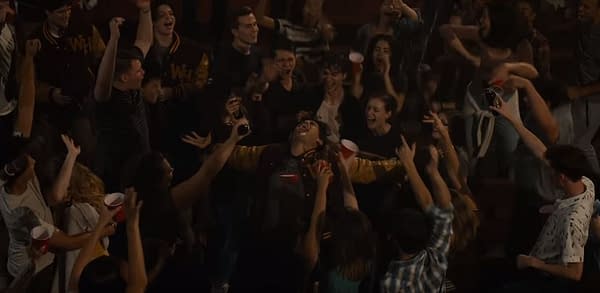 The Society began production during the summer of 2018, and will tell the story of a group of wealthy teenaged kids who are transported to a copy of their upscale New England community, with no contact with the outside world whatsoever.
The group has to decide how best to get along with each other, and how to band together to survive. Alliances are formed, loyalties are tested, and I bet you dollars to donuts there's going to be some rash decision making going on.
Rachel Keller plays Cassandra, a young woman who takes charge of the group and tries to maintain a sense of order and discipline. Kathryn Newton will be playing Cassandra's younger sister, Allie, who inspires Cassandra to take charge.
Alex Fitzalan plays Harry, Cassandra's handsome-yet-unremarkable rival in the new community.
Keyser certainly knows how to write drama, with Party of Five bringing him an Emmy award in 1996. We'll keep you updated on The Society as we learn more!
Enjoyed this article? Share it!