The Walking Dead: Kirkman, Alpert Offer Rick Grimes Films Update
At Saturday's Skybound Xpo panel "Skybound: Past, Present & Future," Robert Kirkman and David Alpert were asked for a production update on the upcoming Walking Dead/Rick Grimes films. Just like dozens of other television and film productions across the pop culture landscape, the films were impacted by production being shut down over growing COVID-19 pandemic concerns. That said, Alpert stated that they "we're coming along in a big way" with the work they've been able to accomplish via social distancing. Kirkman sees a silver lining to the shutdown in that it gives the team more time to "cook" the film until it's just right, promising that fans will "hear a ton more about this movie" once a production timeline is in place. From the way Alpert describes what he knows of the film so far, the wait will be more than worth it: "We have something exciting, unique, and different."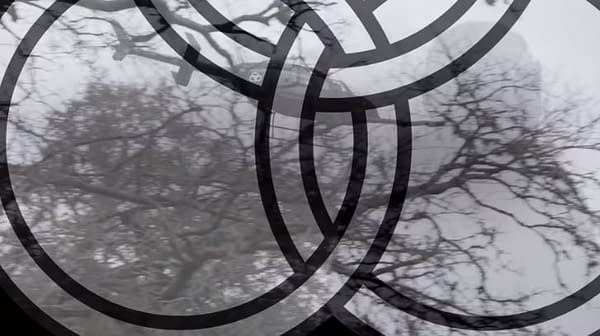 Fans of AMC's The Walking Dead have witnessed the shadow of the Civic Republic Military (CRM) grow across the entire Walking Dead landscape, and not in ways that painted them in positive lights. In the original series, they were the source of the mysterious black helicopters that ended up taking Rick (Andrew Lincoln) away after everyone else thought he died in that bridge explosion. Over on the Fear the Walking Dead side of the universe, Maggie (Maggie Grace) spent an episode with CRM robo-soldier Isabelle (Sydney Lemon) and found out that CRM might be more than just a military unit. Think more cult-like in their mission, and they do not tolerate mistakes or lateness.
Which brings us to spinoff The Walking Dead: World Beyond, where Alexa Mansour's Hope, Aliyah Royale's Iris, Hal Cumpston's Silas, and Nicolas Cantu's Elton have only known life under CRM control. When a personal mission combines with a need to see what's left of the rest of the world, our heroes will find themselves fighting for their freedom on two fronts. Clearly, the connections are there but viewers are still scratching their heads over exactly what CRM is, how they came about, and what their long-term plans are. In the clip above, we see the strings from all three series being tied together: from Rick's departure to Isabelle's warning to Elizabeth's (Julia Ormand) belief that her CRM is "the last hope," with TWD: World Beyond appearing to be the main series for CRM intel.