Two of my absolute favorite characters on Into the Badlands are about to face off against each other in "The Boar and the Butterfly", which airs this Monday, April 1st on AMC.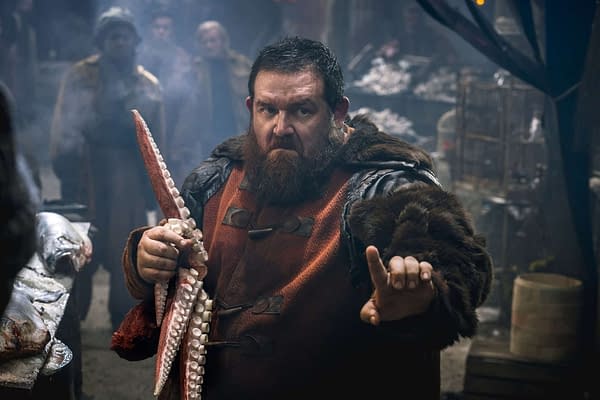 Nick Frost is no stranger to physical roles, with career defining turns in Shaun of the Dead, Hot Fuzz, and The World's End. So, when I heard that he was going to be a regular on Into the Badlands, I was pretty excited. And then I saw Frost in action, and now I can't shut up about it.
Bājiè, by the way, means "Eight Precepts", and is supposed to be a reminder to avoid killing, stealing, sex, lying, indulging in alcohol, eating too much, sleeping too much, and indulging in entertainment like singing and dancing. These are all things Bajie really loves to do…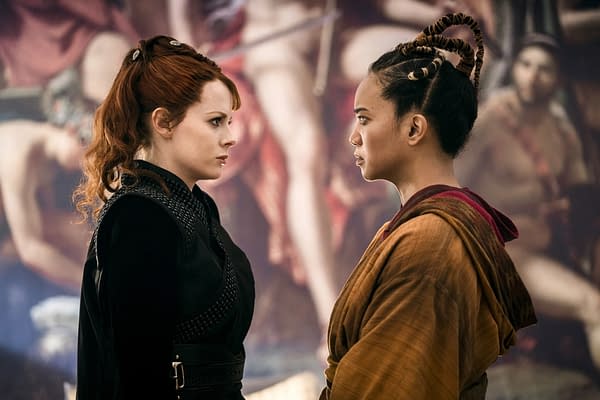 We know that Bajie and the Widow (Emily Beecham) have a history, and it looks like they need to work out some long-simmering resentments before they can team up to fight against Pilgrim (Babou Ceesay) and his army of super-powered Harbringers!
You haven't seen big-man martial arts like this since Sammo Hung's heyday! Check out our exclusive clip from "The Boar and the Butterfly":
Excuse me, I need to catch my breath for a moment!
It would be so easy to make Bajie look like a clown here, especially with someone as athletic as Emily Beecham fighting against him. But Bajie looks absolutely formidable, and I love how often you can tell Beecham and Frost are doing their own stunt work!
Into the Badlands is wrapping up its final season of martial arts mastery on AMC, and you can catch old episodes on Netflix right freaking now. It's amazing fun.

From AMC Studios, Into the Badlands was created by executive producers, showrunners and writers Alfred Gough and Miles Millar (Smallville) and is executive produced by Oscar(R)-nominated producers Stacey Sher (Django Unchained) and Michael Shamberg (Contagion), along with David Dobkin (The Judge), Stephen Fung (Tai Chi Zero), Michael Taylor (TURN: Washington's Spies) and Wu.
Enjoyed this article? Share it!