'This Is Us' Season 3, Episode 16 "Don't Take My Sunshine Away": Time for Change [PREVIEW]
In the interest of full disclosure, the person putting together this preview for the next episode of NBC's This Is Us isn't someone who actually watches the show – Bleeding Cool's own Tiffany Tchobanian is our resident expert when it comes to the hugely popular drama. While I know this might sound like a cheap plug and blatant self-promotion for BC, I've actually become interested in the series through her reviews (like her recent review of "The Waiting Room," which you can read here).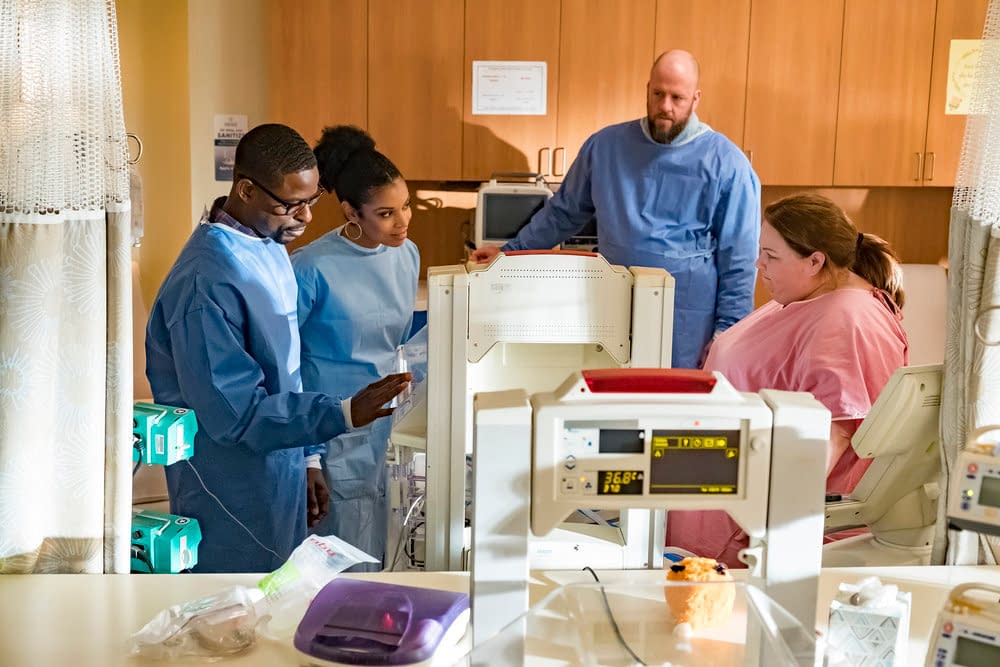 So with that said, I'm really not feeling good about the title of this week's episode – obviously for the baby but also for some of the relationships that are hurting in a number of ways. Here's a look at "Don't Take My Sunshine Away":
https://www.youtube.com/watch?v=HoqqrsiDnk4
This Is Us s03e16 "Don't Take My Sunshine Away": Beth and Randall adjust to their new normal. Kate and Toby spend time with baby Jack. Zoe and Kevin work on their relationship.
If that's not enough to pluck the heartstrings, here's a look at the official images for this week:
Everyone has a family. And every family has a story. "This Is Us" chronicles the Pearson family across the decades: from Jack (Milo Ventimiglia) and Rebecca (Mandy Moore) as young parents in the 1980s to their 37-year-old kids Kevin (Justin Hartley), Kate (Chrissy Metz) and Randall (Sterling K. Brown) searching for love and fulfillment in the present day. This grounded, life-affirming dramedy reveals how the tiniest events in our lives impact who we become, and how the connections we share with each other can transcend time, distance and even death. From the writer and directors of "Crazy, Stupid, Love." comes a smart, modern show that will welcome you into a family you feel you've known for years.

"This Is Us" also stars Chrissy Metz, Justin Hartley, Chris Sullivan, Susan Kelechi Watson and Ron Cephas Jones.
Dan Fogelman, Isaac Aptaker, Elizabeth Berger, John Requa, Glenn Ficarra, Ken Olin, Charlie Gogolak, and Jess Rosenthal serve as executive producers.
This Is Us is produced by 20th Century Fox Television, and airs Tuesday nights on NBC.