Titans: Curran Walters, Joshua Orpin & Jay Lycurgo React to Series End
Titans stars Curran Walters, Joshua Orpin, and Jay Lycurgo shared their reactions to HBO Max ending the series after four seasons.
---
On Wednesday night, news hit that fans of HBO Max's Doom Patrol and Titans had been fearing. The Warner Bros. Discovery-owned streaming service confirmed that both series would end with their respective midseason Season 4 returns (a decision confirmed to have been made prior to James Gunn & Peter Safran taking leadership of DC Studios). As the fans continue to take to social media to make their feelings known, we're also starting to get some reactions from the cast, creative team, and series alums. Shortly after the news hit and reactions began coming in, Curran Walters (Jason Todd/Red Hood), Joshua Orpin (Conner Kent/Superboy),& Jay Lycurgo (Tim Drake) took to Instagram and Twitter to share their initial feelings- here's a look: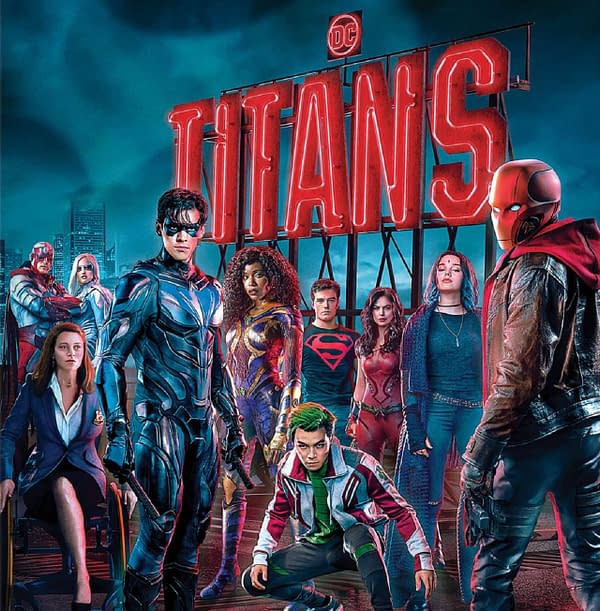 "As TITANS comes to an end.. thank you to everyone. Your support has meant the world to me. As the emotions sink in, I will forever be grateful for this journey. JASON TODD OUT," Walters wrote in an Instagram post that included a look back at his time on the series, followed by his Twitter reactions:
"When you're an actor, you take what's on offer. Characters come and go. It's all part of the gig, and you've got bills to pay… But every once in a while, a role comes along that's so enthralling, so fascinating, so alien, and yet human that you're compelled to give a little more of yourself. You're driven to connect a little deeper, to access parts of yourself you may not have even known were there. You pour your heart and soul into the work, so much so that to say goodbye to such a character would be like severing a part of yourself. In these cases, saying goodbye is tough. This is one of those," Orpin began the caption to his Instagram post, which included some personal looks at his run on the streaming series.
Orpin continued, "What a ride! There are no words that can truly express what it's meant to me to have been given this colossal opportunity, [and] to have been entrusted with the immense responsibility of playing this part. I suppose these will have to do. For me, this was a once-in-a-lifetime thing, a dream role. I'm incredibly grateful – believe me when I tell you, I've savoured every single moment. Thank you to the dedicated producers, writers, and directors, who took these legendary characters from the pages of Teen Titans and built this show from the ground up. To my fellow cast and the world-class team of hard-working crew members who made every day of working on this show an absolute joy."
"Most of all, thank you, guys. The fans of the show who've stuck with us over the years, and especially those of you who've personally shown me such astonishing love and support from the moment I was cast. It means the world," the actor wrapped with. "But it ain't over yet! Season 4, Part 2 is still to come! I'm so proud of what we've accomplished this season, particularly the way we ended it. We got to go out on our own terms and left nothing in the tank. This season's conclusion was for the fans. I can't wait for you all to see it. So… Farewell, Superboy. You'll always have a place in my heart."
But for Lycurgo, the goodbyes are are being saved until after the journey is finished…
"I'm immensely proud of our gifted cast, crew, and writing staff and their efforts in bringing to life all forty-nine episodes over the last five-plus years," Titans Showrunner Greg Walker said. "I couldn't have asked for better partners in Berlanti Productions, Warner Bros. Television, and HBO Max, and from the beginning, Geoff Johns and Akiva Goldsman. I'm incredibly grateful for their unyielding trust throughout this process. Lastly, I have to thank our incredible fans for their continued support, engagement, and the passionate community they've built around our show. We have six episodes left to unleash upon the world that we hope will give our beloved characters the creative closure we all know they deserve."