'The Rookie' Season 1, Episode 18: All (Not) Quiet On The "Homefront" [SPOILER REVIEW]
Two weeks after ABC's The Rookie suffered a heartbreaking loss in "Greenlight," the show is right back in its sweet spot. After letting some plot points hang fas the show recovered, this week's "Homefront" picked up right where things left off. Once again, the show is heartwarming, challenging, funny, and engaging. However, unlike previous episodes, not everyone got out unscathed and several issues will continue to haunt the officers. You have been served: Spoilers Ahead.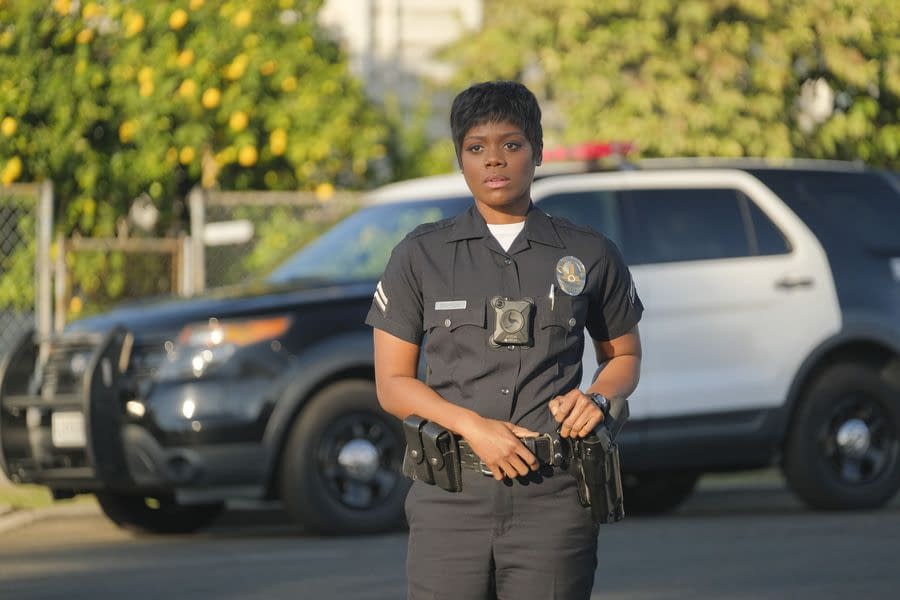 A good portion of this episode centers on Nolan's (Nathan Fillion) Training Officer Talia Bishop (Afton Williamson) and her history as a foster kid. When her former foster father is unexpectedly released from prison, Bishop worries that he will lead her foster brother Dylan (Caleb Castille) back into a life of crime. However, things get complicated when Bishop reveals that she never mentioned Dylan or his criminal history on her LAPD background check. She wants to help, but she doesn't want to lose her job.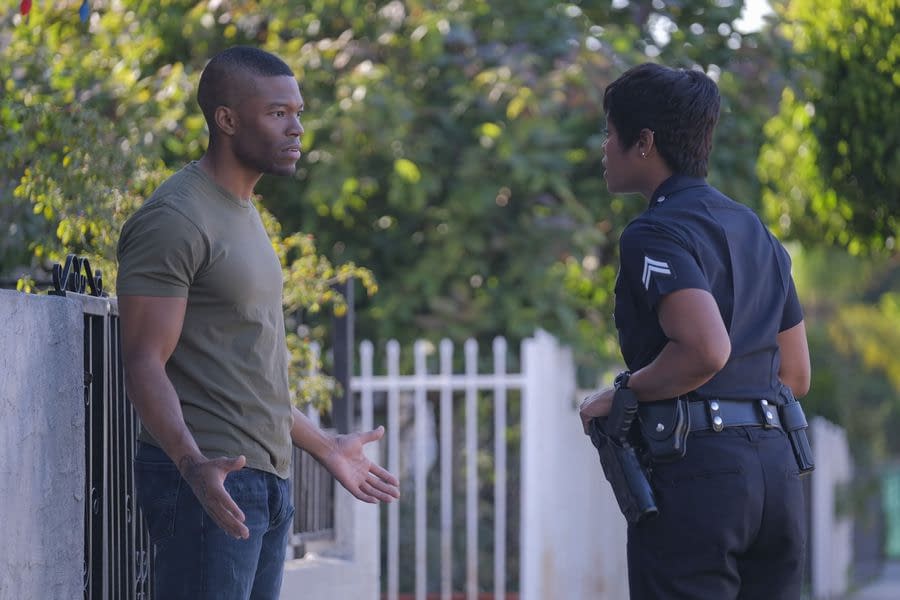 Bishop is a kickass woman and an amazing cop. She is also one of the best characters on the show. While she tends to be by the book, she is also pragmatic. Determined to make Police Chief someday, it is easy to believe she would distance herself from someone who could ruin that for her. It also makes sense that she would feel guilt for abandoning Dylan, despite her young age and lack of control over the situation. Bishop never likes to give up control, or even the illusion of control.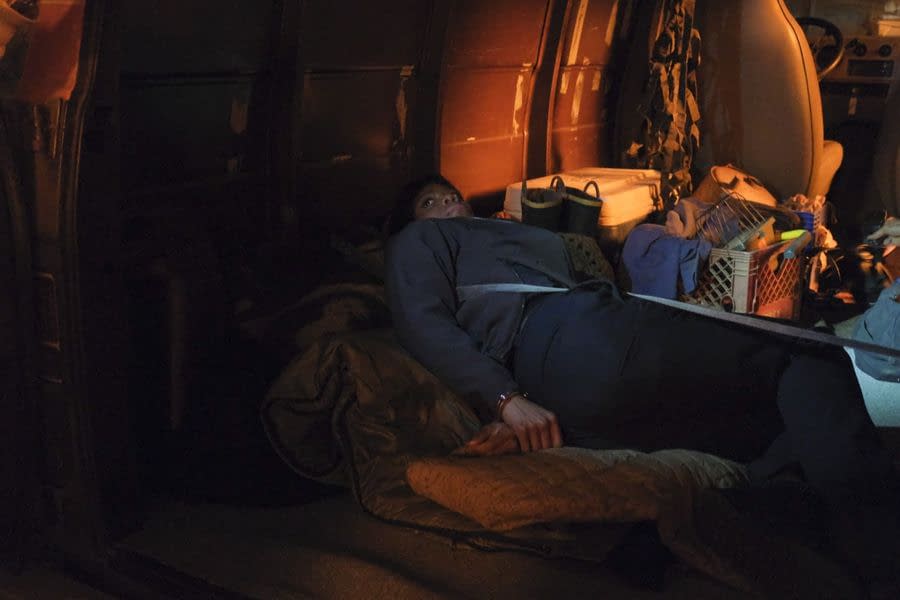 Over the course of the episode Bishop manages to lose control of almost everything. Her rookie is being sued and out of her control. She loses control of a dangerous situation and ends up handcuffed to a van. Then, Dylan is injured in a shootout and Bishop in unable to help. It is like her worst nightmare. Even her rescue by Dylan is out of her control. In the end, her arrest of Dylan and unburdening of her sins to Sergeant Grey (Richard T. Jones) are her attempts to wrest back control of the situation. Even if they end up ruining her career.
As Talia wrestles with her family demons, Nolan must wrestle with legal ones. A pedestrian who claims he was badly injured by a bump from Nolan during a foot pursuit is suing the rookie for $50,000 in damages. In a bit of dramatic irony, the union assigns Simon Parks Jr (Robbie Kay), the youngest lawyer they have, to Nolan's case. In dad mode, Nolan has a hard time seeing his lawyer as a professional and ends up making things worse for himself. While this storyline is good for a few laughs, it doesn't do much for the overall plot of the show or the arc of the season. Per usual, Nolan gets off with a wink and a nod based on his dedication to his job. It seems like a bit of a cop-out (pun intended).
If you can remember all the way back to "Manhunt," you would remember that an escaped convict told rookie West (Titus Makin Jr.) some pretty shady stories about his father, internal affairs cop Commander West (Michael Beach). Oscar Hutchinson (Matthew Glave) claims Papa West planted evidence on him to ensure a conviction for a crime Hutchinson admits he committed. Considering the fact that Commander West is in the precinct during "Homefront" in order to arrest a dirty cop who lied in court to wrongly convict someone, rookie West is having trouble taking his father seriously. Despite the fact that Papa West put a lot of time and effort into making sure his son did everything by the book, rookie West can't help but see his father as a hypocrite.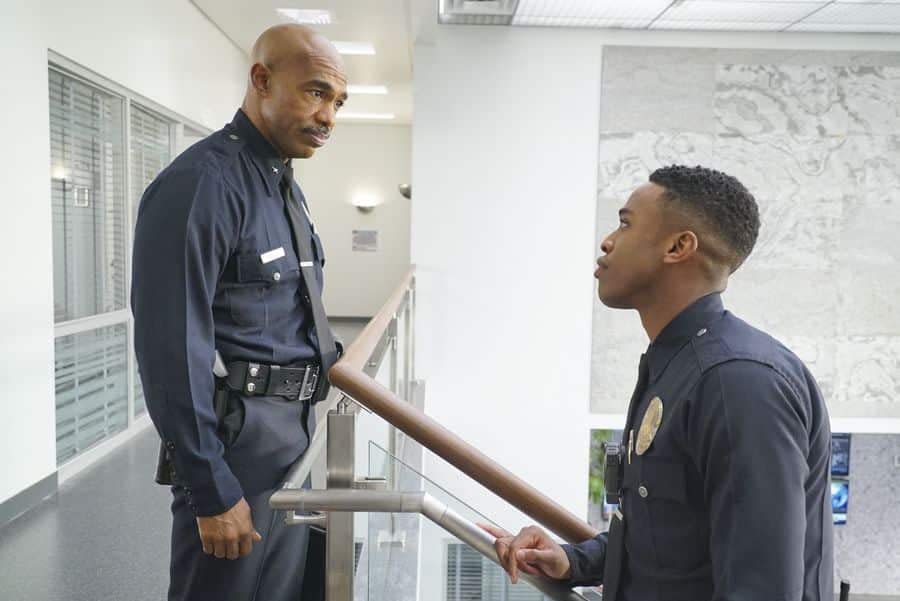 It was nice to finally see West stand up to Papa West and give the old man a dressing down. Papa West walks around like he is God's gift to police work, making it hard for anyone, especially a son, to live up to Papa West's standards. Seeing rookie West decide that Papa West's methods are not the only way to be a good cop was satisfying to witness. However, the scenes themselves were a bit…awkward and rough. Makin is less than convincing as the angry son that has lost faith in his hero, and just kind of comes off as bratty. Papa West comes off as blustery and angry. The lack of chemistry between the actors as father and son made the scene less emotional and less believable than it could have been.
The power of this episode ends up being the sum of all of its parts. West witnesses the toll a wrongful conviction takes on a prisoner, and it gives him less sympathy for his father. Lopez finally makes up with her hot defense attorney boyfriend and finds a way to see him at work. Bishop realizes that her goal of being Police Chief is less important to her than acknowledging Dylan as her brother. Nolan discovers that sometimes the "how" matters just as much as the "why" when it comes to public relations. Papa West…well, we don't really know yet if he has learned anything, but we know he is vulnerable. Finally, Sergeant Gray understands that the brass and internal affairs are searching his precinct and he might not be able to protect both himself and his people. The episode closes with (almost) everyone a little less sure of themselves than they were before.
It will be on that note that The Rookie picks up with the penultimate episode of its freshman season "The Checklist," airing Tuesday, April 9th at 10 p.m. on ABC.