"Torchwood: Sync": Big Finish "Evil" Buddy Comedy a Fun Diversion That Doesn't Disappoint [REVIEW]
Torchwood: Sync is one of those fun audio drama crossovers that asks "What if XXXX met XXXX?" Big Finish Productions has an official license from the BBC to produce audio dramas from Doctor Who and Torchwood and they're going to use it to the hilt!
An alien spaceship crashes on the outskirts of Cardiff, Wales. Margaret Blaine – the mayor of Cardiff – secretly makes her way to the ship and finds a woman already tooling around inside it. Blaine is an alien in disguise, desperate to find a way to get off the planet. The woman is not some bystander but Suzie Costello – a member of the secret organisation Torchwood.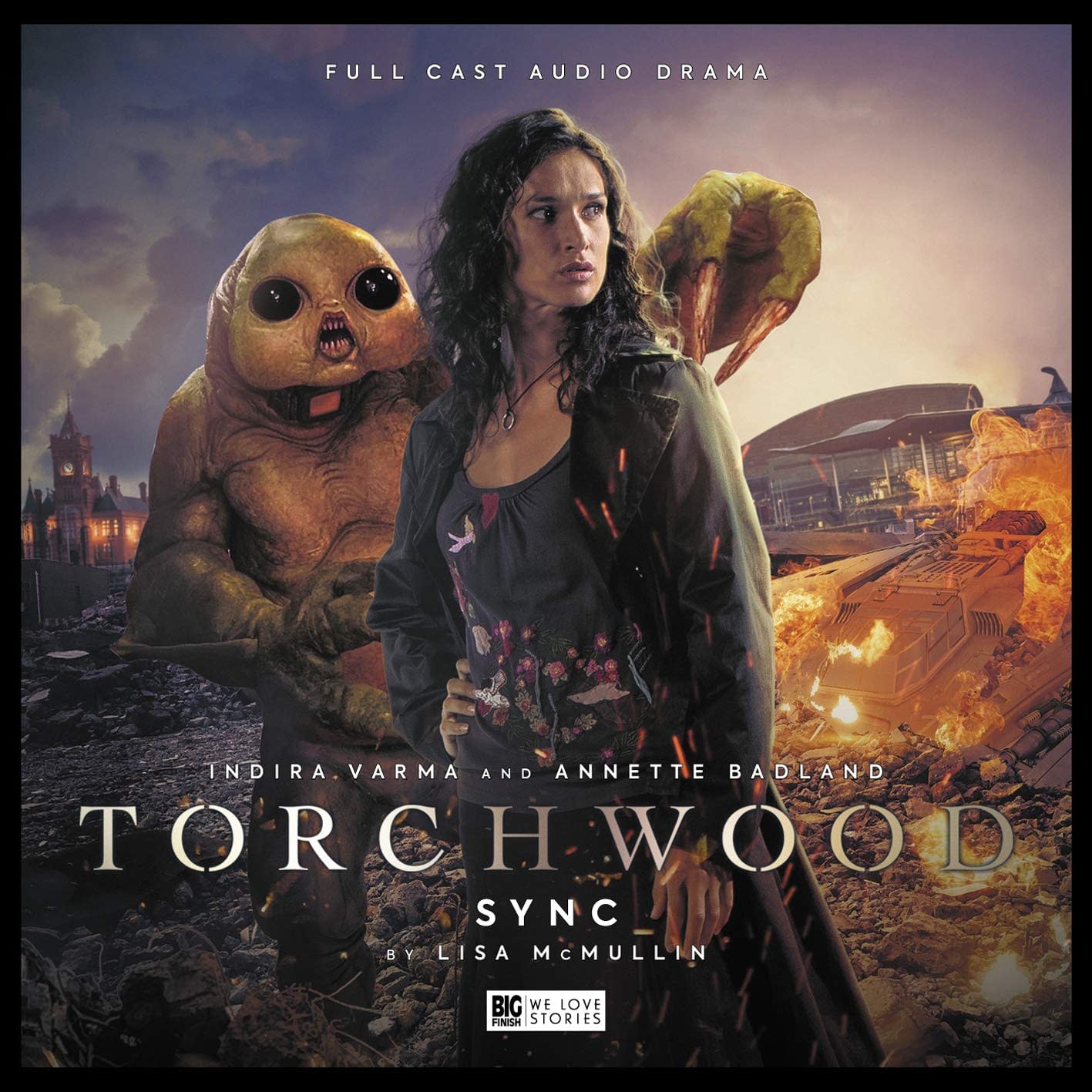 Now, Suzie is not a good person and neither is Margaret. When they get linked together by a device from the ship, they have to go on the run together. Margaret can't afford to have her true identity exposed to the police and Suzie has to keep her off-the-books mission secret from Torchwood. They have to evade the cops, Torchwood – and alien missiles heading right at them that could destroy Cardiff and half the planet.
Fun and games ensue. Two characters who would kill each other at the first chance have to depend on each other to stay alive. They have to save the Earth by default because if the Earth gets blown up… well… so do they.
When Crossover Fan Fiction Works
Suzie Costello (Indira Varma) only appeared in the pilot episode of Torchwood and one other episode. This is the second Big Finish audio drama where she's the star. Margaret Blaine (Annette Badman) appeared in the first new season of Doctor Who in 2005 – first in "Aliens of London" and then in "Boom Town" after she escaped the explosion in Westminster to hide out as the mayor of Cardiff. Varma went on to play Ellaria Sand in Game of Throneswhile Badman has been all over British theatre and television.
Fan fiction, even authorized fan fiction, can be tricky. It puts popular characters that hadn't previously met together in new stories set somewhere in the canon. Good fiction needs to tell a story to newcomers and non-fans who don't know the previous stories – another thing that can get pretty tricky, but Lisa McMullin manages to keep the comic banter going. Varma and Badman clearly have a ball playing bad guys stuck with each other.
The story may or may not be canonical. It's nonessential but provides a fun diversion that does everything fans like about them. It's gleefully tongue-in-cheek, provides some insight in the characters and gives good comfort food for the fans. A quality chapter in the ever-evolving "drama" this is Torchwood – in front of and behind the cameras,
Torchwood: Sync is available from Big Finish as a digital download or physical CD.