'True Detective' Review: "If You Have Ghosts" – Old Friends, Old Wounds (SPOILERS)
"If You Have Ghosts"–the fifth episode True Detective's third season run on HBO–starts off with a literal bang and ends with the formation of "The Old Man Detective Agency". This episode brings back more of the intensity of earlier episodes of the season and adds even more questions to the mix. There are a couple of big answers, too –so let's get out the string and thumbtacks and get to work!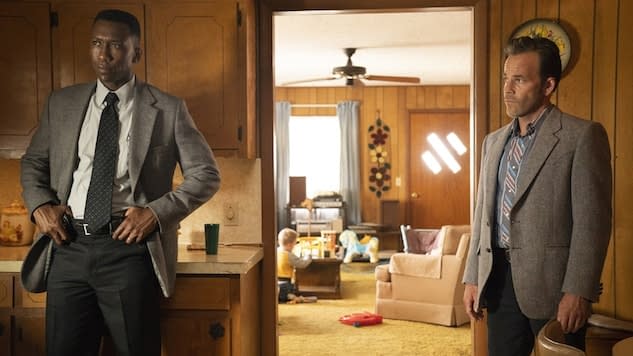 Five episodes in and we can comfortably say that Wayne Hays (Mahershala Ali) is a raging ass. Hays has few likable traits, but he's played so exceptionally well that you're pulled along for the ride. One of the opening scenes to "Ghosts" has a cornered man commit suicide by cop and the agony on Wayne's face tells you everything you need to know–this is a man that will always put the mission first, and damn anyone or anything that gets in the way.
Stephen Dorf brings so much raw, simmering power to Roland West's confrontation/reconciliation with Hays at the end of the episode that you forget that he's wearing old-age makeup. The two leads pour everything they have into the scene: a deconstruction of toxic masculinity, soured friendships, and the fragility of integrity. Hays is losing his grip on his memory, and West is holding a grudge for something in the past that Hays can't remember doing. It's an amazingly complex scene, played tough and teary-eyed by both actors.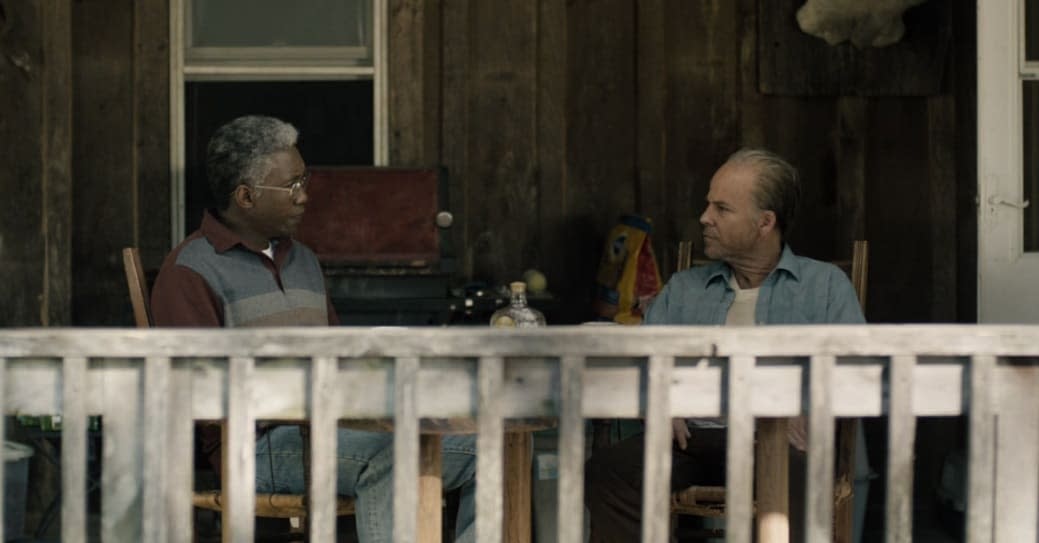 Nic Pizzolatto wrote and directed this episode, and he's definitely getting some great work from his actors. "If You Have Ghosts" also closes a few doors on the mystery of the Purcell children's abduction–and then kicks a few more wide open.
Time to dust for spoilers! We find out that Brett Woodard (Michael Greyeyes) was convicted posthumously for the murder of Will Purcell and the abduction of his little sister, Julie. Woodard had been attacked by some parents who beat him in a fit of vigilante-fueled paranoia. So when that same pack of goons tries to attack him again, he ends up taking a ton of them out in a counter-ambush at his home. Woodard had been a sniper in the Vietnam War, and his assault on his hillbilly assailants is harrowing and brief. Seeing Woodard decide that he would rather die than face that mob is gut-wrenching, and continues to build on the themes of racial tension that have been explored all season (Woodard was Native American).
Scoot McNairy is doing some tough acting as well. His portrayal of Tom Purcell's devastation over his daughter's disappearance is horrendously believable and seeing him unravel when hearing her voice on a police hotline is a punch to the gut.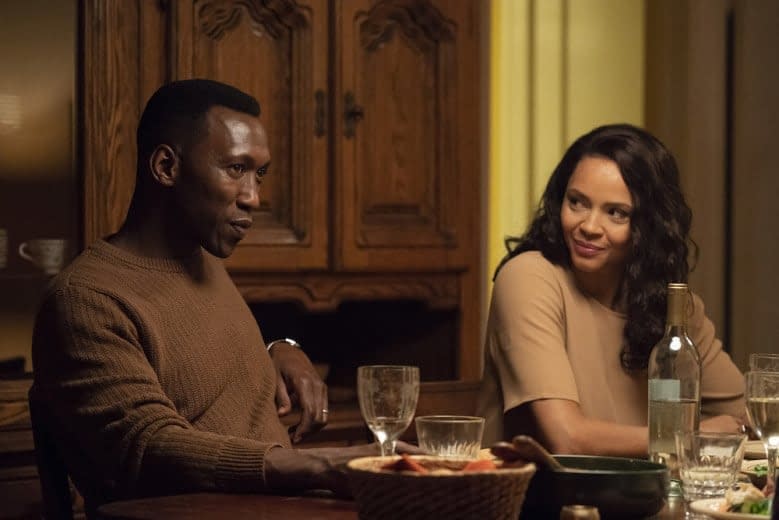 Julie thinks that Purcell isn't really her father and has been telling street kids and drifters that she's a princess. There are a lot of clues packed into her phone conversation with the hotline officer, and for a minute it looked like she was going to implicate her father in the abduction.
Then there's the matter of a conversation between Roland and Wayne, where they discuss something they did back in 1990 that they are both covering up. Is this the event in the woods that Amelia's ghost spoke of a few episodes back? West says they killed someone together–and apparently, that fractured their friendship.
We're just a little over half way through this season, here's a look at what's still to come on HBO's True Detective:
True Detective stars Ali as Wayne Hays, Ejogo as Amelia Reardon, Dorff as Roland West, McNairy as Tom Purcell, Ray Fisher as Henry Hays (2015), Mamie Gummer as Lucy Purcell, Josh Hopkins as Jim Dobkins, Jodi Balfour as Lori, Deborah Ayorinde as Becca Hayes, Lonnie Chavis as Henry Hays (1990), Rhys Wakefield as Freddy Burns, Greyeyes as Brett Woodard, Jon Tenney as Alan Jones, Sarah Gadon as Elisa Montgomery, Emily Nelson as Margaret, Brandon Flynn as Ryan Peters, and Michael Graziadei as Dan O'Brien.