Posted in: Preview, TV, YouTube | Tagged: classical, comedy, concert, twoset, violin, world tour, youtube
---
TwoSet Violin Share World Tour Announcement Video; 27 Cities Confirmed
Classical musical YouTubers TwoSet Violin released a video announcing a live & in-person world tour, with 27 cities confirmed so far.
---
Classical musical YouTubers Brett & Eddy, aka TwoSet Violin, announced an upcoming world tour live and in person. This tour was originally set to happen right before COVID-19 shut down concerts and in-person events, resulting in online streamed concerts and live appearances limited to Asia, where the classical musician comedians were living.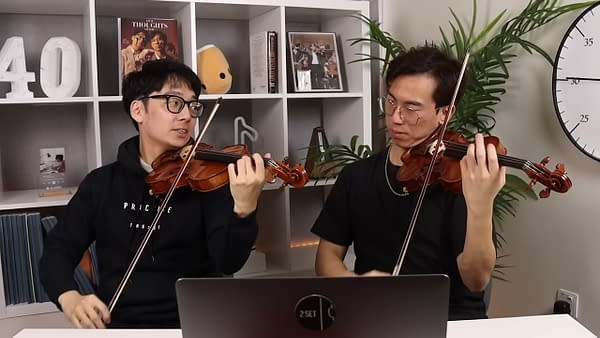 In true YouTuber fashion, they announced their world tour lineup via YouTube video where they play a game of "musical charades," which is the same as normal charades except they can only use their violin to give audible clues for the other to guess the prompt. For example, "Helsinki" was the prompt pulled from the bag, and Brett played the opening of Sibelius Violin Concerto, which led Eddy to guess correctly as Sibelius was a Finnish composer.
Their games of musical charades always have a theme, and each city pulled is a stop on their world tour. According to the video announcement, the tour consists of 27 confirmed cities across four continents, with the official tour website currently listing 29 cities.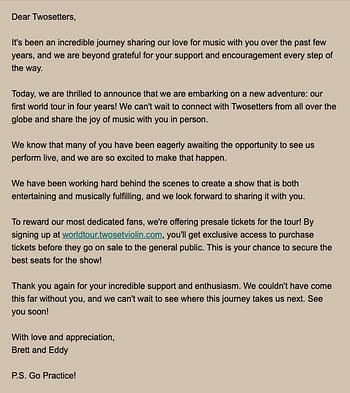 Current tour stops listed on the website are Atlanta, Auckland, Austin, Berlin, Boston, Brisbane, Chicago, Dallas, Helsinki, Hong Kong, Houston, Kaohsiung, London, Los Angeles, Melbourne, Montreal, New York City, Perth, Philadelphia, San Francisco, San Jose, San Diego, Seattle, Singapore, Sydney, Taipei, Toronto, Vancouver, and Washington DC.
TwoSet was founded in 2013 by Australian music students Brett Yang and Eddy Chen. Since graduating and continuing their channel, Brett and Eddy have focused on bringing classical music education into the mainstream and sparking excitement in future generations by merging the fundamentals of music with pop music and modern humor. They've collaborated with guests from classical soloists Ray Chen and Hilary Hahn to YouTubers Davie504 and Uncle Roger.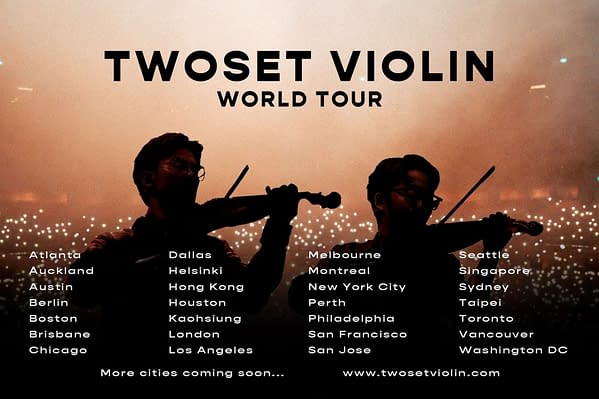 The TwoSet channel currently has over four million subscribers on YouTube, a milestone they recently celebrated by performing a livestream recital of Brett playing the Mendelssohn Violin Concerto with the Singapore Symphony Orchestra. The three million subscriber livestream happened over lockdown and featured Eddy playing the Sibelius Violin Concerto with Brett arranging and performing the orchestral accompaniment on violin.
---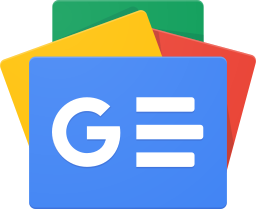 Stay up-to-date and support the site by following Bleeding Cool on Google News today!