Welcome back to Bring Out Your Dead: Bleeding Cool's The Walking Dead Live-Blog!, as we take a look at the fifth (and final for Andrew Lincoln's Rick Grimes) episode in the game-changing ninth season of AMC's long-running drama-horror series, 'What Comes After.'
After eight seasons of hope, heartbreak, tragedy, and triumph, Andrew Lincoln's Rick Grimes is set to depart with tonight's episode. While we're still not sure what Rick's final fate will be – considering the condition and position he finds himself in going into his final episode – let's just say that the previews haven't done much to make us feel confident that Rick's coming back for Thanksgiving dinners and Super Bowl parties.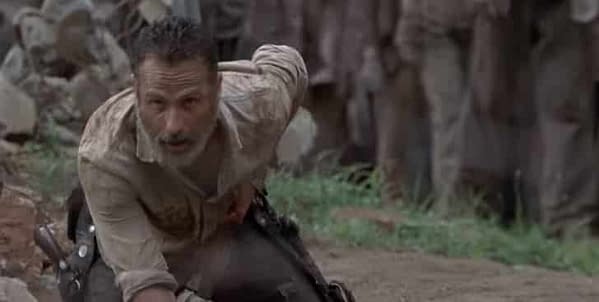 Just a quick reminder: Jon Bernthal's Shane Walsh, Sonequa Martin-Green's Sasha Williams, and the late Scott Wilson's Hershel Greene will appear as either hallucinations or a flashbacks – hopefully as Rick is recovering from his wounds after being rescued.
The Walking Dead Season 9, Episode 5 'What Comes After': Rick is forced to face the past as he struggles to maintain the safety of the communities and protect the future he and Carl envisioned.
● This page should update…but just to be on the safe side I strongly suggest you refresh every now and then to make sure because I've been known to ramble often and quickly.
● If you're going to social media to talk about what we're talking about, go with: #twd and #twdbc.
● While you're waiting (or if you just need a breather from my raw, uncut cult-of-personality), check out some cool The Walking Dead "extras" we have waiting below.

Here's a look at how we got here in the first place…thanks, Daryl!
In the following behind-the-scenes video, the cast and creators discuss how Maggie's (Lauren Cohan) plans to kill Negan (Jeffrey Dean Morgan) tests Rick's closest relationships.

Last season brought the culmination of "All Out War," which pitted Rick Grimes and his group of survivors against the Saviors and their cunning leader, Negan. With Negan's life in his hands, Rick had a character-defining choice in front of him. By making the unilateral decision to spare Negan, Rick upheld the values his late son, Carl, championed in order to build for the future, but created conflict within his group.

AMC

Now, we see our survivors a year and a half after the end of the war, rebuilding civilization under Rick's steadfast leadership. It is a time of relative peace among the communities as they work together, looking to the past to forge the future, but the world they knew is rapidly changing as man-made structures continue to degrade, and nature takes over, changing the landscape and creating new challenges for our survivors.

AMC

As time passes, the communities confront unexpected obstacles, danger, and of course, walkers, but nothing quite prepares them for the formidable force they are about to encounter, which threatens the very idea of civilization that our survivors have worked so hard to build.

AMC

Based on the comic book series written by Robert Kirkman and published by Image Comics, "The Walking Dead" reigns the number one drama on television among adults 18-49 for the last six seasons. The series is executive produced by chief content officer Scott M. Gimple, showrunner Angela Kang, Robert Kirkman, Gale Anne Hurd, David Alpert, Greg Nicotero, Tom Luse, and Denise Huth