Posted in: Outlander, Preview, Starz, Trailer, TV | Tagged: Outlander, preview, season 7, starz, trailer
---
World Outlander Day: STARZ Releases New Season 7 Sneak Previews
In honor of World Outlander Day, STARZ released two new Season 7 sneak previews from the Caitríona Balfe & Sam Heughan-starring series.
---
With only a smidge more than two weeks to go until its seventh season premiere and in honor of today being "World Outlander Day, STARZ is sharing two looks at what's ahead for the Caitríona Balfe (Claire Fraser) & Sam Heughan (Jamie Fraser)-starring series. In the first clip, we get a chance to check in with the MacKenzies (Sophie Skelton, Richard Rankin) – and following that, we have Jamie sharing with Claire his dreams about her.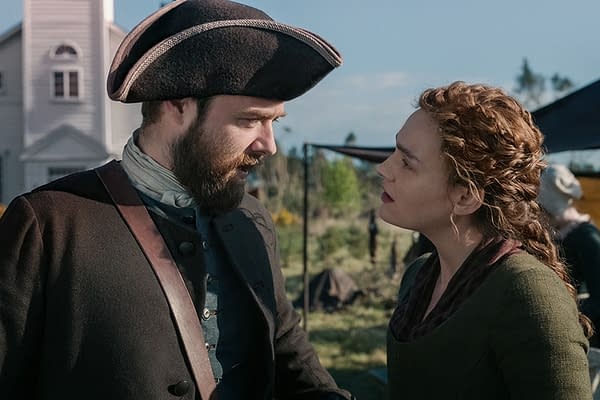 STARZ's Outlander Season 7 Part 1 will premiere on Friday, June 16th, at midnight ET on the STARZ app, all STARZ streaming & on-demand platforms, and internationally on the Lionsgate+ premium streaming platform in the U.K. On the linear side of things, the series will return to STARZ on Friday, June 16th, at 8 pm ET/PT in the U.S. & Canada. In addition, new episodes will be available to stream weekly on Fridays at midnight on the STARZ app, all STARZ streaming & on-demand platforms, and will air weekly on the STARZ linear platform. Now, here's a look at the two Season 7 sneak previews that were released earlier today:
Season seven picks up from the harrowing events of the end of season six, with Jamie and Young Ian racing to rescue Claire before she's tried and wrongfully convicted for the murder of Malva Christie. But their mission is complicated by the beginning of a geopolitical firestorm: The American Revolution has arrived. In the seventh season of "Outlander," Jamie, Claire, and their family are caught in the violent birth pains of an emerging nation as armies march to war and British institutions crumble in the face of armed rebellion.
The land the Frasers call home is changing – and they must change with it. In order to protect what they've built, the Frasers have to navigate the perils of the Revolutionary War. They learn that sometimes to defend what you love, you have to leave it behind. As the conflict draws them out of North Carolina and into the heart of this fight for independence, Jamie, Claire, Brianna, and Roger are faced with impossible decisions that have the potential to tear their family apart.
Balfe, Heughan, Sophie Skelton (Brianna MacKenzie), Richard Rankin (Roger MacKenzie), David Berry (Lord John Grey), John Bell (Young Ian), Caitlin O'Ryan (Lizzie Beardsley), and Paul Gorman (The Beardsley twins, Josiah and Keziah") are being joined by a number of familiar and new faces. Loyal fans will recognize Graham McTavish (House of the Dragon, The Hobbit) reprising his role as Dougal MacKenzie, Jamie's uncle whom he killed just before the battle of Culloden; Nell Hudson (Victoria) as Laoghaire Fraser, Jamie's ex-wife & Marsali's mother; Steven Cree (A Discovery of Witches Outlaw King) as Old Ian Murray, Young Ian's father & Jamie's brother-in-law; Andrew Whipp (Shetland) as Brian Fraser, Jamie's father; Layla Burns (She Will) as Joan MacKimmie, Marsali's sister and Jamie's stepdaughter; and Lotte Verbeek (The Fault in Our Stars) as Geillis Duncan, Claire's former friend-turned-enemy and a fellow time traveler from the 1960s.
The seventh season cast also includes Gloria Obianyo (Dune) as Mercy Woodcock, a free Black woman navigating the hardships of life in Colonial America; Rod Hallett (The Last Kingdom) as Benedict Arnold, the notorious Revolutionary soldier turned traitor; Chris Fulton (Bridgerton) as Rob Cameron, a new acquaintance of Roger and Brianna; Diarmaid Murtagh (Vikings) as Buck MacKenzie, the illegitimate son of Dougal MacKenzie and Geillis Duncan, and Roger's ancestor, a role previously played by McTavish in season five, and Kristin Atherton (Shakespeare & Hathaway) as Jenny Murray, Jamie's sister & Young Ian's mother (a role originated by Laura Donnelly in Seasons 1-3). In addition, the upcoming season's cast also includes Charles Vandervaart as William Ransom, Izzy Meikle-Small as Rachel Hunter, and Joey Phillips as Denzell Hunter.
Based on author Diana Gabaldon's international best-selling novels, Ronald D. Moore, Maril Davis, Toni Graphia, Luke Schelhaas, Andy Harries, Jim Kohlberg, Roberts, Balfe & Heughan executive produce. Outlander is produced by Tall Ship Productions, Left Bank Pictures, and Story Mining & Supply Company in association with Sony Pictures Television.
Outlander: Season 8, Spinoffs & More!
Some huge news for Outlander fans to kick off the year, with STARZ announcing that the popular series would be coming to an end with a 10-episode eighth season. But as one door closes, another opens… onto the 10-episode prequel series Outlander: Blood of My Blood, which was also announced. With Outlander showrunner & EP Matthew B. Roberts tapped to write, executive produce, and serve as showrunner, the series is set to focus on the lives and relationship of Jamie Fraser's (Sam Heughan) parents, Brian Fraser and Ellen MacKenzie. Ronald D. Moore will also executive produce the prequel along with Maril Davis. Story Mining & Supply Company will also executive produce, with Gabaldon serving as a consulting producer. Outlander: Blood of My Blood will be produced by Sony Pictures Television, with STARZ's Executive Vice President, Original Programming, Karen Bailey, overseeing the project on behalf of the cabler.
"'Outlander: Blood of My Blood' is, at its heart, a love story. It will explore what lengths a person will go to find love in a time when love is considered a luxury, and when marriages are made strategically, often for political or financial gain," said Roberts in a statement. He continues, "the title is a nod to Jamie Fraser's marriage vow to Claire and there will be several names and faces that 'Outlander' fans will know and recognize. Jamie and Claire's TV story may be coming to an end with season eight, but Diana is continuing on with their literary journey in her wonderful book series and is working diligently on book ten. With Jamie and Claire, and now Brian and Ellen, there is still so much more to come in the 'Outlander' universe, and we cannot wait to continue sharing these stories with our dedicated fans."
---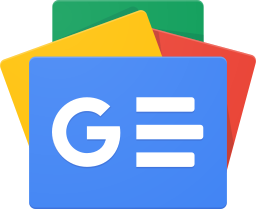 Stay up-to-date and support the site by following Bleeding Cool on Google News today!