Worst Cooks in America Season 20 Shock Elim Made Us Cry "Fowl": Review
This week on Food Network's Worst Cooks in America, forget cooking: the recruits couldn't get past the wicked plastic wrap and can openers. There was some very deep stress over hot oil on nipples and serious flirting with chicken cutlets. With weak stomachs running amuck and judges Alex Guarnaschelli and Anne Burrell suffering from intense eye twitches, recruits were horrified at having to pull poop with their bare hands. I also learned that onions are aggressive beasts that possibly deserve to be thrown into a lion pit. Guarnaschelli and Burrell continued to play well off each other making the duo a wonderful team to take abysmal cooks and turn them into parents whose children don't feign stomach aches to avoid their cooking. I will say I was shocked at this week's elimination.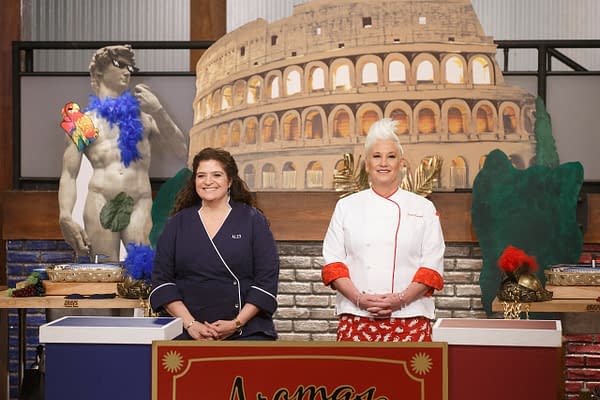 In probably one of the timidest Worst Cooks games of all, recruits ventured to Rome where Italian Stallions roam free and the losers are executed. The teams had to compete in a test the senses challenge having to use their sense of touch, taste, and smell to identify ingredients and build their Leaning Tower of Pisa. The Blue Team persevered and demonstrated while they at times move almost backward and produce dishes that appear to have gone through a shredder, they kick ass at identifying garlic and blue cheese. I was hopeful that the teams would be making pasta from scratch a typical usually disaster but instead, they ventured down the land of seafood and parmesan.
Skill Drill Challenge: Seafood Antipasto
Burrell taught the Redbirds how to make "Prosciutto Wrapped Shrimp with Fennel, Radicchio and Grapefruit Salad"
Guarnaschelli created "Fritto Misto with Mediterranean Tarter Sauce"
Rocking Red stars were horrified at the shrimp heads
Always comical is the poop removal, one recruit looked like she geared up for a war zone
There was equal horror in the Blue Team with the squid, which in their defense is an ugly looking product.
Pots were exploding and a "Who Done It" was on its way when mysteriously, recruits burners and oven were turned off but Guarnaschelli never identified the culprit.
Struggles over potato cutting and the hostile onion
The real prize went to Damion's endurance of Louisa who has cemented herself as his wife making them one of the worst toxic fake couples to ever be featured on Worst Cooks.
The Blue Team somehow produced delicious dishes and strategically left off ingredients that didn't taste well
Red Team was able to overcome potentially burned nipples and produce sloppy yet delicious squid.
Main Dish Challenge: Cheesy Parmesan Dishes
Burrell taught recruits to make "Veal Parmesan with Spaghetti"
Guarnaschelli a simple "Chicken Parmesan with Spaghetti"
I got scared when I saw the meat tenderizer come out, in fact, I was a little disappointed that no one had their hand caught under it.
Go figure they fear a can opener but embrace an object that is used to bash the crap out of a cutlet
There was some serious concern over the removal of plastic wrap, in her defense if your new to the roll you do end up having your hand instead of a product wrapped in it.
The recruits attempted to stay focused, with less verbal lashings than usual, must have been an off night
Red Team neglected to cook their garlic, over-salted their food but had fantastic plating and meat texture
Blue Team impressed Guarnaschelli with delicious chicken, oversized plating, and undercooked pasta.
In the end, Burrell grants the win to Delores and said goodbye to Denise. I would like to petition this decision, Evin by far looked like a hot mess in the kitchen and gave me anxiety. Both of their dishes looked like a fail. Guarnaschelli appointed Arie the winner and shockingly said goodbye to her fav Yo. I disagree with this as well, yes his portion was supersized and the chicken was borderline undercooked but he has shown great improvement and skill.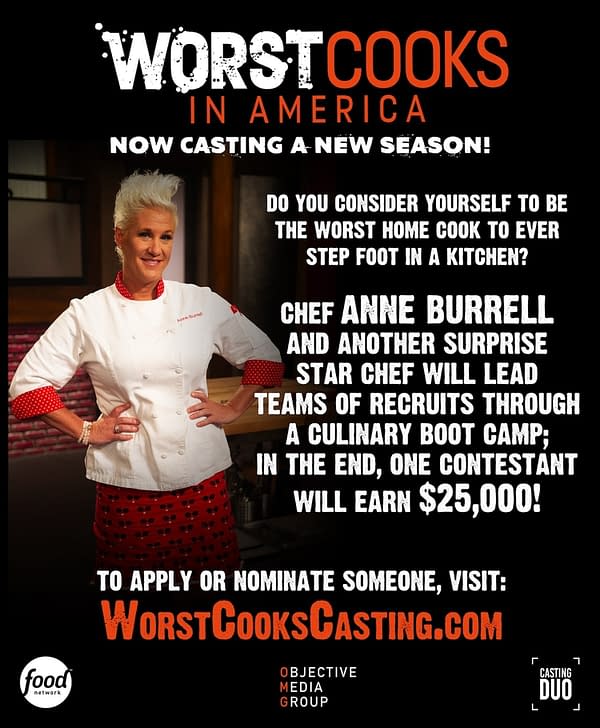 The way this week's episode of Worst Cooks in America played out I think no one really deserved to go home. There were pros and cons to everyone's dish and did the dishes themselves appropriately portray what the recruits can do? I don't know, not loving the ending of this one. Overall, it just fell a little flat for me. On the bright side, I am continuing to love Guarnaschelli on this show, maybe she should stop judging and start teaching, she seems so much less malicious this way. Burrell is reaching that midpoint where she becomes less supportive and more "cut the damn onion the right way," and it's hilarious. Too early to tell who might take home the win, I do wish someone would duct tape Louisa's mouth. Next week the recruits must test their flavor profiles, stuff donuts, and practice "plunging the meat".