The wrestling world was on fire this weekend, debating the morality of a controversial booking decision. No, we're not talking about WWE using the death of beloved personality Mean Gene Okerlund as an excuse to further their goal of cleaning up Hulk Hogan's image. We're talking about Priscilla Kelly pulling a bloody tampon out of her tights and shoving it in an opponent's mouth.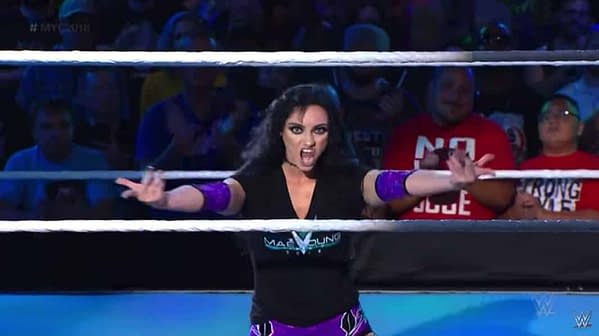 The incident occurred in December at an event for Suburban Fight Pro Wrestling, and has been gaining steam on social media:
Priscilla Kelly giving Tuna the TUNA! #SuburbanFightProWrestling #SuburbanFight #PriscillaKelly #Tuna @priscillakelly_ @Suburbanxfight pic.twitter.com/nmyRW8OEXq

— Adam Ramirez (@AdamRivalPro) December 31, 2018
Things kicked into high gear this weekend, with several prominent figures from the pro wrestling world weighing in, such as Gail Kim:
I'm seeing this post of a women's match that got disgusting and I'm not gonna repost it Bc it's seriously a disgrace. Why??? Whoever thought that was a spot that was gonna get a pop and was worth it….. NO. how about telling a story in the ring with your wrestling instead?

— Gail Kim-Irvine (@gailkimITSME) January 5, 2019
Good ol' Jim Ross:
Embarrassing…. https://t.co/vCEEmBT8VH

— Jim Ross (@JRsBBQ) January 5, 2019
And even WWE Smackdown Live head booker The Road Dogg:
This stuff is the reason some people despise our industry. It's got nothing to do with "taking life seriously" it's about dignity and a personal pride. She obviously has none!

— Brian G. James (@WWERoadDogg) January 6, 2019
Of course, Kelly did have some defenders as well, including Reby Hardy:
Backlash from this is further proof that most men are afraid of/*disgusted* by women doing things that aren't "pretty". Better maintain this same hOrRoR the next time an indy show does their monthly pointless deathmatch. https://t.co/kNYkXKtU4v

— Reby Hardy (@RebyHardy) January 6, 2019
The human suplex machine, Taz:
https://twitter.com/OfficialTAZ/status/1081792065904742400
The innovator of violence, Tommy Dreamer:
Dear @priscillakelly_
I get it
Its Mr.Socko female cousin
Ms.Stinkflo
Whatever it takes to entertain
You my dear are HARDCORE
👍👏🤣🤮

— Tommy Dreamer (@THETOMMYDREAMER) January 6, 2019
And penis-themed indy superstar Joey Ryan, who took The Road Dogg to task specifically:
Joey, that was equally disgusting. It was a different time and I, personally am a different person now. If y'all are entitled to your opinions, how come I'm not? Cuz I work for the company that did that?

— Brian G. James (@WWERoadDogg) January 6, 2019
Understood. I made a mistake, a hurtful one. Hope my apology to her was a start back towards the right direction.

— Brian G. James (@WWERoadDogg) January 6, 2019
Prompting Road Dogg to apologize:
I'd like to personally apologize to you ma'am. While I don't agree with the spot, I should not have attacked your character as a person and I am sorry.

— Brian G. James (@WWERoadDogg) January 6, 2019
Oh, you didn't know?
All of this has been happening, of course, in an industry where Mae Young, the wrestling legend for whom the WWE tournament in which Kelly recently competed was named, gave birth to a hand on live TV:
Where current WWE executive and probably future head booker of the entire company, Triple H, once climbed into a coffin to simulate sex with a corpse:
https://www.youtube.com/watch?v=dvdcZUDRMY8
Where Vince McMahon, the owner of WWE, made future Hall-of-Famer Trish Stratus get down on her hands and knees and bark like a dog:
We bring this up not to condemn the One True Sport for past crimes. Though anyone would be hard-pressed to defend, for instance, something like this: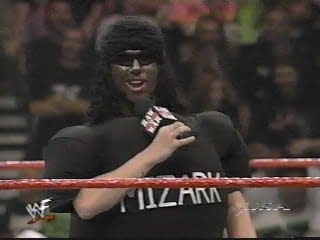 But merely to point out that, when it comes to getting over, there's absolutely nothing sacred in pro wrestling. It's been just the past few months in which we've seen the recently deceased Jim "The Anvil" Neidhart used as a prop in a feud between his daughter, Natalya, against the Riot Squad. It was just a few years ago that the death by drug overdose of Reid Flair was used by Paige to promote a Survivor Series match against his sister, Charlotte Flair. The death of Eddie Guererro has been used repeatedly to get other wrestlers over for more than a decade now.
Even a wrestler pulling something out of their tights and shoving it into an opponent's mouth is nothing new for the wrestling business.
As for Kelly, she remained unapologetic:
Hey guys. Ya know, it's all fake.

21+ show with a bar. Can't take life so serious all the time.

Call me what you will… 🌹

— Priscilla Kelly (@priscillakelly_) January 5, 2019
And more than happy to point out the hypocrisy:
A penis is funny and awesome.

A vagina is disgusting and trashy. #Equality?

— Priscilla Kelly (@priscillakelly_) January 6, 2019
Meanwhile, to bring this back to where we started, one thing being talked about far less this weekend is WWE's announcement Friday that Hulk Hogan will appear on Raw Monday to say goodbye to his friend Mean Gene Okerlund, who passed away last week. Hogan has been in exile from WWE since 2015 after a tape of Hogan going on a racist rant was released as part of a trial against the website Gawker funded by conservative Paypal billionaire Peter Theil for publishing a secretly recorded cuckold fetish sex tape of Hogan banging the wife of Florida radio shock jock Bubba the Love Sponge. Here's what Hogan had to say:
I don't know if Brooke was ****ing the black guy's son. I mean, I don't have double standards. I mean, I am a racist, to a point, ****ing ****ers. But then when it comes to nice people and ****, and whatever. […] I mean, I'd rather if she was going to **** some ****er, I'd rather have her marry an 8-foot-tall ****er worth a hundred million dollars! Like a basketball player! I guess we're all a little racist. ****ing ****er.
But in 2018, WWE and Hogan began making overtures toward a Hogan return, beginning with an appearance by Hogan at the premiere of HBO's Andre the Giantdocumentary, and with WWE promising that they would only work with Hogan in the capacity of helping others learn from his mistakes. Hogan, for his part, apologized for what he called "a few misspoken words" and was eventually reinstated into the WWE Hall of Fame and then appeared at WWE's controversial Crown Jewel event in Saudi Arabia. After the appearance, of which it remains unclear how it helped anyone learn from his mistakes, Hogan apologized again, but this time, for being too jacked, brother.
This is happening, not in the Wild West days of the attitude era, but literally tomorrow. And as one commenter pointed out in our article on the subject two days ago:
Every other headline I've seen with regard to this upcoming event states that Hulk is appearing on RAW to honor the memory of his friend, Gene Okerlund. But to Jude Terror, this is an excuse for the WWE to bring HH back.
But the reason that "every other headline" uses that angle is because WWE essentially forced them to by tying the return of Hogan to the death of a beloved figure. Who would dare say anything bad about the remembrance of Mean Gene? It's a shrewd move by WWE, and apparently an effective one. And it's nothing less than we should expect.
In 2019, the pro wrestling business is just as exploitive as its ever been. Instead of making women get on their hands and knees and bark like a dog, WWE has instead turned to singing its own praises for no longer making women get on their hands and knees and bark like a dog, hashtag #WomensEvolution.
Priscilla Kelly, keep on doing what you're doing. A bloody tampon in the mouth, whether gimmicked or hard way, is professional wrestling in its purest form. Eat your heart out, Jim Cornette!
Enjoyed this article? Share it!