Normally, this would be the part where we'd write something witty about "Earpers" being really patient and understanding when it comes to how long they've waited for the fourth season of SYFY's Wynonna Earp to arrive. But it's easy to forget that the series' fanbase has done a lot more than just wait for news or post things on social media. They got active. As you're about to see in the following video, there would literally be no fourth season if it wasn't for a movement that continues (onto season 5!) to put #ReleaseTheSnyderCut to shame. The cast and creative team definitely didn't forget their global family, taking part in the following "video thank you" for all of the love and support during both the good and not-so-good times: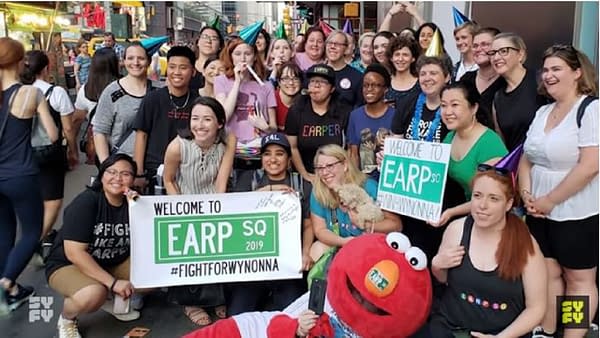 And for those "Earpers" out there looking to express your artistic sides, series creator, showrunner, and executive producer Emily Andras and the folks behind the SYFY series have come up with a special way to thank you for your patience and have you be a part of the series' return. SYFY is calling on fans everywhere to submit their most inspired fan art for a chance to have that work featured as official poster art for the series' upcoming fourth season. The Wynonna Earp Fan Art Contest opened for submissions at 12 pm PT (3 pm ET) on Friday, June 12th, 2020, and will run to 12 pm PT (3 pm ET) on Friday, June 26th, 2020. No purchase is necessary, but you must be at least 13 years old to enter with a limited of five (5) entries per person. Sponsored by Universal Television Networks and NBCUniversal, LLC, the contest's official rules and prize details can be found here.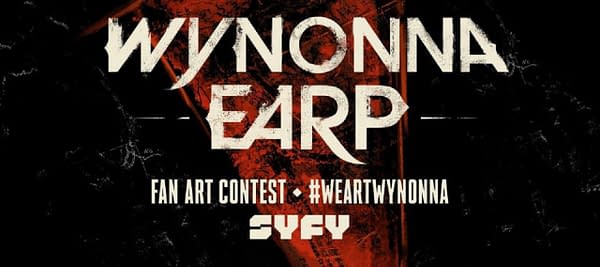 Based on the IDW Publishing comic book created by Beau Smith, "Wynonna Earp" follows the life of famous lawman Wyatt Earp's demon-fighting great-great-granddaughter Wynonna (Melanie Scrofano), who inherited Wyatt's mythic abilities and his famous gun.

As a special agent in the Black Badge Division (a top secret sector of the U.S. Marshals) and with the help of her younger sister, Waverly (Dominique Provost-Chalkley), boss, Agent Xavier Dolls (Shamier Anderson), notorious gunslinger Doc Holliday (Tim Rozon) and officer Nicole Haught (Katherine Barrell), Wynonna is determined to put an end to the Earp curse once and for all. Wynonna Earp stars Melanie Scrofano (also set to direct this season), Tim Rozon, Shamier Anderson, Dominique Provost-Chalkley, and Katherine Barrell. Executive producers are series creator and showrunner Emily Andras, Tom Cox, Jordy Randall, Ted Adams, David Ozer, Rick Jacobs, and Todd Berger. The SYFY series is produced Calgary, Alberta, Canada, by SEVEN24 Films and distributed by IDW Entertainment.
Enjoyed this article? Share it!