With the State of the Union address, Showtime launched their new animated series Our Cartoon President based on the animated version of Donald Trump that appeared on the Late Show with Stephen Colbert. The series is supposed to be a what it's like working in this administration. The show is produced by Stephen Colbert and Chris Licht, with the showrunner being R.J. Fried. The first issue debuted on January 28th online.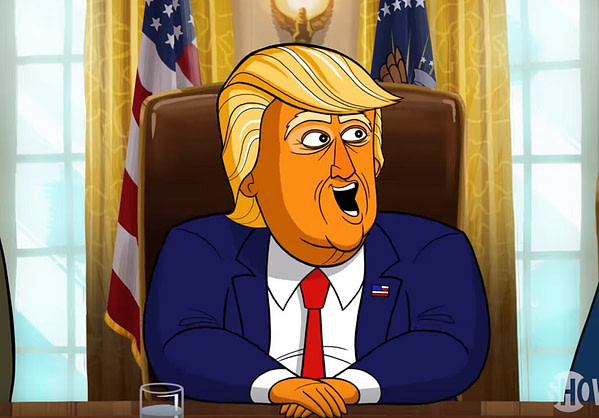 The first episode was about Trump preparing for the State of the Union address, dealing with his sons Eric and Don Jr. and his upcoming anniversary with Melania. There are versions of Ted Cruz, Jeff Sessions, General John Kelly, Ivanka Trump, Chuck Schummer, Nancy Pelosi, Paul Ryan, Dr. Ben Carson and more. In the video below, Colbert talks about the new series and how he doesn't think anything they've done in the cartoon isn't realistic… including having him trying to swipe the nuclear football… and he says that they've, "Tried to make it as stupid as we could."
The series debuts in its normal slot on February 11th on Showtime.