Comic creative professionals, publishers, retailers, and fans came together Saturday night, October 19, 2019 to socialize, dine, and experience the comic book industry celebrating recognition of their peers, co-workers, and competitors at the 2019 Mike Wieringo Comic Book Industry Awards.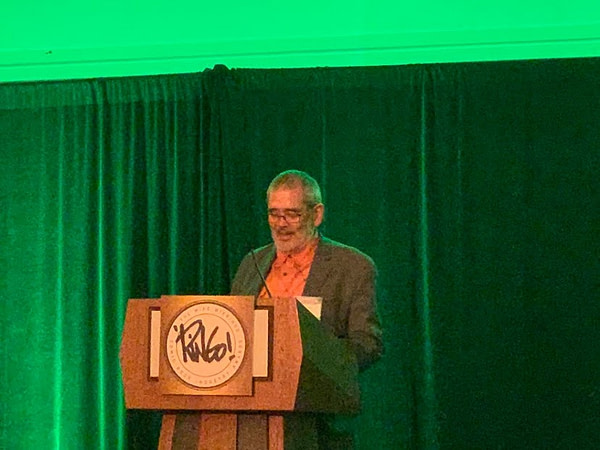 Bob Wayne, comics industry luminary whose resume includes stints as a retailer, comics writer for DC and Charlton Comics, DC Comics executive, CBLDF advisory board member, and the guy at DC Comics who had to deal with me for much of the nineties and noughties, attended the Ringo Awards as the 2019 keynote presenter at the event.
The winners of the 2019 Mike Wieringo Comic Book Industry Awards are:
Fan Favorites:
Favorite Hero: Toaster Dude
Favorite Villain: Lance Cordrey from Aberrant (Action Lab Entertainment)
Favorite New Series: Luff
Favorite New Talent: Enjelicious
Favorite Publisher: Dynamite Entertainment
Jury and Fan Winners: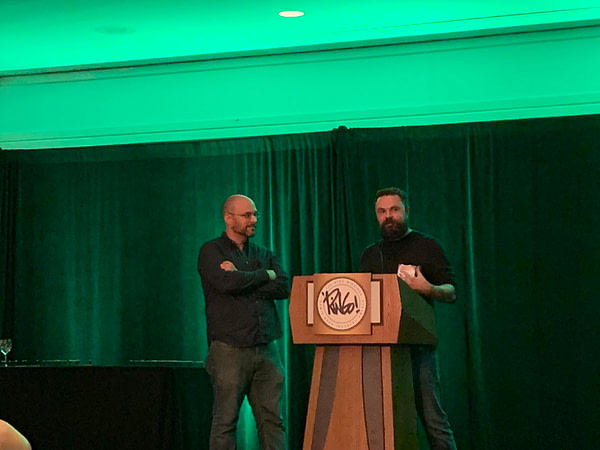 Best Cover Artist: Fiona Staples
Best Series (tie): Black Hammer: Age of Doom, Dark Horse Comics and The Immortal Hulk, Marvel Comics
Best Letterer: Todd Klein
Best Colorist: Tamra Bonvillain
Best Humor Comic: MAD, DC Comics
Best Original Graphic Novel: My Heroes Have Always Been Junkies, Image Comics
Best Comic Strip or Panel: Nancy, Olivia Jaimes, Andrews McMeel Universal
Best Single Issue or Story: Swamp Thing Winter Special, DC Comics
Mike Wieringo Spirit Award: Isola, Image Comics
Best Anthology: Where We Live, A Benefit for the Survivors in Las Vegas, Image Comics
Best Non-fiction Comic Work: Where We Live, A Benefit for the Survivors in Las Vegas, Image Comics
Best Presentation in Design: Absolute Sandman Overture, DC Comics
Best Webcomic: The Nib
Best Kids Comic or Graphic Novel: Punk Taco, Adam Wallenta Entertainment
Best Inker: Fiona Staples
Best Writer: Brian K. Vaughan
Best Artist or Penciller: Sean Phillips
Best Cartoonist (Writer/Artist): Terry Moore
Hero Initiative Awards:
Dick Giordano Humanitarian of the Year Award: Louise Simonson
Hero Initiative Lifetime Achievement Award: Jose Luis Garcia-Lopez
As well as keynote speaker Bob Wayne, the Ringo Awards were presented by Paul McSpadden, Arely 'Arechan' Mancini and Dean Haspiel; Ross Richie and Filip Sablik; Fred Chamberlain; Shea Fontana and Brian K. Vaughan; Katie Cook and Afua Richardson; Walter Simonson; Mitch Gerads and Tom King; and Cully Hamner, Craig Rousseau, Mark Waid and Matt Wieringo.
Here are a few reactions.
Guess I should have gone to Baltimore after all, because I ended up winning the Ringo for best colorist
:O pic.twitter.com/lXlosXJn35

— Tamra Bonvillain (@TBonvillain) October 20, 2019
Huge congrats to @JHWilliamsIII @mjperljam Will Dennis and all the contributors to @WhereWeLive_LV, which just won Best Anthology and Best Non-Fiction Comic Work at the Ringo Awards at the @baltimorecomics con! pic.twitter.com/kKX6kehoGq

— Greg Pak (@gregpak) October 20, 2019
I've just won two Ringo Awards! Best Artist and Best Original Graphic Novel! Hey @jacobr_phillips you've got an Eisner and a Ringo now! https://t.co/5iWZoPeBPy

— Sean Phillips (@seanpphillips) October 20, 2019
I am– truly overwhelmed. There is nothing else to say but thank you. Thank you for reading LUFF. Thank you for voting for me. Thank you for having faith in my work, and for being patient with me. You made all of this possible. #ringoawards #baltimorecomiccon2019 pic.twitter.com/fNW5cccwKs

— Are(chan) (@arechanga) October 20, 2019
So proud to be one of the presenters of the 'Ringo Spirit Award to the creators of ISOLA. It's truly one of the most gorgeous books I've ever seen. And it was great meeting the writer, Brenden Fletcher. He was super gracious and self-deprecating. Hush, Brenden. You done good. pic.twitter.com/cplTN0XMKM

— Matt Wieringo (@mattwieringo) October 20, 2019
standing ovation for #punktaco !!! Congratulations on the @ringoaward for "Best Kids Comic or Graphic Novel." So proud of @AdamWallenta and our son Makana :). https://t.co/BuuytikzFm

— Dr. Kanani K. M. Lee (@KananiKMLee) October 20, 2019
Congratulations to Rylend Grant for winning Fan Favorite Villain at the Ringo Awards @baltimorecomics pic.twitter.com/YLNak84odM

— Action Lab Ent. (@ActionLab) October 20, 2019
The fourth annual Mike Wieringo Comic Book Industry Awards will take place at the 21st annual Baltimore Comic-Con on October 24, 2020.