Better Call Saul Season 4 'Something Stupid': Hector's Mind Is a Terrible Thing to Waste
While it's very easy to get caught up in all of the major and minor Breaking Bad easter eggs littered throughout the the fourth season of AMC's Better Call Saul (how can you not?), let's not lose sight of the fact that the Vince Gilligan/Peter Gould series has given us some amazing dramatic moments over the course of six episodes. Bringing those storyline moments to life are award-winning turns from Bob Odenkirk, Rhea Seehorn, Jonathan Banks, Patrick Fabian, Michael Mando, Mark Margolis, and (of course) Giancarlo Esposito.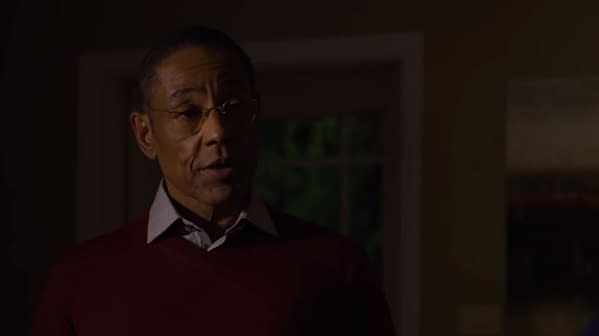 Last week's episode 'Piñata" was another fine example, as Jimmy (Odenkirk) descended further into "Saul" – dragging Kim (Seehorn) and Howard (Fabian) along with him. Mike's (Banks) new "career path" had him prepping for Gus's (Esposito) crytal meth "superlab," as Gus spun an ominous tale of suffering and death to a hospitalized and "unconscious" Hector (Margolis) – but what's a disadvantage for Hector can be a major advantage for Gus.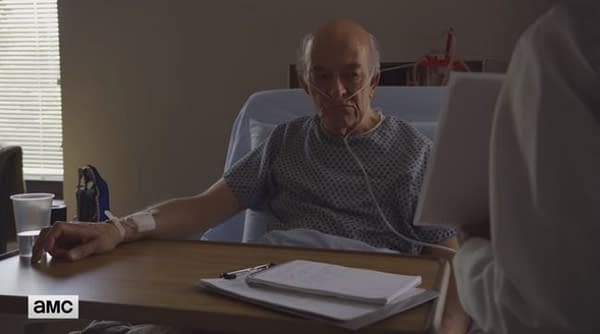 But from what we can gather from AMC's preview for the season's seventh episode 'Something Stupid,' Hector's mind is much sharper and more focused than anyone – even Gus – may realize:
Better Call Saul s04e07 'Something Stupid': Jimmy expands his business, but runs into a problem that only Kim can solve; Gus intervenes in Hector's medical care; Mike deals with a setback.
In this "mandatory repeated viewing" moment from last week's episode 'Piñata,' Gus (Giancarlo Esposito) visits Hector's (Mark Margolis) hospital room for a late-nite bedtime story – one that Breaking Bad fans will find all too familiar:
In this behind the scenes look at last episode, the cast and creators discuss Kim's new career direction, why Gus is patient in his vengeance against Hector, and Jimmy's elaborate intimidation of the punks that mugged him:

In Better Call Saul's fourth season, Chuck's death catalyzes Jimmy McGill's transformation into Saul Goodman. In the wake of his loss, Jimmy takes steps into the criminal world that will put his future as a lawyer — and his relationship with Kim — in jeopardy. Chuck's death deeply affects former colleagues Howard (Patrick Fabian) and Kim as well, putting the two of them once again on opposite sides of a battle sparked by the Brothers McGill.

While Mike takes a more active role as Madrigal Electromotive's newest (and most thorough) security consultant. It's a volatile time to be in Gus Fring's employ, as Hector's collapse sends shock waves throughout the Albuquerque underworld and throws the cartel into chaos — tearing apart both Gus and Nacho's well-laid plans. While Gus changes course, Nacho finds himself in the crosshairs of deadly forces.