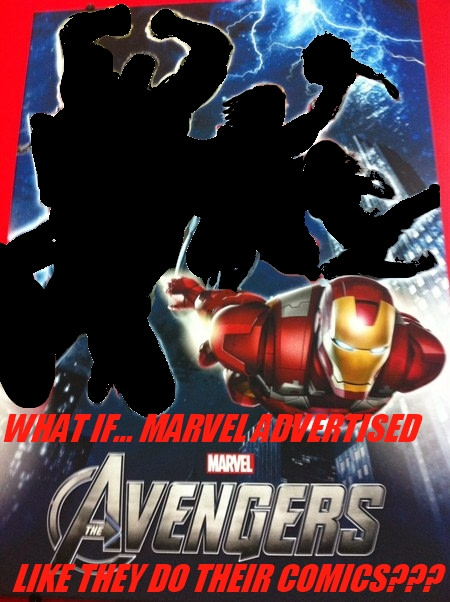 This week is the last week of DC comics until the reboot relaunch gentle tickling of the DC Universe. Marvel are giving us shadows and quotes from salesmen. And Image are telling us the world is theirs. Comic shops are closing more often than they are opening it seems, and Steve Geppi's run out of money. Looks like we'll all be lying in the gutters soon. Till then, what have you been reading this week?
Top Twenty Traffic Posts Of The Week
1. 57 1/2 Marvel Solicitations
2. That Metatextual End To JLA #60
3. Return To The X-Men Blue And Gold
5. What If Male Superheroes Posed Like Wonder Woman – celebrating its third week in the charts,
6. The New Wonder Woman is Not A Superhero Comic
7. Finally Cyclops On The Cover Of Uncanny X-Men 1
8. Grant Morrison Plans To Bring Back The Sex In Wonder Woman
9. Nightcrawler Completes The X-Men Tryptych
10. Is Joe Lieberman's Nephew The New Rob Granito?
11. Fear Itself Gets Another Three Issues
12. Superman Set Pics Solve Costume Mystery
13. Mattel On The Front Line Of Classic Vs New DC
15. Swipe File: Mike Doedato Vs Neal Adams
16. Ken Lashley On The Blackhawks New 52 Situation
17. Cosplay Of The Week: Scarlet Witch
18. What Happened To Scotland In Flashpoint?
19. X-Men Blue Team Now With Added Jubilee
20. The Perfect Rob Lifeld Cover For The Haterz
Top Ten Stories You May Also Like
1. Winners Of Pose-Like-Wonder-Woman
2. An American Werewolf Is 30 – Celebrate With Rick Baker Winning A Special Oscar
3. Interview With Image's Eric Stephenson
4. Review: Pilot Episode Of Spielberg-Produced Show Terra Nova, Now With More Dinosaurs
5. Mr Terrific Has Third Solicited Art Team In Three Issues
6. How Ruthless Editing Made The Inbetweeners Movie
7. The DC Baltimore Panel That Wasn't
8. Is Starter For 10 The Greatest Geek Crossover Movie Of All Time?
9. Why Blair Butler And Kevin Mellon's Heart Reminds Me Of Watchmen

10. Max Landis' Frankenstein Goes To The Circus

Thanks to Adi Tantimedh, Aaron and Mike, Tina Garceau, Joshua Lazarus, Christopher Troy, Kate Kotler, Elliot Seranno, Greg Baldino and Collectors Cornered.