Krypton Season 1 Finale Recap: The Phantom Zone
This article contains spoilers for the Krypton season 1 finale, 'The Phantom Zone'.
.
.
.
.
.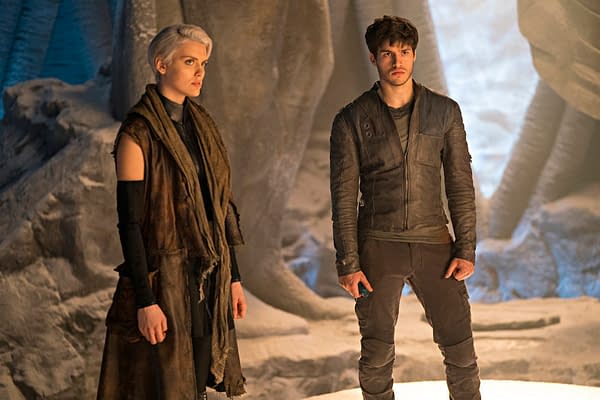 The writers of Syfy's freshman series Krypton must've been very confident that they were getting renewed, because the season finale left more loose threads than a George R. R. Martin novel. The series addressed the issue of Brainiac taking the city of Kandor, which would lead to the destruction of the planet two centuries later. But like everything else in the series, it was done in a unique and surprising way, and they introduce new things to follow in a second season. Thankfully Syfy has renewed the show, so we'll get some answers… or maybe another ton of questions. I now see why people compare this series to Game of Thrones.
Brainiac (Blake Ritson) is on Krypton and beginning the bottling process. Seg-El (Cameron Cuffe) and Nyssa-Vex (Wallis Day) are at the Fortress when Dru-Zod (Colin Salmon) and Lyta-Zod (Georgina Campbell) arrive with a plan. Dru explains that Val-El (Ian McElhinney) is not dead, but rather he's in the Phantom Zone — the same place where Dru was sent for starting a coup. Dru stole Val's way out of the zone. Seg asks where Jayna (Ann Ogbomo) was and Lyta tells him that Dru did nothing to her, leaving out that she herself shot her mom.
Dru goes back into the Phantom Zone and finds Val, bringing him out. Seg has a touching reunion with his beloved grandfather before the older El explains that he figured out how to look into both the future and the past, and in none of his searching could he find a way to defeat Brainiac. Val also explains that part of the process of bottling a city, to preserve it, every thing in the city is stopped in its place. Frozen in time, basically.
While Seg and Dru try to come up with a plan, Nyssa goes to Lyta and offers to show her a way back into Kandor. Lyta feels that she needs to fight Brainiac head on. She heads back to the Sagitari and puts together an attack plan using the flying squads. She meets Dev-Em (Aaron Pierre) there and sends out the fighters, only to have them devastated almost instantly by Brainiac.
Jax-Ur (Hannah Waddingham) leads her group into the Genesis Chamber to retrieve the birthing matrix in hopes of saving Krypton's future. While heading into the chamber, they come across Nyssa, who returned to the city to retrieve her and Seg's child, Cor-Vex. Jax sends her man out with the matrix then takes the time to show Nyssa the truth: the ruling families had a series of clones made so they could live forever. She explains that Nyssa was severely injured in the crash that killed her mother, and she was moved to a clone body.
Seg and Dru head into the city. Seg is looking for Nyssa and Lyta while Dru has a plan to offer Brainiac an exchange: if he leaves Krypton alone, Dru will give him Val, who knows how to look into the future. Seg and Dru argue about the plan, but Seg can't stop him. Seg goes back to the fortress while Dru goes to see Brainiac. We cut to one of only two visits with Adam (Shaun Sipos) and we see that he must be inside one of the cities that Brainiac has taken, as everything around him has stopped. This very much looks like a city on Earth, probably Detroit (where he is from).
Back in Kandor, Dru meets with Brainiac and proves to him that Val can see the future by pointing out that Brainiac's next target will be Cygnus 4019. This leads them back to the Fortress, where Seg and Val have an argument about killing him instead of letting Brainiac have him. When Brainiac arrives, Seg holds a gun on Val and threatens to shoot him rather than turning him over. Brainiac calls Seg's bluff and tosses him aside, then points out that he knows that the Val in front of him is only a hologram. The real Val pops out and runs his hand over the controls, firing up the Phantom Zone projector. Brainiac is pulled into the Phantom Zone, but he grabs Seg and takes him along.
Immediately after, Dru destroys the controls to the projector so Brainiac can't come back through, trapping Seg inside. We watch as Superman's cape reforms to full length and then the symbol changes to the House of Zod. Back with Adam, we see a statue of what might have been to Superman now showing Zod. We then see the result of defeating Brainiac. The bottling stops, the people go back to moving, Dru-Zod becomes leader with Lyta and Dev at his side. The rankless are pulled into the arm, including Kem (Rasmus Hardiker), and the planet takes a turn to a militaristic society. Nyssa and Jax make it back to the Fortress where Val is waiting.
And I almost forgot to mention… As Dru is taking over Krypton and making his speech, he says the classic line: "Kneel before Zod!" And Doomsday gets out of his containment unit.
The Verdict
We end the series with so many huge questions. How did stopping Brainiac save Superman, only to have him become a Zod? Will Krypton still be destroyed but through other means? What is happening with Adam Strange, and can he get out of the bottled city he's in? Does that mean that Brainiac attacked the Earth? Who was the girl we first saw that moved her eyes? There has been rumors of Hawkwoman coming to the series… is that her? Cor-Vex, the child of Seg and Nyssa, is a character that ends up in the Phantom Zone in the Man of Steel movie — will the same fate happen here? And how will they get Seg back and depose Zod? And will we see life inside the Phantom Zone in the new season? And how will the deal with Doomsday?
Oh… and the mention of Cygus 4019, also known as the planet Salvation, a training ground for the New Gods. It was also used once as a metahuman prison. Was this just a name drop / Easter egg, or might we get the New Gods popping up at some point?
This whole series has been better than the premise would've indicated. It is a solid 10 hours of television that comes across like a great Elseworlds story. The characters have a familiarity because of their lineage, but the series isn't locked into any predetermined history. If anything, the fact that they've changed so much so quickly has made it feel like anything could happen. I've enjoyed this far more than I expected. Good writing, good characters, and a good story make Krypton a lot of fun. 2019 and the second season of Krypton can't come soon enough.