STARZ doesn't get enough credit for their series, but I personally think Sweetbitter might change that. While only half-hour episodes, the series has tremendous promise.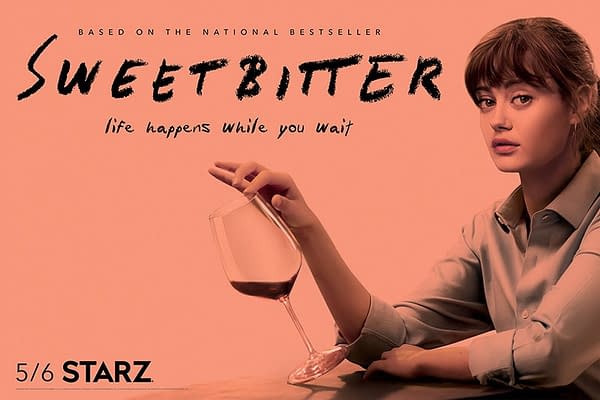 True, it's right up my personal alley — as someone who has a love affair with the culinary world, Sweetbitter is exactly the type of show that caters to me. This is series is based on Stephanie Danler's book of the same name, and this is her first writing credit on a series, which shows tremendous promise and obviously belief from STARZ.
The premiere episode of the first season of Sweetbitter, 'Salt', description reads more like a synopsis:
Tess, a 22 year old moves to New York city without friends or a specific ambition, after an interview at one of the best restaurants, she's invited to train ethere tess attempts to keep up while observing her new co-workers
opens with main character Tess (Ella Purnell) leaving home.
There wasn't any exhilaration, only momentum
She sells her car
montage of her looking for a job, handing in her resume
she goes to see Howard (Paul Sparks), who asks her why she's there.
He tests her, asking if she can name the 5 noble grapes of Bordeaux
He asks what she's reading, since he's an English major and has no restaurant experience
"I wanted to be careful of what I brought here". This could mean so many things.
Howard begins to dismiss her, wishing her well, and she mentions that the place is different, thanking him.
iMacs? And….my god, a real payphone? What year is this supposed to be?
Tess reveals an offer to train at Howard's place,
she gets thrown in the deep end, Will (Evan Jonigkeit) showing her around the kitchen, pointing out everything she needs to know about the restaurant.
Family meal is happening, the various personalities of the workers, kitchen and front of house, all having their
Howard comes in with a special wine, pours a tiny taste for everyone, and Tess watches in fascination as Simone (Caitlin FitzGerald) identifies
"This wine is a gift, share it with your guests tonight. Have a good service," Howard says.
Simone takes a moment to fix Tess's hair, unsure if testing her or
The restaurant is empty except for one guest Mrs. Neely, an older lady whom Tess serves sherry to. She invites Tess to sit with her. It doesn't go well.
Tess has a terrible habit of biting her nails, kind of the worst thing to do in food service omg
Rough and tumble Russian Sasha (Daniyar) takes care of Tess's bleeding finger, sharing some of his personal life with her.
Tess kind of fails her first day, not managing to finish her assignment of filling the salt shakers before opening, but Simone did it for her.
Jake (Tom Sturridge) takes Tess into one of the walk-ins and starts shucking oysters.
"A leap of faith, take it quickly," he says.
She takes it, and suddenly a wash of images hit her, oceans and passion, and she asks for another.
***
While short and perhaps a little on the nose, if you are a fan of the kitchen confidential type of drama, this is definitely a series you'll want to check out.
Sweetbitter airs for six episodes on STARZ on Sundays.
Enjoyed this article? Share it!