22-Page Preview of Blue Baron #1 with Ron Frenz and Sal Buscema – Another 64-Page $3.99 Sitcomic
Writer for Seinfeld, Futurama, and My Family, Darin Henry, who has just sold a pitch to Netflix and made a new comedy for Disney, is publishing a line of humour comics called Sitcomics. But you won't see them in Diamond's Previews catalogue.
Instead, he is going direct to stores and has printed 25,000 copies of an eight-page catalogue, sent out to comic stores across the US. Published as 64-page standalone stories, over three times the length of a normal American comic, but for the price of one, $3.99, he can't afford the 70% discount Diamond Comic Distributor asks of him.
So he has started his own distributor, Sell-Through Distribution, he is encouraging readers to order the comics through their comic store. After the first issue is ordered, he will make subsequent issues ordered returnable.
The "Binge Book" catalogues are in comic book stores now, and orders will be received next Thursday, 25th, for sale instore on January 31st.
Comic book artists on Sitcomics are recognisable names, the likes of Ron Frenz, Sal Buscema, Tom Richmond (MAD Magazine), Jeff Shultz (Betty & Veronica), Craig Rousseau (Batman Beyond) and Al Milgrom (The Avengers).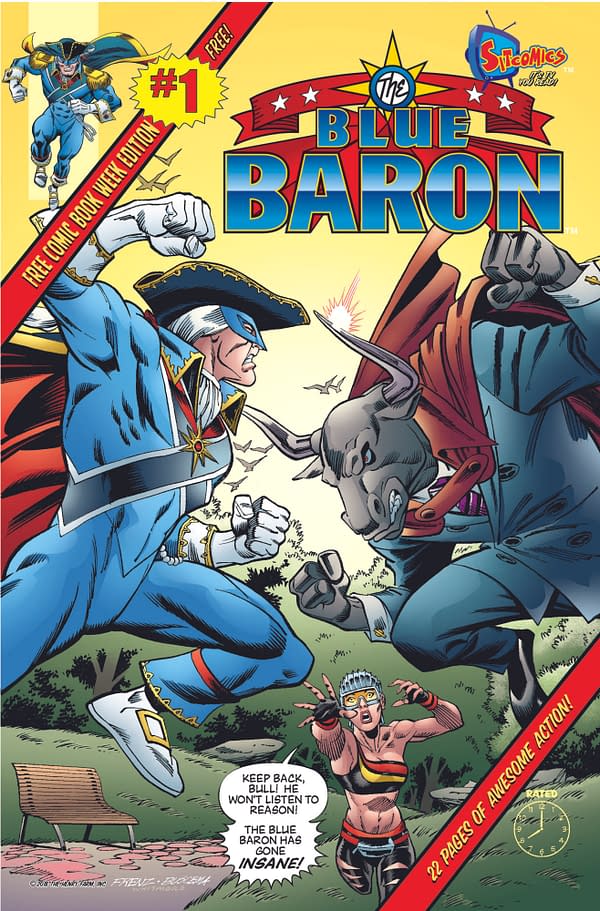 Bleeding Cool will be running a number of free previews — each the size of a normal comic, until the order-cut-off day. We ran the first 20 pages of Start-Up #1 by Darin Henry, Craig Rousseau and Glenn Whitmore, then 28 pages of Super Suckers #1 by Darin Henry, Jeff Shulz, and Glenn Whitmore and 24 pages of Z-People by Darin Henry, Tom Richmond, and K. Michael Russell.
And today we have the first 22 pages of The Blue Baron #1 by Darin Henry, Ron Frenz, Sal Buscema, and Glenn Whitmore.
And if you want a peek at the catalogue yourself, you can do so right here. Another sizeable preview of another title tomorrow.
Here are the shops carrying Sitcomics… so far. You may recognise a few from the Bleeding Cool Bestseller List:
ALABAMA
CAPITOL CITY COMICS
ALASKA
THE COMIC SHOP
ARIZONA
JESSE JAMES COMICS
ARKANSAS
KAPOW! COMICS
CALIFORNIA
COMIX EXPERIENCE
COMICS CONSPIRACY
THE COMIC BUG
HI DE HO/GEOFFREY'S COMICS
LEGACY COMICS
YESTERYEAR COMICS
THE PERKY NERD
EMERALD KNIGHTS
HOUSE OF SECRETS
AVALON COMICS AND GAMES
KIMZAR KOLLECTABLES
P DOT'S COMICS & COLLECTIBLES
PULP FICTION
PAER HEROS (SAUGUS)
HEROS (FRESNO)
4 COLOR FANTASIES
COMICS FACTORY
DR COMICS & MR GAMES
COMICKAZE
BIZARRO WORLD
CANADA

HOUR GLASS COMICS
STRANGE ADVENTURES
ANIME HYPERCUBED
8TH STREET BOOKS AND COMICS
HAPPY HARBOR COMICS
COLORADO
MILE HIGH COMICS
CONNECTICUT
THE COMIC CAVE
DELAWARE
CAPTAIN BLUE HEN COMICS
FLORIDA
FAMOUS FACES & FUNNIES

GEORGIA
DR. NO'S COMICS
HAWAII
OTHER REALMS
IDAHO

CAPTAIN COMICS
ILLINOIS
GRAHAM CRACKERS COMICS
THE COMIX GALLERY
INDIANA
COMIC QUEST
READER COPIES
IOWA
RODMAN COMICS
KANSAS
PRAIRIE DOG COMICS
KENTUCKY
COMIC WORLD
LOUISIANA
BSI COMICS
PAPER HEROES
MAINE
COAST CITY COMICS
MARYLAND
CARDS, COMICS AND COLLECTABLES
MASSACHUSETTS
THE HALL OF COMICS
MICHIGAN
GREEN BRAIN COMICS
THE COMIC SIGNAL
COLLECTOR'S CORNER
FANFARE
MINNESOTA
ISSUES NEEDED COMICS
COLLECTOR'S CONNECTION
MISSISSIPPI
SOUTHERN FRIED COMICS
MISSOURI
ALL AMERICAN COLLECTIBLES
THE FANTASY SHOP
COMIC RELIEF
MONTANA
MUSE COMICS
KELLY'S KOMIX
NEBRASKA
THE DRAGON'S LAIR
NEVADA
ALTERNATE REALITY
NEW HAMPSHIRE
DOUBLE MIDNIGHT
JETPACK COMICS
NEW JERSEY
DEWEY'S COMIC CITY
FAT JACK'S COMICRYPT
FUNNYBOOKS
NEW MEXICO
ZIA COMICS
NEW YORK
QUEEN CITY BOOKSTORE
ZOMBIE PLANET
NORTH CAROLINA

SSALEFISH COMICS
HERO'S AREN'T HARD TO FIND
DREAMDAZE COMICS, FUN & GAMES
NORTH DAKOTA
PARADOX COMICS
OHIO
ALTER EGO COMICS
LAUGHING OGRE COMICS
OKLAHOMA
IMPULSE CREATIONS
OREGON

ASTONISHING ADVENTURES
FUTURE DREAMS
PENNSYLVANIA
FAT JACK'S COMICRYPT
COMICS AND PAPERBACKS PLUS
THE COMIC STORE
COMIC STORE WEST
COMIX CONNECTION
PITTSBURGH COMICS
COMICS WORLD
EIDE'S ENTERTAINMENT
SEQUENTIAL ARTS TOO
RHODE ISLAND
RAH-COCO'S
SOUTH CAROLINA
BORDERLANDS COMICS
SOUTH DAKOTA
RAINBOW COMICS
TENNESSEE
THE GOLDEN AGE, 1942 –
TEXAS
GEEK OUT
LONE STAR COMICS
M&M COMIC SERVICE
UTAH
BLACK CAT COMICS
DR. VOLT'S COMICS
VERMONT
KILLER RABBIT COMICS
VIRGINIA
VELOCITY COMICS
WASHINGTON
I LIKE COMICS
WEST VIRGINIA
COMIC WORLD
WISCONSIN
GRAHAM CRACKERS COMICS
KOWABUNGA COMICS
WYOMING
DUGOUT COLLECTIBLES