It is almost thirty years since Jamie Hewlett's work first appeared in Deadline magazine, on a certain comic strip called Tank Girl. Deadline was a magazine that smooshed music culture and comic culture together, created by Brett Ewins and Steve Dillon and probably did more to change British culture than any comic since Viz – and there's been nothing to challenge it since.
One of its many children was the pairing of Damon Albarn and Jamie Hewlett, who shared a flat together, and would create Gorillaz, the virtual supergroup, and who played the O2 tonight rather wonderfully.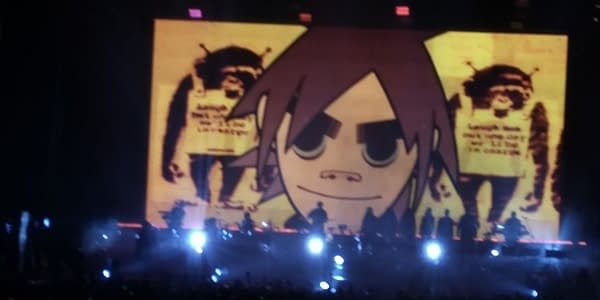 The screens replayed old Gorillaz videos but also created brand new animated interstitials for the non-videoed tracks – which included at one point, a massive Jamie Hewlett towering over the arena in a series of most disturbing poses. And he kept coming back…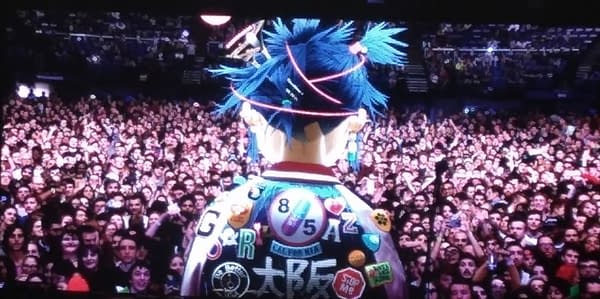 Damon was also joined by the likes of (breathe in)  Jenny Beth, Graham Coxon, Noel Gallagher, Roses Gabor, Shaun Ryder, Mos Def, Hypnotic Brass Ensemble, De La Soul, Little Simz, Vince Staples, Pauline Black, Gruff Rhys, Peven Everett, Booty Brown, Pusha T, Jamie Principle, Zenra Katz, D.R.A.M. and there were probably more too. Noel even got a verse of We Got The Power. And, bizarrely, at one point, Shaun Ryder started to pronounce "there" correctly in Dare. Little Simz, also supporting the Gorillaz, utterly slammed Garage Palace and went toe to toe with Noel… oh it was just a massive thing.
Jamie is launching and signing his new monograph on Thursday afternoon/evening at Taschen, on Duke Of York Square in London. You can register your attendance (and reserve a copy of the book) right here.
Jamie Hewlett will sign other publications along with his new monograph, which is nice., And hopefully he will be normal-sized.
Enjoyed this article? Share it!