A Gendercrunching Special – DC's Villain's Month Solicitations
Tim Hanley writes;
With DC Comics' "Villain Month" all the rage this week, we've got an extra edition of Gendercrunching to delve into the solicits for all of the evil comics we'll get this September. Two years ago, DC's New 52 relaunch received a lot of criticism for their lack of female creators. They only had 3 female credits, Gail Simone writing two books and Jenny Frison on covers for another, accounting for only 1.9% of all of the credited creators in their solicits. After much outcry, DC promised to improve these numbers, though when the #0 issues came out last September the numbers were in fact slightly lower. Perhaps this is the September they turn it all around. Their overall percentage of female creators for Villain Month is…
2.2%!! Come on.
It's negligibly better than two years ago, but not much. Instead of 3 female credits, now we've got 4: Gail Simone writing The Ventriloquist, Marguerite Bennett writing Lobo, and Ann Nocenti writing The Joker's Daughter and The Creeper. Four female writing credits, and not a single female artist on covers or interior art.
There are 53 Villain Month books including Forever Evil, featuring 180 credited creators in total, 176 men and 4 women. Here are the numbers for female creators compared to the past two Septembers:
Overall, things are statistically similar. Yes, there was an extra female writer each year, which is progress, but it's literally the smallest progress there could possibly be. We went from 2 female writers in 2011 to 3 in 2012 (while losing the cover artist) and now it's 4. You can see how much impact this has had overall with the miniscule 0.3% growth in two years. Also, while there is 1 more female creator compared to the New 52, there are an extra 19 men as well. The "improvement" has been minimal.
However, as we noted last year with Zero Month, for some reason DC tends to hide their female creators when they know the spotlight is going to be on them. Let's look at the chart again, but with the solicits of a normal, run of the mill month thrown in. I went with the newest we had, August 2013: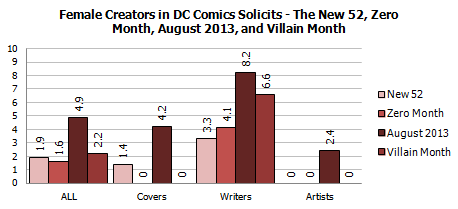 Hey, female artists! They exist! And 4.9% overall, which while not particularly good is certainly less terrible than the various September numbers. It couldn't have gotten much worse, and 9 out of 183 isn't anything particularly impressive, but DC is capable of hiring a number of female creators I would comfortably call "low" instead of "egregiously low".
The bigger question is where do they all go every September? Whenever DC makes a big move, they seem to forget that they can hire women to work on their books. This is frustrating because September is when DC goes all out to make a big splash and sell a ton of books. There are no fancy 3D covers in August, when you can actually buy a DC book with a female artist in it (two even! Emanuela Lupacchino on World's Finest and Nicola Scott on Earth 2… or you could get an Amanda Conner cover on The Movement and a Ricken cover on Birds of Prey). When the spotlight shines brightest on DC, there are fewer female creators to be found. It's a missed opportunity year after year.
The outrage over women in the New 52 wasn't limited to female creators: female characters were underrepresented as well. Only 7 of the New 52 books featured a female lead or an all female team, but Villain Month is like a clean slate. With 53 titles featuring completely different characters, the number of books with female leads is…
8!! Sometimes I feel like DC is just screwing with me.
Again, the least amount of improvement possible. And that's not even the whole picture. Here are the Villain Month numbers compared to the past two Septembers:
The New 52 and Zero Month had very similar numbers. Though there had been two new waves of books by September 2012, the changes weren't significant. Comparatively, Villain Month has the highest percentage of female led books, up an average of about a percentage point from the past two Septembers. Male led books, on the other hand, were up more than 25%. A whopping 77.4% of the Villain Month books have male leads. That is a staggering amount.
Throwing the August 2013 numbers into the mix doesn't change a lot, but it presents a couple of interesting points: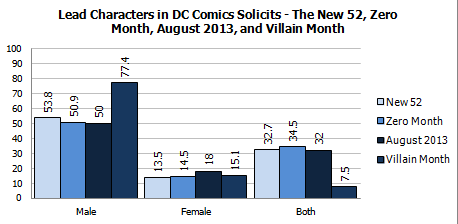 While Villain Month has one more female led book than the New 52, there are actually 9 female led books scheduled for this August. Villain Month has one fewer female starring book than the usual slate of books from the month before. One less isn't a huge deal in and of itself; obviously, more would be nice, and at least the same amount would be reasonable, but it's just one book. However, combined with 16 more books starring only men, it looks kind of bad. Some more mixed team books would have kept things at least the same, but no. It's wall to wall dudes.
All together, not a lot has changed since the New 52 launched, and certainly not during the September spotlight events. There's one more female creator credit than in 2011, and one more female led book, but that's it. DC is capable of hiring more women, and they do so sporadically during months they don't promote so much, but growth has been minimal on their mainline books. They may have said that they cared about female creators and characters back in 2011, but they haven't done a whole lot to prove it since.
To learn more about this statistics project and its methodology click here, and to see the previous stats click here. You can visit Tim at Straitened Circumstances and follow him on Twitter @timhanley01.
Rich adds: Sue of DC Women Kicking Ass made similar comments and observations yesterday. Two for two…