Absolutely Everything, a New MA Graphic Novel by Damian Alexander
Absolutely Everything by Other Boys creator Damian Alexander is a new middle-grade graphic novel to be published by Graphic Universe in 2025.
---
Absolutely Everything by Other Boys creator Damian Alexander is a new middle-grade graphic novel that follows Marcella, a sixth grader who struggles with undiagnosed ADHD leading to mishaps at home, in school, and with her friendships. Damian Alexander states "Marcella's story is heavily inspired by my own life and experiences with undiagnosed ADHD growing up!"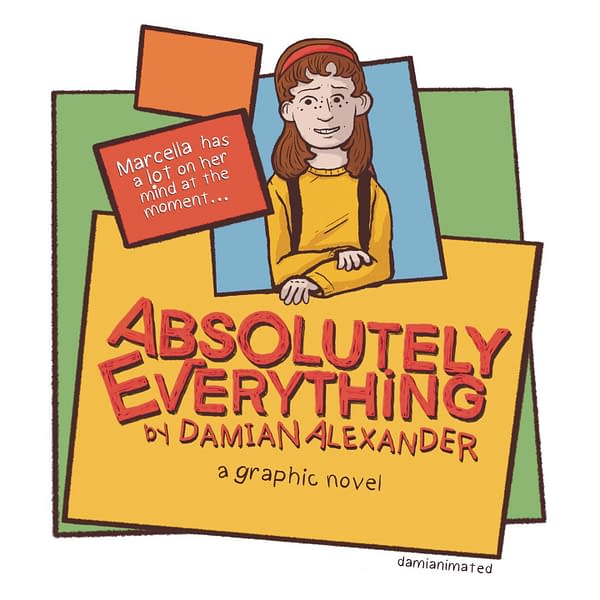 Damian Alexander is the cartoonist and storyteller of Totally Crushed, an ongoing webcomic, in which "Elijah is on break from college and hoping to find summer love with the guy of his dreams! Though he's not sure who that is yet! Whether he's crushing or getting crushed he'll always have his three best friends, Owen, Noah and Aldon to pick up the pieces." Damian Alexander grew up near Boston, is a graduate of Simmons College MFA program in Writing for Children, a John Locher Memorial Award winner, and a Lambda Literary Fellow, he has also worked with Dr Martens, The Trevor Project, Hot Topic, The Huffington Post, ATTN, and others. Other Boys, published by First Second, is a graphic memoir about his childhood experiences being raised by his grandparents, the loss of his mother, and coming out. It received starred reviews from Kirkus and Booklist. He has also created short comics and essays on The Nib, Huffington Post, and Narratively.
Greg Hunter at Graphic Universe has acquired world rights to Absolutely Everything and publication is scheduled for the autumn of 2025. Graphic Universe was launched in 2006 by Lerner Publishing Group for the purpose of publishing graphic novels for young and developing readers.
Elizabeth Bennett at the Transatlantic Agency negotiated the deal for Damian Alexander. Founded 25 years ago, by literary agents David and Lynn Bennett the Transatlantic Agency is a leading literary management company, made up of 20 agents based in cities across North America and represents more than 700 American, Canadian and international clients and is headed by agent and President Samantha Haywood, who joined the company in 2004.