Advance Review: Dark Corridor's Fresh Take On Crime And Comics Aesthetics Are Bound To Please
Rich Tommaso knows the power of a line, and he's also a cartoonist who knows his own mind when it comes to comics creation. In his 20 plus years creating comics, he's explored just about every avenue in terms of production methods, including creating by hand his own line, Recoil Comics, in recent years. Always beautiful and particularly tempting at conventions, his Recoil books which feature his own work and that of others more recently, have been quite successful, but represent a huge amount of work to distribute and sell. I've often hoped that a method would come along to bring Tommaso's work to an even wider readership, and hearing that his series Dark Corridor was forthcoming from Image Comics really bolstered my confidence that creating good comics and working hard does eventually pay off, as Tomasso gets a further boost into the public consciousness.
Some things you should know about Tommaso and Dark Corridor: the man has a luscious art style that he can change at will between different approaches, all of them seemingly fresh while at the same time conjuring a kind of imagined comics tradition that taps into the legacy of the medium. His style seems both new and old at the same time. His design work on the page, lettering, and layouts adds extra aesthetic polish, while his storytelling, never predictable, and always pointedly emotional, will keep you exploring the page even longer than other comics reading experiences. His characters always carry a weight of realism. He personally admits to being obsessed with characters who have "regrets".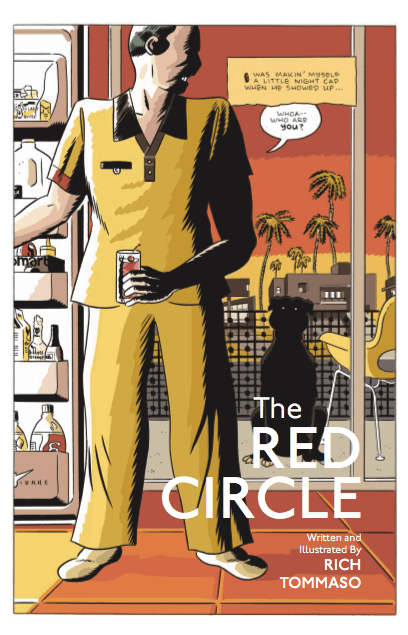 But many of these traits are particularly pronounced in Dark Corridor, since this is Tommaso's own personal anthology of crime stories taking place in the city of Red Circle. He's given himself a wide range of space and character possibilities within those limitations, and as he explains in the back matter to Issue #1, this is his Twilight Zone. This is his geographical locus for all manner of stories and the potential, in the first instance, to pursue two long-running stories set in the same town. These two stories are "The Red Circle" and "Seven Deadly Daughters". The first follows the meandering trail of a kind of crime mystery from the perspective of a hit man, where the incidental aspects of his life are both homely and shocking, but we are encouraged to understand the logic of his world. The second is punchy and brutal in different ways, but also introduces the figure of a motorcycle-riding female force for vengeance, which graces the cover of Issue #1 as well. Welcome to Red Circle. There is simply no way that you can beat Tommaso to the punch in these stories–their imaginative detail and chilly atmosphere are too specific, too idiosyncratic, to have been created by anyone else. Watch out for the humor, too–it's there but understated.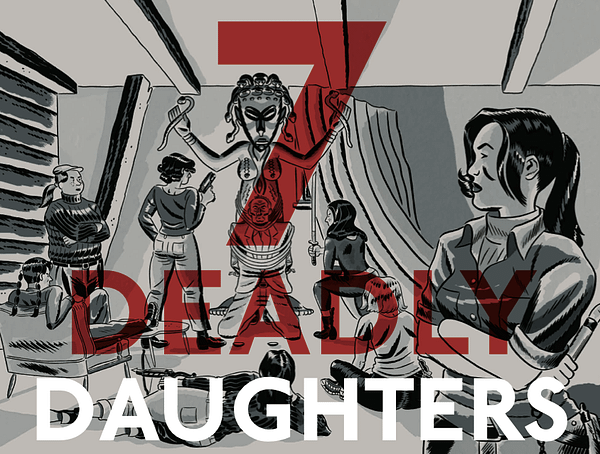 I look forward to the measured, unhurried pursuit of exploring the world of Tomasso's new stories in future issues, and highly recommend this series to those who are looking for a fresh take on crime stories and who have an addiction to high aesthetic quality in comics. Check out Dark Corridor when it arrives in shops this Wednesday, August 5th. Issue #2 is due out September 2nd, as well.