Advance Review: Hold Onto Your Hats For Providence #2
On July 8th, the second issue of Providence arrives, the new series from Alan Moore and Jacen Burrows that delves deeply into the life, legend, and lore of H.P. Lovecraft. Set a few years before any of the fictional incidents in Lovecraft's actual stories, the series nevertheless places us firmly in a world Lovecraft fans will recognize at nearly every turn as the proto-forms of impending events are already walking the streets. Our first issue introduced us to Robert Black, reporter for the New York Herald, as he made his first inquiries into a lead on a story and learned of an alchemical text that piqued his interest. Searching for material for a book he hopes to someday write, he's confronted by a tragedy in his personal life that impacts his decision-making. Things feel decisive for Robert. He's ready to embark on something new and unknown. If the first issue of the series felt measured in pace, the second issue is going to introduce an even greater density in significant information and allusions to Lovecraft's work, as well as initiate a more rapid progress in Black's investigations.
Issue #2 takes Robert to Brooklyn, following the trail of a certain alchemical text's importer he was informed about in the first issue. As promised, we see the life of the period depicted in stunning detail by Jacen Burrows, from architectural variety to the widely diverse population of Brooklyn at the time, and I'd be lying if I said there weren't some horror elements creeping more firmly into this issue, rising as it were, from the depths. This issue humanizes Robert even more fully, though we were always almost painfully aware of his vulnerabilities and questioning mind, and this issue also begins to present Robert's reactions to peeling back the veneer that seems to veil polite society from a more accurate view of itself. His enthusiasm in doing so is set to keep readers on edge, wondering what exactly he's walking into. Some of the things that fascinate me most about this issue, however, are conceptual. As is his wont, Moore introduces relevant topics into conversation filling the air with a meta-mist of discussion. Robert Black finds himself talking about Kaballah, the newly arrived new-fangled psycho-analyst Carl Jung's work on dreams, and a few of his favorite authors.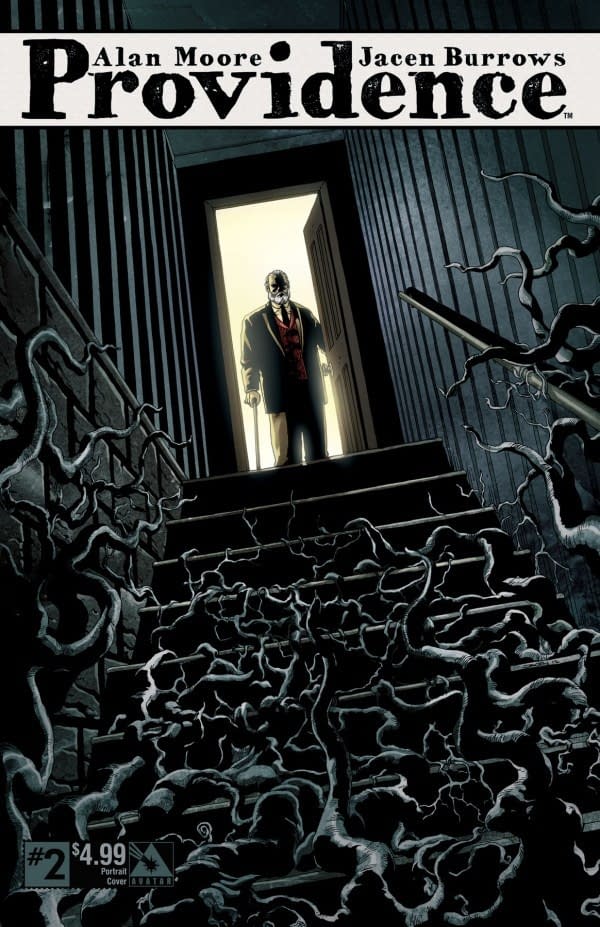 Though much less overt than we find in Moore's work Promethea, the reader is going to learn a thing or two about occult lore if they pay attention, and certainly about the pattern of relevant concepts that are going to help set up Providence as a series. One of the big juxtapositions brought up in conversation and relevant to the first two issues of the series so far is the idea that dreams and the subconscious are suppressed "below" and often associated with basements, cellars, and subterranean locations. Moore seems to question whether Lovecraft might have come pretty close to anticipating some Carl Jung's observations about the unconscious, but also gives Lovecraft something of the advantage here: the creatures of his fiction have agency of their own and don't like to be interpreted metaphorically. Nor should we expect them to be in a work like Providence. It is a horror comic, after all.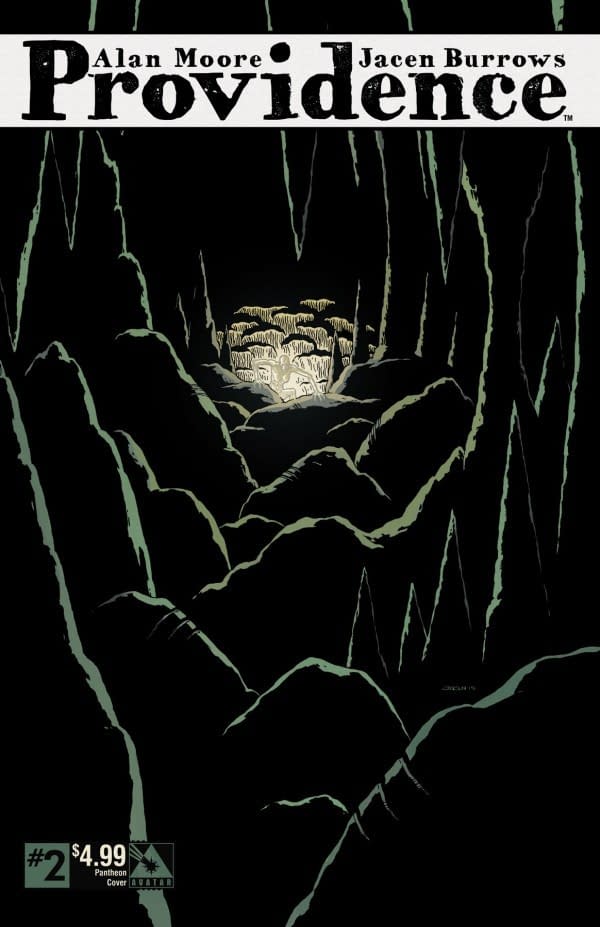 Fans of Lovecraft are going to go a bit "apeshit" in common parlance when they see the meta-material in this issue of the comic as well. Issue #2 takes elements of extra material present in #1 to a whole new level as readers get to peruse Robert Black's journal, but also read whole tracts and treatises relevant to both the history and literary tradition the comic series builds upon. It makes you wonder if, by the time 12 issues of Providence have come out, enough fictional historical documents will have been produced for the reader to enable them to complete the equivalent of a fictional degree in this fictional universe. That'll no doubt be a "Yes". But that's the kind of comic this is. The sheer density of composition and care devoted to it might well be unrivaled in the history of comics so far. It certainly is in my experience. This issue clocks in at 40 pages with no ads, and the extra material is substantial.
Look out for Issue #2 of Providence on July 8th, and if you're lucky or crazy enough to be at San Diego Comic-Con, remember that Avatar Press will be bringing a special convention exclusive of Providence #2 for sale. It's a doozy, too. This "weird pulp cover" for #2 by Burrows and Michael DiPascale will be priced at $9.99: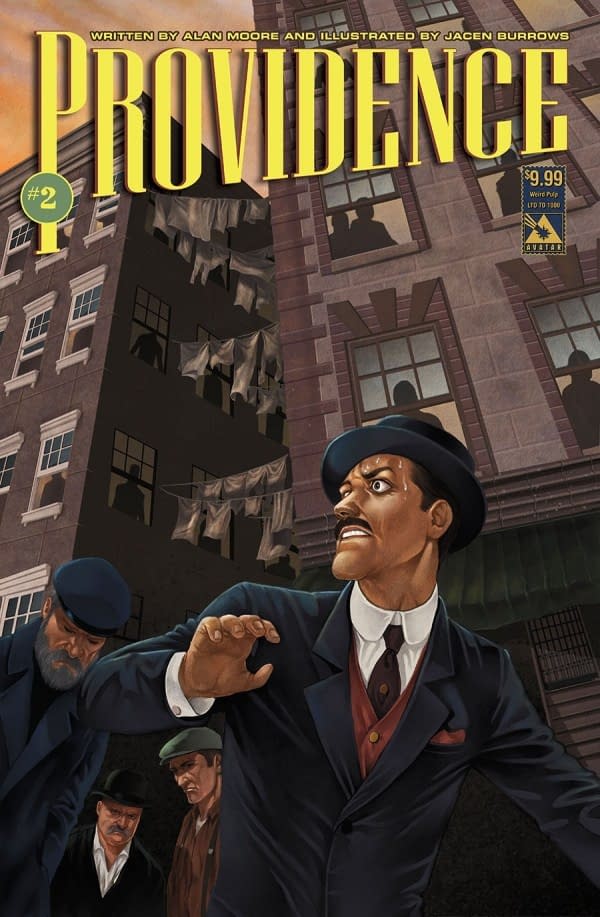 Providence is published by Avatar Press, the parent company to Bleeding Cool