Steven Horry writes,
Hello. My name is Steven Horry. Over the last year, I've been writing a mini-series for Comichaus called Lizard Men, which is currently crowdfunding it's final 3 issues via Kickstarter. It's all about what happens when an outsider politician – in this case, the singer of a band – becomes Prime Minister of Great Britain and discovers that we genuinely are ruled by shape-shifting lizard people from beyond the stars. Obviously he tells them to go f-ck themselves, unleashing all kinds of trouble. Because you would, wouldn't you? It's a comic that has its genesis in the pages of two books: John Higgs' The KLF: Chaos, Magic & The Band That Burned A Million Pounds, and Jon Ronson's 2001 effort Them: Adventures With Extremists.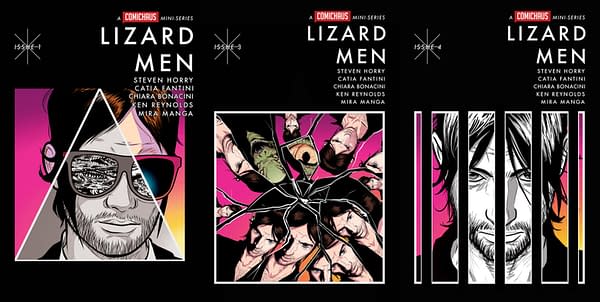 Ronson's book was written in 2001, but it seems to speak very much of where we are now, or at least points to how we got here. From Wikipedia: Ronson chronicles his travels and interviews with "extremists" and attempts to uncover the mystery behind the "tiny elite that rules the world from inside a secret room". The book is written on the premise that perhaps extremists are not all that crazy, and as different as they may seem to be, they have a lot in common with each other (specifically the belief that a small group of very prominent people controls the fate of the entire world).
I'm of an age where X-Files could be classed as a formative influence, so I'm always entertained by a secret society conspiracy story – even though I'm firmly of the belief that the idea of the whole world being run by 5 people in a room somewhere is a load of old bollocks. So Them was right up my street. The people Ronson met were mostly terrifying, but he's a terrific writer, and in some cases has you feeling almost (emphasis on almost) sorry for some people with deeply abhorrent views, which is confusing. At the time of publication, these were fringe figures, but now some of the people he interviewed seem to be much more mainstream: take for example Alex Jones – a marginal internet conspiracy theorist who by 2017 was in a position where Ronson could try and use him as an 'in' to Donald Trump's White House for his Amazon Kindle single The Elephant In The Room. Which is baffling, right?
There's a chapter where Ronson meets David Icke, which provided my first detailed introduction to Icke's belief that we're ruled by a number of races of shape-shifting reptilian overlords who've not only been ruling humanity behind the scenes since the dawn of man, but actually created humanity as their special flesh tool. I was already vaguely aware of the idea, but I didn't know quite how much detail it went into. It's – quite frankly – absurd stuff. Everyone in any vague position of power is apparently a shape-shifting lizard person. Even the Queen. He talks about many different kinds of lizard people. I used Annunaki for this comic because sounds a little better than many of the other types, which include the Dingir, the Greys and – oh yes – the Crinklies. But there's also the Zebra Repticular and the Goat Sucker. Yip: the Goat Sucker. According to a bit of research I did online, Dingir is widely recognised as the ancient Sumerian word for 'god'. According to David Icke, it translates as "The righteous ones of the blazing rockets."
Yip.
It will forever bum me out that there is already a band called that.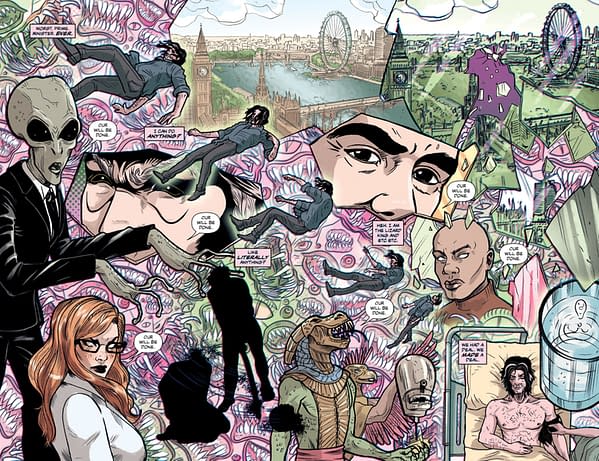 Higgs' book takes the KLF as a starting point, but it explores their influences as much as – if not more than – the actual band, making it possibly the most mind-expanding music biography I've ever read. I wasn't expecting a standard rock biog, but what Higgs has written is something *so* far away from a standard rock biog that it's perfect for a band with such a dense level of referentiality. It dives into their world, with Discordianism and The Illuminatus! Trilogy looming particularly large. Enthused by their descriptions in the book, I ended up downloading The Illuminatus! Trilogy and the Prinicpia Discordia, both of which are incredible. The Principia Discordia is the founding text of Discordianism, a parody religion that celebrates Eris, the Greek goddess of chaos. There are various ridiculous and contradictory rules, all designed to spoof the various rules and decrees of religion that can't just be boiled down to 'don't be a dick'. It's been an influence on a lot of pop culture, and I'm far from the first comics writer to pepper a script with references to Discordianism, with Grant Morrison's The Invisibles being probably the most notable example. A side note: fans and scholars of Discordianism may appreciate that my contribution to each issue of Lizard Men covers 23 pages of effort – 23 being the Discordianist holy number.
As a consequence of the Illuminatus! Trilogy's influence on the KLF, Higgs' book contains various sections that address some of the illuminati theories that popped out throughout Them. And in the background, the 2015 general election was looming…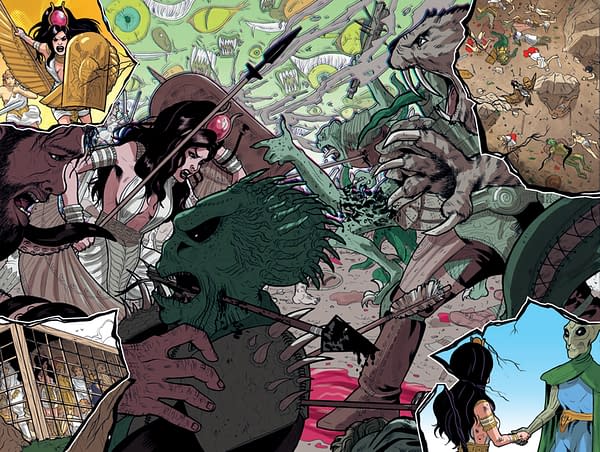 Firstly via YouTube and shared on Facebook and Twitter, and then moving on to the television, Russell Brand began making pronouncements on the state of the nation's politics. The key moment for me was an appearance on Newsnight, where he was challenged by an MP. I paraphrase, but infuriated by Brand the obvious question was asked:
"Why don't you stand then?"
It sparked off an idea. What if he did stand? And what would happen if found himself in a position of power? Having read all of the above the immediate thought was obvious: "Oh, he'd find out that shapeshifting lizards really are in control and he'd have to do what they say." And lo, Lizard Men was born. Though having said that, Dylan Zamani (my Prime Minister) is not Russell Brand. Brand's speech pattern is incredibly distinctive. He's verbose, he's flowery. He's hippyish. Dylan is direct and blunt. He's earnest. He's punk. Even visually, Dylan's hair is based on Jaime Harding's 90s do, not the whopping great birds nest on top of Brand's head. When working on his wardrobe I instructed Catia to look at images of Suede since they reformed. In my head, Dylan's band are on that side of the Britpop spectrum: a version of Marion that kept it together and Made It Big.
I started writing, poking fun at the various bizarre theories doing the rounds online and pulling it all together into what I think is a pretty ridiculous story. One of my absolute favourites ended up quoted pretty much verbatim in the comic:
Though obviously it wasn't Dylan Zamani in the original post. I can't remember who it was now, but I'm fairly sure it was Barrack Obama.
Since I started writing, I've enlisted Catia Fantini on line art, Chiara Bonacini on colours, Ken Reynolds on lettering and Mira Manga to edit. Every single one of them is a brilliant human being. We've used Kickstarter to successfully fund the printing of the first three issues, and BC editor Rich even said some nice things about issue 1. Now we're prepping for The End. EEP. It's quite exciting. We have a Kickstarter live now for the final issues (#4 – #6), which will complete the story. You can pick up all 6 issues, there are the obligatory sketch rewards, and – should any of that have piqued your interest, we've even set up a 'Hey! We're on Bleeding Cool! Awesome!' Goal: if we hit the 80% mark within a week of this going up, you'll all get a freebie digital sampler of three chapters of the creative team's next project, a Comichaus graphic novel called Chalk that'll be out sometime next year. It's a very different proposition that took me 7 or 8 chapters of writing to realise is sort of a romcom. Just one that happens to feature an immortal, The Devil and Herne The Hunter.
Just 'cos it's always worth the extra plug: the Lizard Men 4-6 Kickstarter is live here and you can find out more about our work here.
WHO THE HELL IS STEVEN HORRY?
Steven Horry is a comics writer, artist and inker. His most notable works include the Image Comics OGN Double D (created in collaboration with Art Brut singer Eddie Argos), The Islanders and Transrealities. He's also been a musician, a record producer, a DJ and a geek-themed pub quiz host. He's still embarrassingly proud of having a runner-up single of the week in the NME back in 2006, even if no-one remembers the actual single. Last month he joined his frequent collaborator, Berlin-based songwriter Mark Fernyhough, to open for Suede on the first night of their The Blue Hour tour.
He is currently writing the Comichaus mini-series Lizard Men, and the upcoming Comichaus OGN Chalk.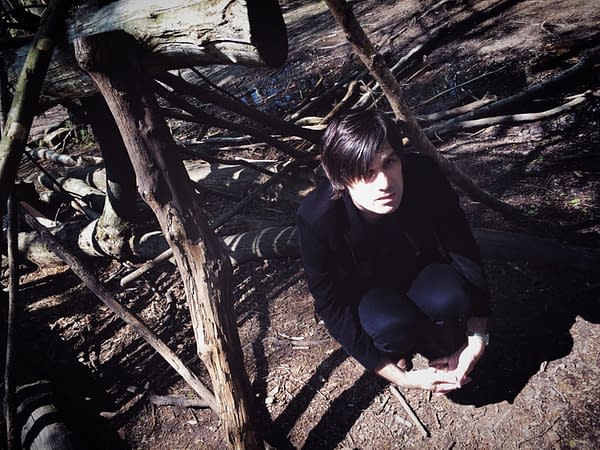 Enjoyed this article? Share it!