 Dynamite Entertainment is launching all manner of books in June 2017. A 99 cent Ash Vs Army Of Darkness, a new Game Of Thrones adaptation, a new Mighty Mouse comic, Swordquest, KISS VS Vampirella, Gwar, Magnus and Blood Brothers.
And everything else continued, from James Bond to Pathfinder to Nancy Drew…
ASH VS AOD #0 CVR A BRADSHAW
(W) Chad Bowers, Chris Sims (A) Mauro Vargas (CA) Nick Bradshaw
For 25 years, Ash Williams has been waging a war across time against the Army of Darkness. Now, Dynamite Entertainment is proud to present the next thrilling chapter, kicking off in this special 16-page prelude! Ash may be the Chosen One, but that doesn't mean he can hold down a steady job. But when he's scrambling for employment, will he find himself once again thrown into battle against the Deadites? Here's a hint: The book ain't called Ash: The Guy With A Regular Job Who Doesn't Battle Against The Forces of Evil. Don't miss out on the opening chapter of a new AOD epic from the red-hot writing team of Chad Bowers and Chris Sims and artist Mauro Vargas! (STL047199)
32pgs, FC SRP: $0.99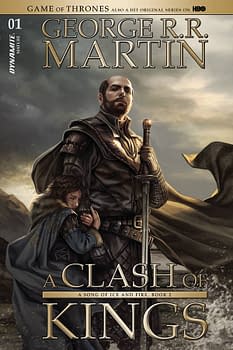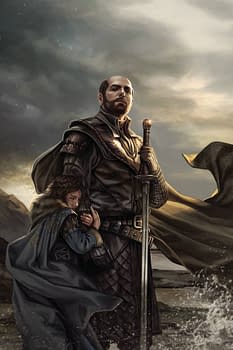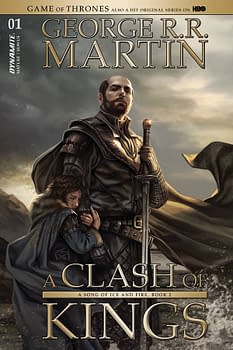 GAME OF THRONES CLASH OF KINGS #1 CVR A MILLER (MR)
(W) George R. R. Martin, Landry Quinn Walker (A) Mel Rubi (CA) Mike S. Miller
George R. R. Martin's A Song of Ice and Fire saga continues in the official comic book adaptation by Dynamite Entertainment! Following the events of A Game of Thrones, Westeros is embroiled in civil war, while Daenerys Targaryen — as heir to the Targaryen dynasty, seeks to reclaim the Iron Throne. Arya, with the help of Yoren, a brother of the Night's Watch, has escaped from King's Landing, but the road to the Wall brings its own dangers. Meanwhile, Sansa attends a tournament on the sadistic King Joffrey's name-day, and Bran, in Winterfell, suffers from strange dreams of wolves… (STL047206)
MATURE THEMES
32pgs, FC SRP: $3.99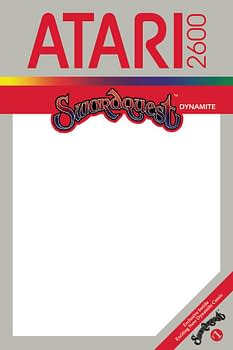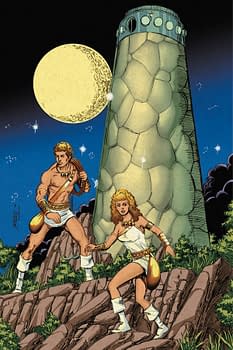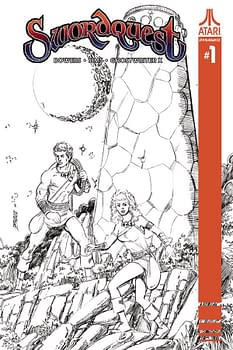 SWORDQUEST #1 CVR A MONTES
(W) Scott Kowalchuk, Chris Sims (A) Ghostwriter X (CA) Goni Montes
The Atari Age returns to comics with the most unexpected story of the year: SwordQuest! In 1984, Peter Case was on his way to being crowned champion of SwordQuest, set to win the last of four contests and lay claim to a golden sword worth over $50,000! But when the game was discontinued, Peter found himself without a game to finish. Now, over thirty years later, Peter's stuck in a different kind of game entirely — the game of life — and he's losing fast. But when he learns that all the prizes meant for the SwordQuest contest of his youth are on display in the World Arcade Museum, he finds an unknown determination that sees him put together a team of like-minded losers for the ultimate heist job — a real-life swordquest! The red-hot team of Chris Sims, Chad Bowers, and Ghostwriter X (Down Set Fight) have a new game — and the stakes have never been higher! (STL047066)
32pgs, FC SRP: $3.99
ATARI POSTER COLLECTION SC
(A) Various
The artwork of Atari inspired a generation and created a bridge from the simple on-screen graphics of its early games to the imaginations of eager gamers. Now, Dynamite Entertainment proudly brings the most iconic, mind-blowing video game illustrations to posters, each one easy to remove and perfect for display, showcasing the tremendous talent of Atari's greatest artists! 40 READY-TO-FRAME, REMOVABLE, 12" x 16" PRINTS IN ONE COLLECTION:
Millipede 2600, Star Raiders 520, RealSports Baseball 5200, Missile Command 2600, Centipede 2600, 3D Tic-Tac-Toe Asteroids 2600, Basketball 2600, Asteroids 5200, Centipede 5200, Asteroids 7800, Combat Two, Demons To Diamonds, Crystal Castles, Football 2600, Haunted House, Haunted House (Unused), Home Run, Missile Command 5200, SwordQuest Fireworld, RealSports Tennis, RealSports Baseball, Surround, RealSports Basketball 2600, Video Checkers, RealSports Soccer 5200, RealSports Volleybal, SwordQuest Airworld, AtariAge SwordQuest Cover, Video Pinball, SwordQuest Waterworld, RealSports Basketball 5200, RealSports Football 2600, Star Raiders 2600off, Super Breakout 2600, Tempest 2600, Warlords, Yars' Revenge, Warlords Family, and the Atari Wizard! (STL031668)
SC, 12×16, 40pgs, FC SRP: $24.99 ART OF ATARI HC
(W) Tim Lapetino
"Get in the action with Atari!" Since its formation in 1972, Atari pioneered video game technology and built today's multi-billion dollar industry, developing arcade games, home video systems, and personal computers to entertain millions of children and adults with fan-favorite games like Asteroids, Centipede, Missile Command, and Yar's Revenge. To usher in the new era of electronic entertainment, the company hired an array of talented illustrators to emblazon game cartridges, boxes, magazine advertisements, and more with mind-blowing visions of fantasy and sports thrills, science fiction and adventure, that elevated pixelated gaming to the realm of high art. Art of Atari is the first official retrospective of the company's illustrative accomplishments, spanning over four decades and cultivated from museums and private collections worldwide. Whether you're a fan, a collector, or new to the world of Atari, this book offers the most complete collection of Atari artwork ever produced! (STL011921) (JUL161467)
HC, 8×11, 352pgs, FC SRP: $39.99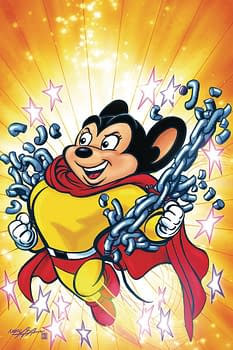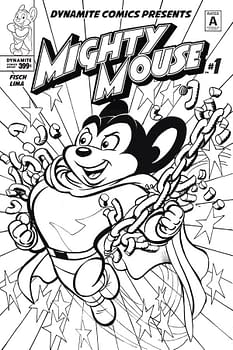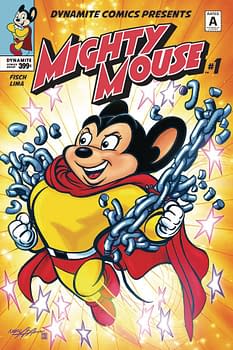 MIGHTY MOUSE #1 CVR A ROSS
(W) Sholly Fisch (A) Igor Lima (CA) Alex Ross
You're the world's greatest hero, exiled to another dimension with no way back. Trapped in an alien world, where not even the laws of physics work the way they should. The only person who even believes you exist is a young kid whom no one will listen to. Yet, you're the shining light that this drab, cynical world needs to restore its color and life. Oh — and you're a cartoon mouse. Here comes Mighty Mouse to save the day, in his most unexpected adventure yet… right here, in the real world! (STL047217)
32pgs, FC SRP: $3.99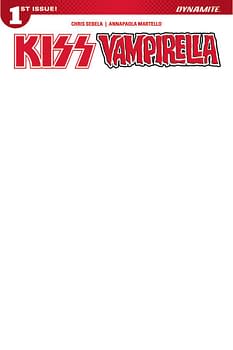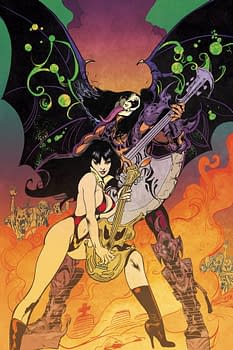 KISS VAMPIRELLA #1 (OF 5) CVR A DOE
(W) Christopher Sebela (A) Annapaola Martello (CA) Juan Doe
L.A. Is a strange town on the best of days, but in the summer of 1974, the City of Angels feels especially demonic. As temperatures soar and wildfires burn, all sorts of strange creatures are drawn to town, including Vampirella. While Vampi goes out and hunts down monsters all across La La Land — defending humanity from evil — she's also killing it every night on stage as a member of the all-girl rock group Witchkraft — defending rock 'n' roll from a dying scene. Help arrives in the form of four creatures who've just flown into town: The Starchild, The Demon, The Spaceman and The Catman. Away from their home turf and trying to record their new album, KISS discovers that all their favorite L.A. bands have mysteriously broken up, disappeared, sold out, or gone crazy. Led by a driver who moonlights in the occult and haunted by satanic strangers dressed in black, KISS finds themselves drawn into a web conspiracy that threatens to kill rock 'n' roll itself. (STL047229)
32pgs, FC (1 of 5) SRP: $3.99
GWAR ORGASMAGEDDON #1 (OF 4) CVR A SAWYER (MR)
(W) Matt Maguire, Matt Miner (A/CA) Jonathan Brandon Sawyer
From the depths of outer space to the frozen wasteland of Antarctica, punk rock and heavy metal's most shocking and blasphemous band of intergalactic blood spewing alien monsters has returned to kill everything and respect nothing in the pages of GWAR: Orgasmageddon! Banished to the past by the cold and calculating Mr. Perfect, the heroes of GWAR trample through time like a deranged Bill and Ted on bath salts – antics ensue as they stomp and smash and shape human history to what we accept as our current reality. Co-written by GWAR themselves and Matt Miner (Toe Tag Riot, Critical Hit), GWAR: Orgasmageddon is a love letter to comics, grindhouse movies, and heavy metal — sure to appeal to the most die-hard fan and the comics fanboy/fangirl intrigued by the prospect of social awareness drowned in geysers of blood and alien goo. (STL047237)
MATURE THEMES
32pgs, FC (1 of 4) SRP: $3.99
GWAR ORGASMAGEDDON #1 (OF 4) CVR G BLANK AUTHENTIX (MR)
(W) Matt Maguire, Matt Miner (A) Jonathan Brandon Sawyer (CA) Blank Cover
The Blank Authentix Edition — available as a variant to Gwar: Orgasmageddon #1 — makes it possible for you to have your favorite artist create their own version of the Scumdogs of the Universe! (STL047244)
MATURE THEMES
32pgs, FC (1 of 4) SRP: $10.00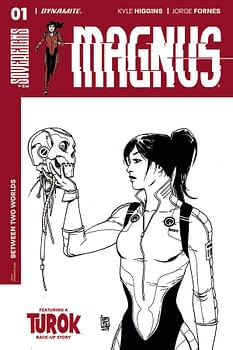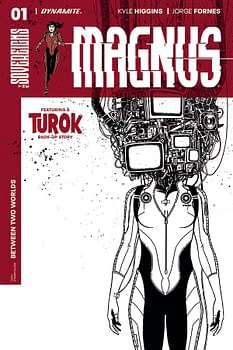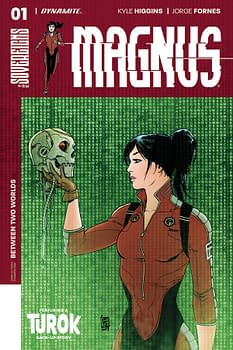 MAGNUS #1 CVR A CAMUNCOLI
(W) Kyle Higgins, Chuck Wendig (A) Jorge Fornes, Alvaro Sarreseca (CA) Giuseppe Camuncoli
Do humans dream of owning electric sheep? Artificial intelligences, rather than becoming our overlords, have settled into an uneasy symbiosis with humanity – they work for us as our colleagues and servants, earning vacation-time they spend in a boundless digital universe running on human-maintained server farms. But not all AIs are cool with the deal. Enter Magnus — a human psychologist tasked with navigating both worlds in order to bring recalcitrant AIs back into productive society… BONUS TUROK STORY, CHAPTER THREE! The all-new saga of the all-new Turok continues: He's a man on a mission, possessed, and he won't let anyone or anything get in his way! (STL047402)
32pgs, FC SRP: $3.99 JIM BUTCHER DRESDEN FILES DOG MEN #1 CVR A GALINDO (MR)
(W) Jim Butcher, Mark Powers (A/CA) Diego Galindo
Jim Butcher's worldwide bestselling Dresden Files saga continues in this original limited series! Harry Dresden is a man on the edge — and that is something that can be dangerous to friend and foe alike. He's been drafted by a senior member of the White Council of Wizards to investigate a series of murders in rural Mississippi. As always, there's more afoot than is immediately apparent. The question is, will Harry's state of mind keep him from seeing it, and will his actions lead him into direct conflict with the wizard who's depending on his help? (STL047245)
MATURE THEMES
32pgs, FC SRP: $3.99 BLOOD BROTHERS #1 CVR A CABA
(W) Fabian, Jr. Rangel (A/CA) Javier Caba
Diego and Gabriel Soliz are two unusual brothers just trying to do their job in an even more unusual city. What's their job? They're detectives in a city populated by creatures from mythology and fantasy. When an Aztec skull is stolen from the museum, the BLOOD BROTHERS are assigned to the case! (STL047248)
32pgs, FC SRP: $3.99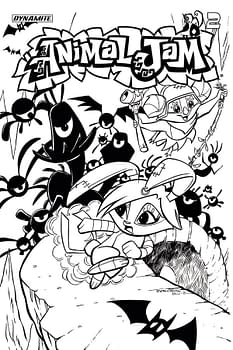 ANIMAL JAM #2 CVR A RUIZ
(W) Fernando Ruiz, Eric Esquivel (A/CA) Fernando Ruiz
The all-ages action continues in Animal Jam #2, the second issue of Dynamite Entertainment's WILDEST new sensation– based on the MASSIVELY popular video game by National Geographic and WildWorks (with over 70 million players worldwide)! (STL046992)
32pgs, FC SRP: $3.99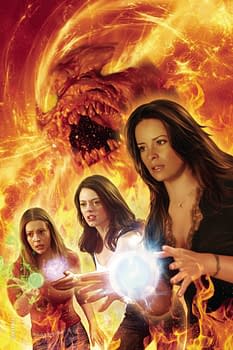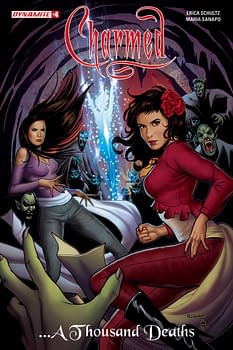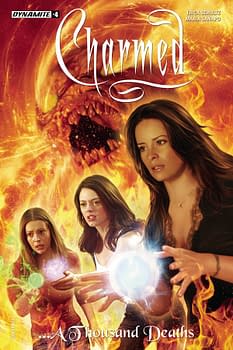 CHARMED #4 CVR A CORRONEY
(W) Erica Schultz (A) Maria Sanapo (CA) Joe Corroney
Paige and Gabe are in the Underworld being used to power the multitudes of demons coming onto our plane of existence. Many in the Charmed Ones' circle have already been replaced by demons, closing in on finishing them off before looking to take over the world. (STL046997)
32pgs, FC SRP: $3.99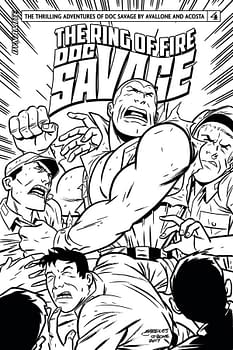 DOC SAVAGE RING OF FIRE #4 (OF 4) CVR A SCHOONOVER
(W) David Avallone (A) Dave Acosta (CA) Brent Schoonover
CHAPTER FOUR: PHOENIX IN FLIGHT—John Sunlight wants to light up the Ring of Fire, causing havoc and destruction all along the West Coast. Can Doc Savage and Amelia Earhart stop him in time? Catch the apocalyptic climax of Avallone and Acosta's Doc Savage: Ring of Fire! (STL047002)
32pgs, FC (4 of 4) SRP: $3.99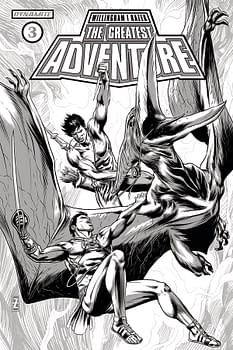 GREATEST ADVENTURE #3 CVR A NORD
(W) Bill Willingham (A) Cezar Razek (CA) Cary Nord
The race to capture the rare gemstone known as the "Eye of Judgment" continues — has brought both the crews of the noble Venture and the villainous Resolve to the Lost Land of Caspak! But as they press on into the interior of the island, they'll have to deal with the dangers of the native prehistoric flora and fauna — that is to say, the DINOSAURS! (STL047006)
32pgs, FC SRP: $3.99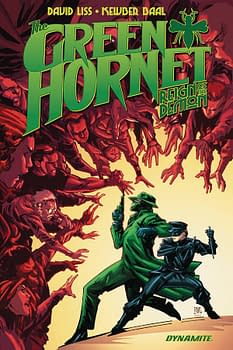 GREEN HORNET REIGN OF THE DEMON TP
(W) David Liss (A) Kewber Baal (CA) Ken Lashley
Britt Reid, the masked crimefighter known as The Green Hornet, and his inseparable ally Kato return in an all-new tale by David Liss (Black Panther, The Spider) and Kewber Baal (Kiss)! If imitation is the sincerest form of flattery, it could be the deadliest for Central City's staunch defenders! Green Hornet's personal vendetta against organized crime creates a void in Chicago, one filled by two more masked individuals: the vicious Demone and the cavalier Swashbuckler. While the former establishes himself as a most formidable foe, the latter claims to be a friend… but is he playing a far more subtle game? (STL038328)
SC, 7×10, 136pgs, FC SRP: $15.99 THE GREAT DIVIDE TP (MR)
(W) Ben Fisher (A) Adam Markiewicz
In the near future, humanity awakens to the horrifying reality that the faintest touch from another's skin results in agonizing death. The survivors isolate themselves, many driven mad by fragments of memories absorbed from those they've killed. Two years after the "Divide", a pair of thieves stumble upon the means to save their species… but not everyone is eager to see the old world order restored! Includes free digital bonus content to download, including the song "Teotwawki" (mood music for the apocalypse), a coloring book, RPG content, a self help book from the perspective of villain Sebastian Gibbs, dystopian short stories, and a song by the band City Below! (STL038327)
MATURE THEMES
SC, 7×10, 176pgs, FC SRP: $19.99
HOMIES TP
(W) David Gonzalez, Elliot Serrano (A/CA) Andrew Huerta
It's time to go back to the barrio with the Homies! The pop culture phenomenon that took the 1990s by storm returns with brand-new hijinks co-plotted by the creator of Homies himself, David Gonzales. In Barrio Quién Sabé, the entire community is one big familia, laughter and good times are the perfect cure for reality, and the Homies love their lowriders like they love their ladies: painted, sexy, curvy, and dressed to kill. Follow the colorful, oddball characters in four wild adventures: the wedding of Gata to would-be bachelor-for-life Hollywood, a charity match of rival luchadores to save the neighborhood community center, the haunting of the Mexican legend La Llorona, and the arrival of an illegal alien… of the extraterrestrial kind! Welcome to East Los Angeles, esé! (STL038329)
SC, 7×10, 104pgs, FC SRP: $15.99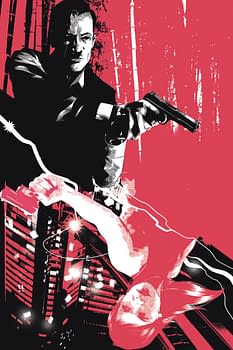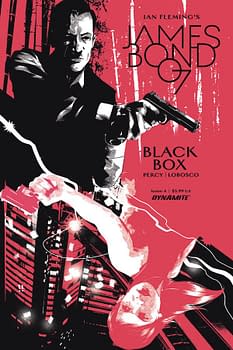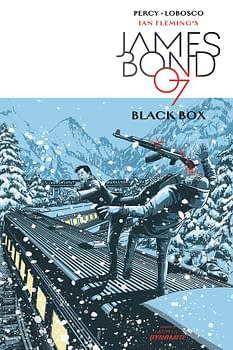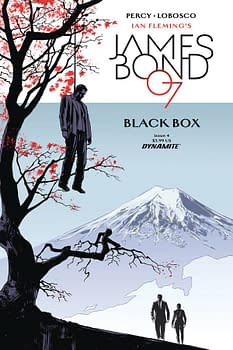 JAMES BOND #4 CVR A REARDON
(W) Ben Percy (A) Rapha Lobosco (CA) Dom Reardon
THE SUICIDE FOREST—The latest installment in the "Black Box" storyline will leave you breathless! An epic car chase through the gritty, neon wonderland of Tokyo gives way to a sexy layover near Mt. Fuji, where James Bond goes "undercover" with the mysterious assassin, Selah Sax. Little does 007 know his mission is about to change — and danger lurks in the nearby "Suicide Forest," where he and Selah will be both the hunters and the hunted! (STL047012)
32pgs, FC SRP: $3.99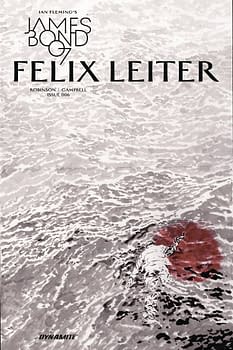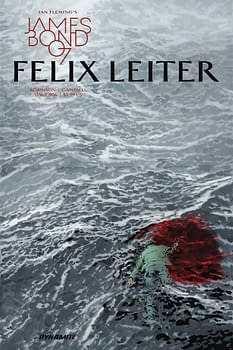 JAMES BOND FELIX LEITER #6 (OF 6) CVR A PERKINS
(W) James Robinson (A) Aaron Campbell (CA) Mike Perkins
The thrilling series conclusion! Tiger and Felix have cornered their prey, the North Korean agent responsible for the bio-weapons – but Alena Davoff, Felix's former lover, is still at large, and Felix is dead-set on investigating! He must figure out if Alena is still working for her former Russian handlers… or if she's gone rogue? (STL047018)
32pgs, FC (6 of 6) SRP: $3.99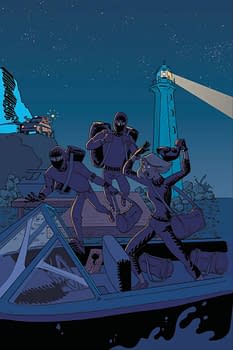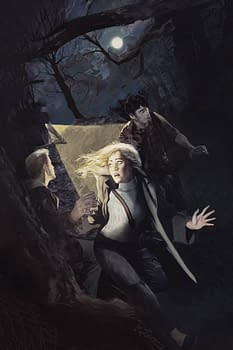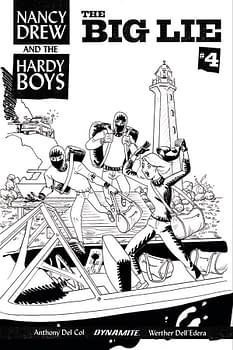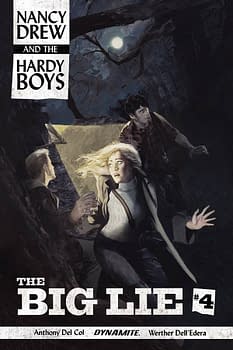 NANCY DREW HARDY BOYS #4 CVR A DALTON
(W) Anthony Del Col (A) Werther Dell'Edera (CA) Fay Dalton
Who can you really trust? Now on the inside of the Rover gang that runs Bayport's criminal world, Nancy Drew and the Hardy Boys turn to a black sheep brother to guide them through it all. But as they put together a sting operation, are they the ones that will be stung? (STL047030)
32pgs, FC SRP: $3.99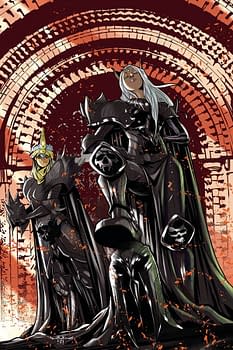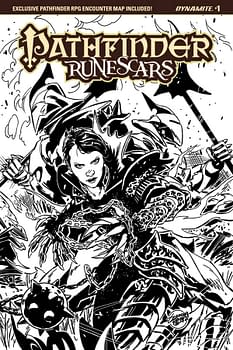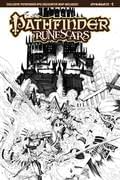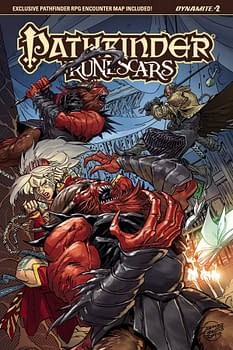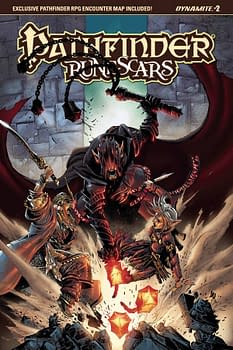 PATHFINDER RUNESCARS #2 CVR A LAU
(W) Wes Schneider (A) Ediano Silva (CA) Jonathan Lau
The Pathfinder heroes take on the dreaded Hellknights! Having identified the serial killer stalking Korvosa's streets, Seoni and her friends must undertake their most foolhardy quest yet—sneaking into a Hellknight fortress! Once inside, they'll need to battle devils and infernal traps in order to search a wizard's workshop for clues. But infiltrating the stronghold of a knightly order powerful enough to enslave devils will prove anything but simple… Battle and brimstone overflow in this sinister adventure from Pathfinder co-creator James L. Sutter (Pathfinder Hollow Mountain, The Redemption Engine), with art from Ediano Silva (Grimm Fairy Tales, Hellchild: The Unholy). Contains pull-out poster map and official Pathfinder RPG bonus encounter! (STL047035)
32pgs, FC SRP: $4.99

PROJECT SUPERPOWERS HERO KILLERS #2 CVR A WOODS
(W) Ryan Browne (A/CA) Pete Woods
Oh man, oh man, oh man! Okay! Everybody cool out! We just need a second here and we will figure this out! Or not. I don't know. Tim and the gang messed up pretty big and I'm not sure how they are going to handle it. And not just them. How are the superheroes gonna deal with this? Captain Battle doesn't seem too easy going…not with a name like CAPTAIN BATTLE! Let's just think about this logically. Maybe Sparky, Captain Battle Jr., and Tim can turn this monumental screw-up to their advantage. I mean, they have a lot of inside information and maybe a town without crime isn't so great after all… (STL047045)
32pgs, FC SRP: $3.99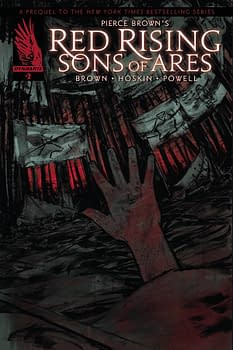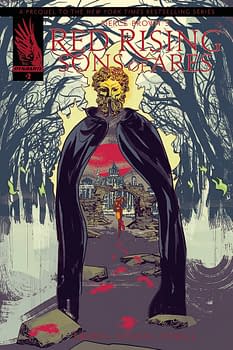 PIERCE BROWN RED RISING #2 CVR A CYPRESS
(W) Pierce Brown, Rik Hoskin (A) Eli Powell (CA) Toby Cypress
Pierce Brown's RED RISING continues with SONS OF ARES! While the Sons of Ares are on the run as their mission takes a deadly turn, Fitchner Au Barca's time at The Institute is revisited. He learned many lessons there, but the most important of all was one of loyalty. The Peerless Scarred stand above all and look down on the rest. Their dismissal of one of their own proves to be a fateful error. (STL047041)
32pgs, FC SRP: $3.99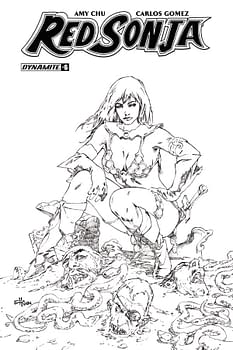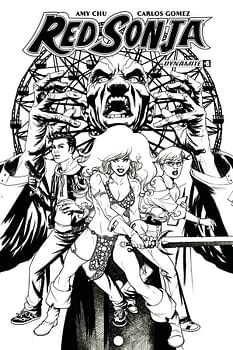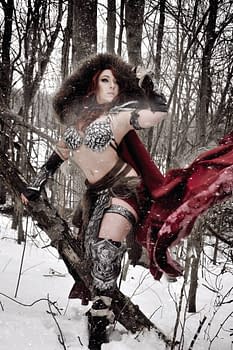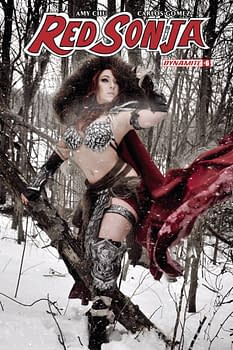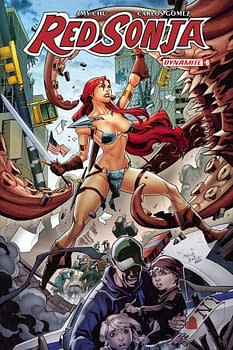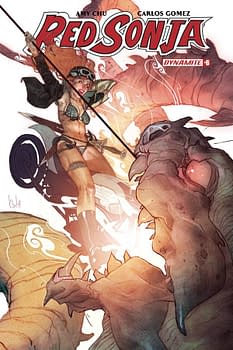 RED SONJA #6 CVR A MCKONE
(W) Amy Chu (A) Carlos E. Gomez (CA) Mike McKone
First New York, next the world. Only Red Sonja and her friends can stop Kulan Gath's megalomaniac quest for a new world order, but first they need to lure the evil sorcerer to Coney Island for a final magic showdown. Can Max pull off the greatest trick of his life, or will this be their last ride? (STL047049)
32pgs, FC SRP: $3.99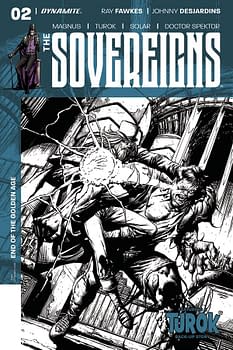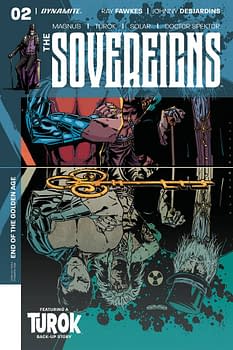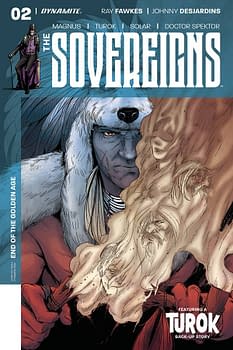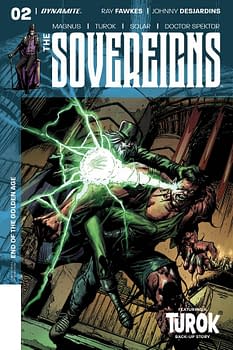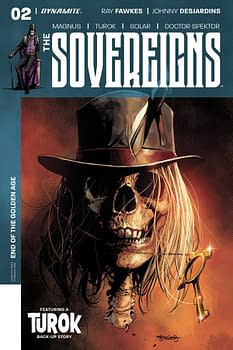 SOVEREIGNS #2 CVR A SEGOVIA
(W) Ray Fawkes, Kyle Higgins (A) Johnny Desjardins, Jorge Fornes (CA) Stephen Segovia
The growing mystery in the Lost Valley threatens to envelop the Earth and destroy any future mankind has. While Samson, last man on Earth, stalks the threat, little does he know the threat stalks HIM! And some five-hundred years earlier, Doctor Spektor faces his destiny while Magnus investigates a puzzle that will ultimately change everything! BONUS TUROK STORY: Continuing the all-new saga of the all-new Turok from SOVEREIGNS #0: What's Turok's link to the outside world, and will that tie aid his quest or bring it down — along with his head? (STL047057)
32pgs, FC SRP: $3.99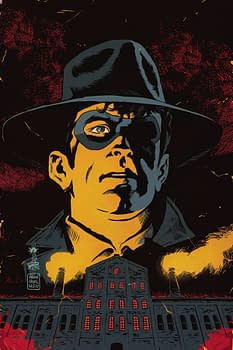 WILL EISNER SPIRIT CORPSE MAKERS #5 (OF 5) CVR A FRANCAVILLA
(W/A/CA) Francesco Francavilla
INTRIGUE! ACTION! HORROR! The PULP-tastic conclusion of one of Will Eisner's THE SPIRIT's most thrilling tales is here and has it all. Do not dare miss it! (STL047084)
32pgs, FC (5 of 5) SRP: $3.99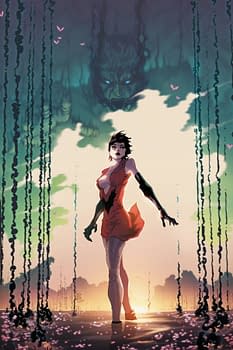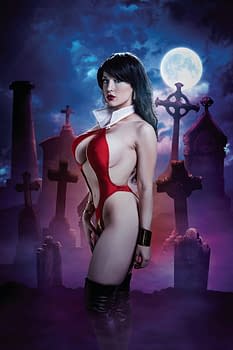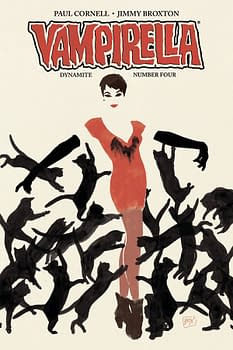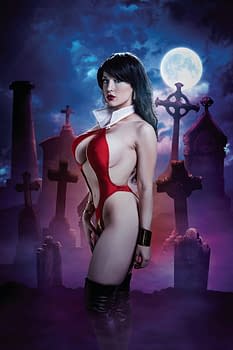 VAMPIRELLA #4 CVR A TAN
(W) Paul Cornell (A) Jimmy Broxton (CA) Philip Tan
Ever wondered what happens to your soul when you die? Spent time pondering if karma is real? Questioned whether there's a greater power out there watching to see if we've been naughty or nice? This month, Vampirella is your guide as all your existential questions are answered. Rudely! (STL047070)
32pgs, FC SRP: $3.99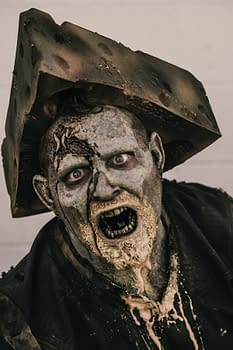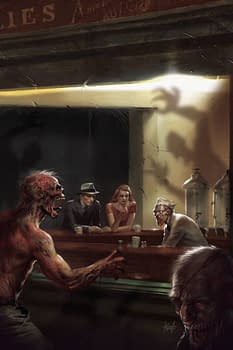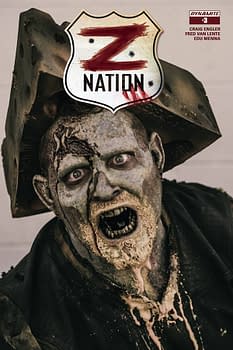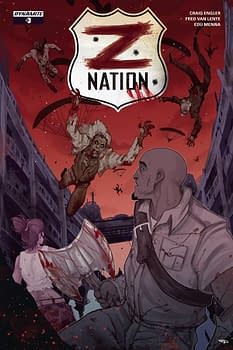 Z NATION #3 CVR A MEDRI (MR)
(W) Craig Engler, Fred Van Lente (A) Edu Menna (CA) Denis Medri
Z NATION: SEA OF DEATH: Part 3—Specialist Israel Johnson and Private Edie Cutter find themselves caught between warring factions as the remnants of the U.S. Navy board the floating zombie fortress The Empress of the Seas to capture the food substitute Soylent Z. With the Captain and his notorious Crew distracted by the fight, Israel and Edie decide their best course of action is to steal the Soylent themselves, not realizing the Navy has a secret weapon they're about to deploy. Meanwhile, in the depths of the ocean an all-new zombie menace begins to stir. Sea of Death is a prequel set in the world of Syfy's hit zombie series Z Nation, produced by The Asylum. Featuring Z Nation's signature blend of horror, humor and heart, Sea of Death is a six-issue miniseries from acclaimed writer Fred Van Lente (Marvel Zombies, G.I. Joe) and Craig Engler, based on the long running series Z Nation created by Karl Schaefer and Craig Engler. (STL047078)
MATURE THEMES
32pgs, FC SRP: $3.99
Enjoyed this article? Share it!