[rwp_box_recap id="0"]
Zula Hendricks and Amanda Ripley have tracked a colony ship to a jungle moon that the Weyland-Yutani corporation has been using to test a new generation of genetically modified xenomorphs.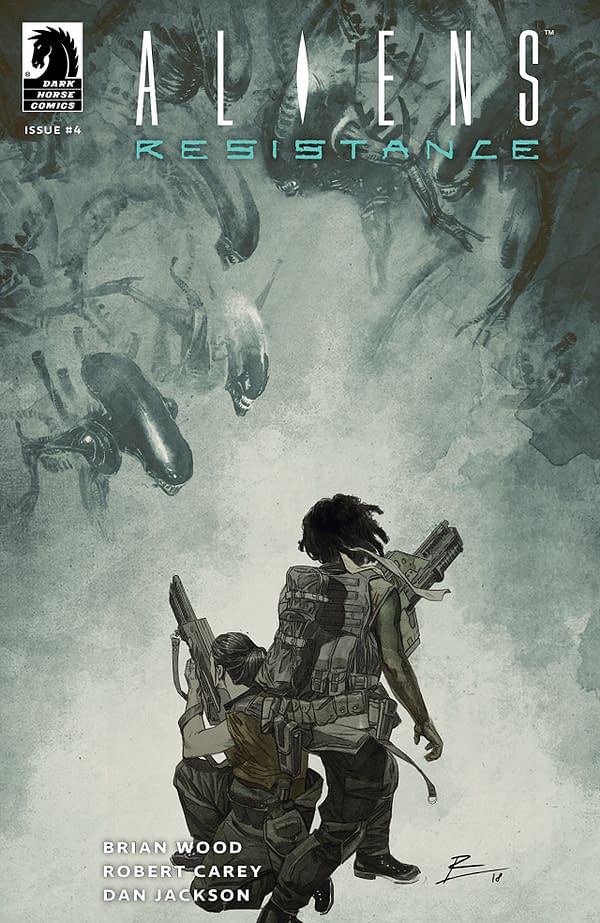 The two women are pretty adept at surviving the monsters, but this issue of Aliens: Resistance does a pretty phenomenal job of showing the stakes over the opening pages of the issue, with a horrific field of bodies, ripped to pieces by the emergent xenomorph hatchlings.
This isn't like previous infestations- the host bodies have been infested with multiple hatchlings, which erupt from their hosts in spectacular showers of viscera. Needless to say, no one survives the process.
The hatchlings then set to destroying each other, with the survivors setting off to evolve into mature monsters. We see one such hatching event, with the host clearly conscious as his body is rendered into chunks of meat.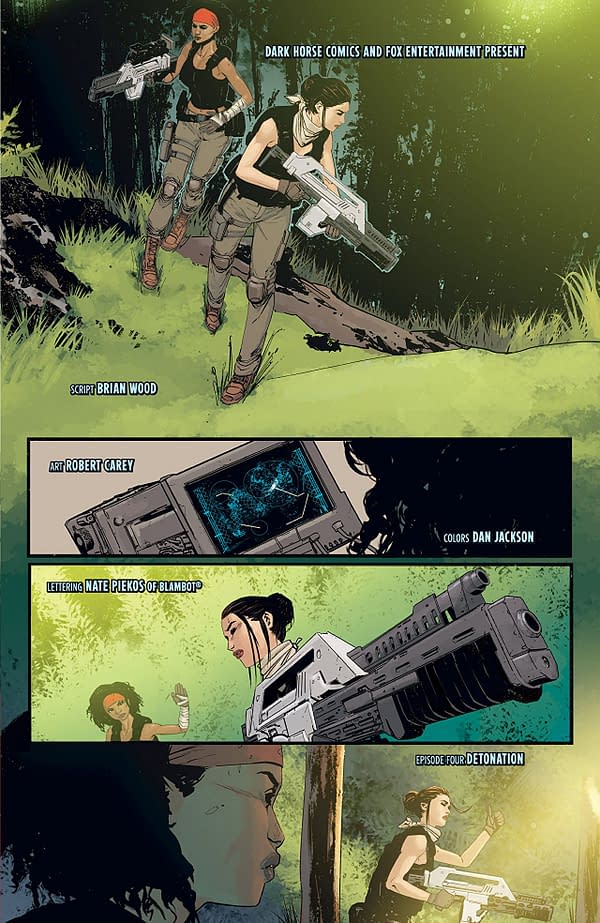 Ripley and Hendricks are tracking a life sign on the jungle moon, hoping to find a witness to the crimes that Weyland-Yutani has been inflicting on hapless colonists. They find one, a young man named Alec who has been party to the abduction and implantation of the thousand colonists he shipped out with.
Now, all Ripley, Hendricks, and Alec need to do is survive a wave of aggravated xenomorphs long enough for Davis, their AI companion, to extract them.
Brian Wood carries us through the hellscape of the jungle world at a pretty brisk pace, with Hendricks and Ripley having to make some pretty grim choices to get their witness to safety. I'm still not completely invested in the characters yet, but they are definitely growing on me, especially the relationship between Hendricks and Davis.
Robert Carey's art is still plenty minimal, but it works really well in this issue. Carey doesn't linger much on scenic elements, instead letting a few quick strokes tell the story. But the xenomorphs are rendered in terrific detail, and hey- it is Aliens, after all.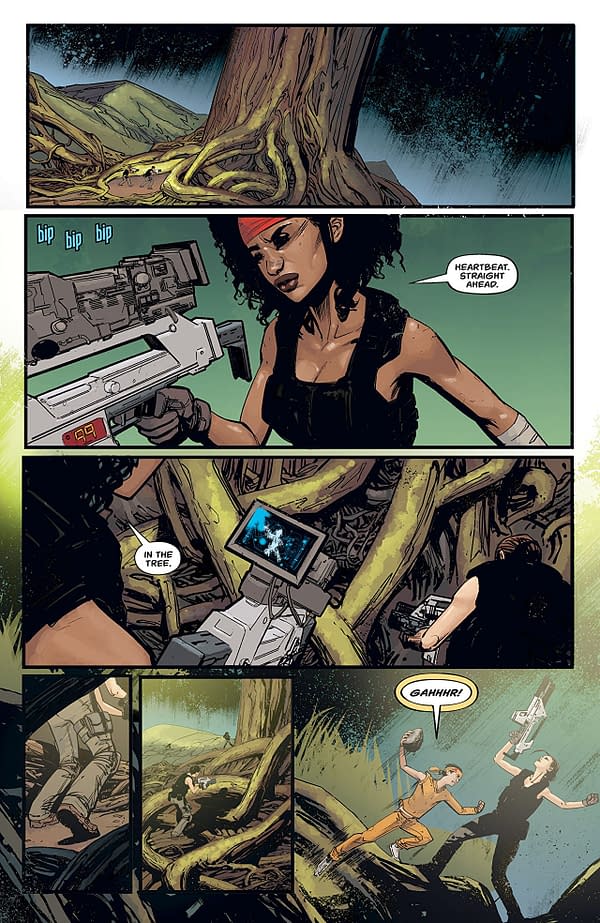 I do think the book is worth a read, especially if you've already invested a lot of fan capitol on the Aliens franchise. That being said, I would recommend waiting for the inevitable graphic novel collection, which will definitely help the story feel like it has a little more substance to it (each issue reads in less than 1o minutes, which might feel sparse with the $3.99 cover price)
SUMMARY: Script: Brian Wood; Art: Robert Carey; Colors: Dan Jackson; Letters: Nate Piekos of Blambot; Editor: Spencer Cushing; Publisher: Dark Horse Comics; Release Date: May 8, 2019; Cover Price: $3.99; 22 pages.
[rwp-review-ratings id="0"]
[rwp-review-form id="0"]
Enjoyed this article? Share it!