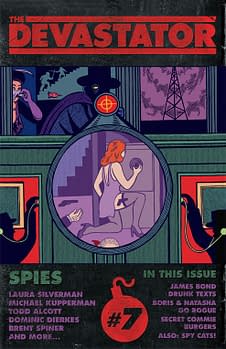 Louis Falcetti writes;
I've found that people really respond well when I begin talking about something I like with something I don't like. Did I say respond well? I meant respond loudly. So it's with that in mind that I'd like to talk about how much I like The Devastator by commenting on why I don't like Cracked. When you read an article on Cracked, all of the pieces are written with this common "voice" so that it gives the impression of…unity? An underground facility with a thousand mind entity like the Kree Supreme Intelligence who spends all day finding out the 8 Ways Your Dentist Watches Star Wars Secret Bloopers You Won't Believe Aren't Photoshopped? I'm not sure why writers don't get to keep their own voices over there, but sure it creates an uneasy sense of togetherness I guess. With The Devastator each contributing artist makes their voice heard while at the same time meshing flawlessly with the creations of everyone else for a hilarious and satisfying unity of theme. That's just reason one of (probably) lots of reasons to like this biting, fresh comedy magazine book.
Why do you like comedy? Because it makes you laugh? And it's all about you, is that it? Well that's fine I guess. Me, I like comedy because it makes me feel like maybe I'm not as insane as I feel sometimes. I recently watched James Bond for the first time, burned straight through Connery and into Moore and the whole time I was watching them I was freaking out a little. On the one hand, I was having a really good time getting moderately drunk and losing myself in the pointlessly over complicated plots and ridiculous villain schemes (also finally understanding Austin Powers was nice). But on the other hand I couldn't stop feeling like I was watching a mass murdering, totally amoral, sexual deviant assault his way through 3rd world countries for the glory of colonialist imperialism. James Bond is the hero of the 1%. Although these days it's probably Tony Stark? I digress. The point is I watched those Bond films and when I'd talk to people about them, they'd usually go glassy eyed and just talk in stereotypical responses about how they remembered liking them growing up at which point I'd go glassy eyed because I'm not terribly interested in anyone's stories about growing up. Except for Frank McCourt's (probably). You can only wander around with thoughts about James Bond: Sexual Predator for so long before you start to wonder, "Does anyone else see this? Is it only me? Am I the asshole here?" Usually I am, but that doesn't change the fact that I wasn't wrong about James. Thanks to The Devastator, I now know that being totally creeped out by James Bond is totally valid. And hilarious!
But don't think that the "Spies" issue is just one James Bond joke after another, because those James Bond jokes are separated with all kinds of other jokes. From Jason Bourne's faulty memory inspired violence to The Prisoner's hilarious decent into existential hell, you'll find send ups of your favorite secret agents (unless your favorite secret agent is James Bond Jr. who is thankfully spared a severe ribbing from the problematically over talented Devastator team).
The selections in "Spies" refuse to remain trapped in one particular form, a CIA infographic will precede a comic strip before you're reading internal spy memos or passing ads for what must be (but at the same time might not be) a fake "new" spy show on USA. Oh and there's a quiz you can take which I know you like doing and not to mention a spy decoder included with the ish to decipher secret messages from the Editor and more! Also flipping the book over will reveal an excerpt from one of Brent Spiner's wildly popular TOK-WARZ books, delighting Trekker and ID4er alike! Harriet the Spy, Tom Clancy, Mean Girls, Airport Spy Books, and even your own real understanding of what actual spies do will be mocked, celebrated, denied and fabricated.
The creative team behind The Devastator is absurd to the point of believability. "Spies" features contributions from Laura Silverman, Brent Spiner, Michael Kupperman, and a host of other noted creative types from comic books, TV, the 'net (sites like The Onion, not just like Steve's Comedy Net Shack, which to be fair is pretty funny) and more. This is a goddamn fantastic book put out by people who truly care about releasing the best looking, most funniest, comedy zine around and they accomplish it easily. It's never just a mag with them, constantly offering all kinds of extras and weird or fun (never both) extras from posters to pamphlets on boobs.
Check them out at: http://www.devastatorquarterly.com/ Or else!
Enjoyed this article? Share it!