It's always fun to wander around the Amazon listings and wonder what's to come… here are a few big Marvel books and surprising collections planned for the end of the year. Including, surprisingly, Soldier X, which was the name Cable was relaunched as by Bill Jemas back in 2009 for no discernible reason, but was by Igor Kordey and Darko Macan and was really rather good… and so, was cancelled.
The first X-Men crossover event – and still the most brutal! When Sabretooth and the lethal Marauders attack the underground mutant outcasts known as the Morlocks, the X-Men, X-Factor and New Mutants join forces to stop them – with help from Thor, Daredevil and Power Pack! But the cost of victory is very high, and many X-Men come away badly injured. While Shadowcat might be saved with the Fantastic Four's help, the Angel contemplates a much bleaker fate! Psylocke, Longshot and Dazzler join the undermanned X-Men – just in time to clash with the Avengers – as Marvel's mutants struggle to recover and rebuild!
UNCANNY X-MEN (1981) 210-219; X-MEN ANNUAL (1970) 11; X-FACTOR (1986) 9-17, ANNUAL 2; NEW MUTANTS (1983) 46; THOR (1966) 373-374, 377-378; POWER PACK (1984) 27; DAREDEVIL (1964) 238; FANTASTIC FOUR VS. THE X-MEN 1-4; X-MEN VS. THE AVENGERS 1-4
MARVEL KNIGHTS BY JOE QUESADA OMNIBUS
Joe Quesada helped create the critically acclaimed Marvel Knights imprint – and these are the stories that defi ned it! Teaming with Hollywood legend Kevin Smith, Quesada breathed new life into Daredevil – and with the moody and atmospheric David Mack, he introduced the enigmatic Echo to the world of the Man Without Fear! In the highly personal Daredevil: Father, Quesada took the reins as writer and illustrator. With New York suffering a deadly heat wave, a serial killer pushes a city at the boiling point over the edge – and only Daredevil can hold Hell's Kitchen together! Plus, more extras than you can shake a billy club at – including a gallery of Quesada's stunning Marvel Knights covers, and rarely seen sketches and character designs!
DAREDEVIL (1998) 1-15, 1/2; DAREDEVIL: FATHER 1-6; MARVEL AUTHENTIX: DAREDEVIL 1; MATERIAL FROM MARVEL KNIGHTS DOUBLE-SHOT 1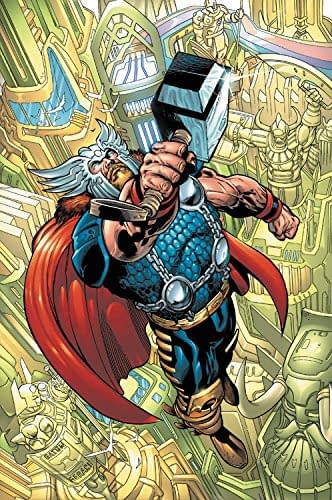 THOR: HEROES RETURN OMNIBUS VOL 2
When Odin falls, Thor rises! But as the Thunder God takes the Throne of Asgard and faces Desak, Destroyer of Pantheons, Earth is left in the hands of the untested Tarene! Now possessed of the Odinforce, Thor is more powerful than ever, but his new crown weighs heavily – as does his feeling of responsibility to Midgard. An extreme solution brings Asgard to Earth and inadvertently ignites a new religion…but when Iron Man and Captain America try to intervene, will Thor turn his back on the Avengers for good? And how far will Thor go to save mankind? The answer lies in the future…and the ascent of Thor, Lord of Earth! But as Ragnarok approaches in the present, Asgard may well burn!
COLLECTING: THOR (1998) 36-85, ANNUAL 2001; IRON MAN (1998) 64; AVENGERS (1998) 63; MATERIAL FROM MARVEL DOUBLE-SHOT 1
Nathan Summers takes his war to the real world! In this gritty and darkly humorous reinvention of Cable's mission, Nathan refocuses his priorities from super villains to more street-level threats, traveling the world to stamp out injustice one hot spot at a time. Whether it's taking on terrorists trying to topple Peru's government, preventing ethnic cleansing in Albania or protecting a young mutant in Russia, "Soldier X" is spreading his powerful philosophy of peace across the globe! But he's facing a flare-up of the techno-organic virus that has plagued him since childhood. Can he gain control of his plight once and for all? Old allies Blaquesmith and Irene Merryweather return as Nathan battles to save the world from itself, in this unique and unpredictable era in Cable's history!
CABLE (1993) 97-107, SOLDIER X 1-12
Enjoyed this article? Share it!