Louis Trondheim tweeted the shortlist of the Angouleme Grand Prix presented to the Academy, and the five names listed. He added;
La majorité de l'Académie atteint son seuil de compétence en élisant le seul auteur connu(excellent neanmoins)par elle twitter.com/lewistrondheim…

— lewistrondheim (@lewistrondheim) February 3, 2013
Or, most of the Academy reached the limits of their competency by electing the only author they knew (excellent nonetheless).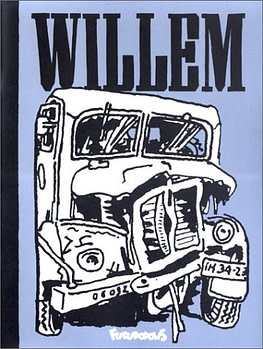 Frenchman Willem, against a Brit, an American, two Japanese and a Dutchman. Even though Akira Toriyama won the popular vote (and got a Special Grand Prix for his trouble)
Belgian newspaper Le Soir has written a damning critique of the winner, condemning "poo willy" Willem, for his scatalogical taste in cartoons.
They asked if he could really be the equal of Franquin, Pratt, Bilal or Moebius and that nobody considered his addition to the five name short list seriously.
They also pointed out that the blacklisting of respected ActuaBD comic book journalist Didier Pasamonik from the festival, was after he has reported on reported disgruntlement with the new voting system that allowed all French authors and artists to vote, but reserved the final vote for the Academy, and for reporting that Festival president Benoît Mouchart was to leave for Casterman. All this did was elevate Pasamonik and saw him invited to every event going.
ActuaBD however, defended the choice of Willem, praising his work, pointing out that previous winners were alos not widely known by the mass populace, that this is evidence of the battle between the Old and the New amongst comics, and that this is a choice of an academy, expected to be conservative.
They also pointed out that the choice of Willem was also a reaction against the change in voting for the award, and the way it was communicated to members of the Academy and voting authors. And if there are problems, that is where they lie, not in Willem or his work.
Developing, developing, developing…