Ant-Man and the Wasp #4 Review: The Case for Quantum Entanglement
[rwp-review-recap id="0"]
Ant-Man and the Wasp are caught in opposing frequencies. Wasp is worried that, left unresolved, this could lead to the two being caught apart and in the Microverse forever. Thankfully, Burr comes up with a solution, and all three return to Earth safely—or do they? Some things are off about this world, and it may not be the home our heroes know and love.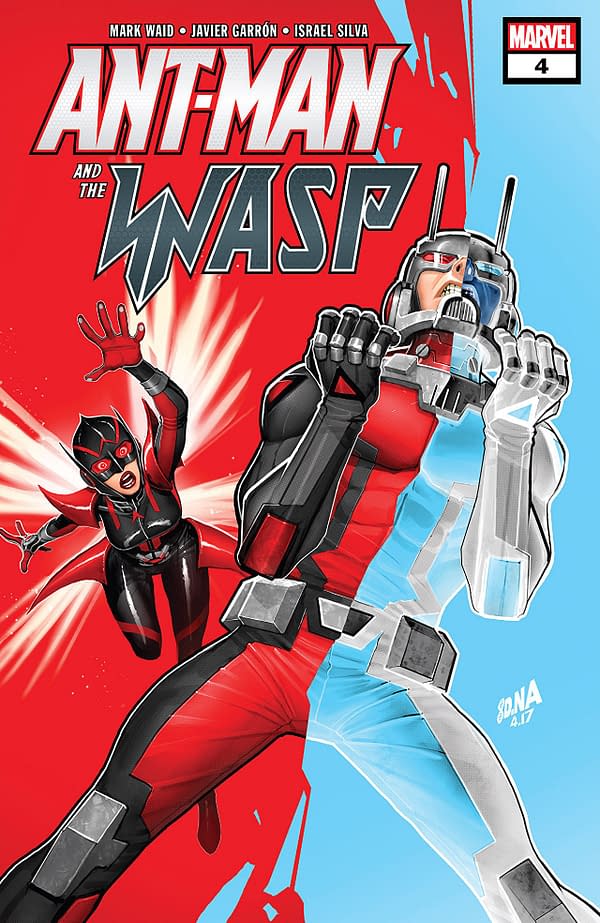 Ant-Man and the Wasp #4 is possibly the most succinct issue in terms of plot. There is the main threat—this "Earth" they find—and a straightforward solution to solving this conflict (well, sorta).
It goes in and out quickly too, despite some pockets of heavy dialogue. There is a single splash page of Nadia explaining her life story to a certain person that lies just outside the realm of, "Are you kidding me?"
That said, the comic is still fun. It's a tad shallow in comparison to its predecessors, and it comes off like this series was desperate for one last burst of plot before grand finale next issue.
As is often the case, the main saving grace is the characters. Scott, Nadia, and Burr are all lovable characters, and I hope Burr survives to show up again later after this story. They carry the book with charisma and humor, and, in fairness, that's the main reason to read this series at all.
There is one pretty weighty moment with Nadia that gives the book one beat of emotion, and Burr gets a nice moment too. However, these are the only such moments in the book and don't do much for the overall story of this issue.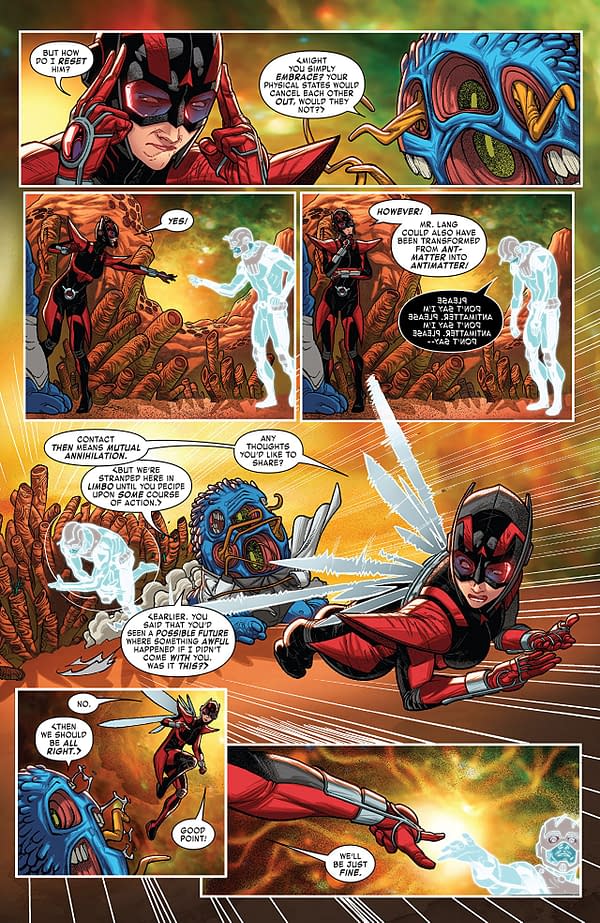 Javier Garron and Israel Silva succeed in making this another vibrant and dynamic issue of the book. The detailing on the characters give them a sense of energy and physicality that gives the visuals an extra bit of punch. The color work is vibrant and highly contrasts itself. This is a good-looking book all-around.
Ant-Man and the Wasp #4 is probably the weakest issue of the miniseries, but it's still an entertaining book. The charm of Nadia van Dyne and Scott Lang outshines the somewhat shallow plot. I can still recommend this one. Check it out.
[rwp-review-ratings id="0"]
[rwp-review-form id="0"]