Arthur Suydam Responds to Killing Joke Homage Cover Swipe Claims
Two days ago, Bleeding Cool ran a Separated At Birth article looking at the cut-and-paste similarities between a cosplayer creation of the Killing Joke cover and a Killing Joke homage cover by Arthur Suydam for DCeased #4.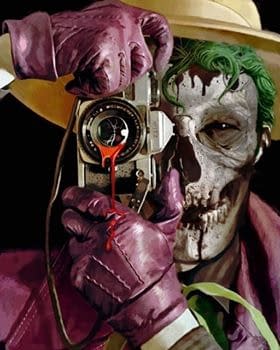 Yesterday, we ran an account from that cosplayer, Anthony Misiano, known as Harley's Joker in cosplay circles, detailing how, after Bleeding Cool ran the first article, Arthur Suydam got in touch offering to pay the cosplayer. But in doing so, stating only that he had used the photo as reference, rather than run it through a filter, something Misiano was hard pressed to concede.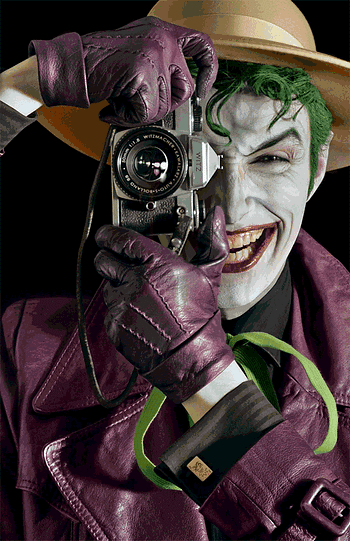 Yesterday, Arthur Suydam has addressed the issue. He writes on the comments of the original article,
Hi Guys .

One of my friends sent this to me in an email so guess, I'll comment on this once.

The assignment was to do parodies of famous DC Covers, so we picked the great Bolland cover to parody.

The Joker homage piece is a fully painted homage illustration, not a photo. No filters were employed in the painting process. Numerous pieces of reference were used for the piece, including some homage photos out there, used as art reference for the gloves, suit and folds in the fabric, etc. We are all doing homages to the same pieces and all images are owned by the copyright holders, not the artists or anyone else.

Historically speaking of reference use, camera-luci, opaque projector, photos, models, pantograph, clip art, tablets, light boxes, etc. etc. are used with reference, Caravaggio, Vermeer, Rockwell– realistic pros all use these legit tools of the trade for their work . Reference isn't swiping.

No need to comment on it further on my end.

Best,

Arthur
Caravaggio, eh? We'll hold our own counsel on that, but would like to point out that, yes, DC Comics owns the copyright on the Killing Joke cover by Brian Bolland, but Anthony owns the copyright to the photos he took of himself, that he then reworked to reprise that cover. And it's that which Suydam appears to use, as Anthony says
It MAY be a traced piece done with a tablet sampling colors from my photo, but (again only referring to the image I've seen) it lines up pixel for pixel with my image and the colors are a digitally perfect match.
Which is why, after the fact, Sudam approached him to sign those rights away for a fee. Again, here's the animated gif between the two so you can judge for yourself. Reference or filter? You decide.
Anyway, here's what a few of Arthur Suydam's peers have posted;
Normally when an homage [sic] to another artist is created, the wit and affection and tongue-in-cheekiness –as well as the implied respect for the source material and its creator– engenders a sense of family, camaraderie, excitement and good will among both fans and creators.

This is not that.
I've had the opinion for years that Suydam is a piece of sh-t human being. He's made a career of using other artist's work without giving them credit. Now this. Shameful.
Screw Suydam.

Don't buy this cover. Seriously, don't. Giving this arsehole more success will just guarantee that more and more people will get ripped off by him. It enables him to book smaller shows where they're unaware of his shit. Even though his behaviour alone at cons is now f-cking legendary.

Don't just blindly react to this post. Click it. Read it. Look at the overlay that shows he f-cking photoshopped yet another artist's work and claimed it as his.

Screw this lazy ass rip-off merchant.
And more to come…
---
---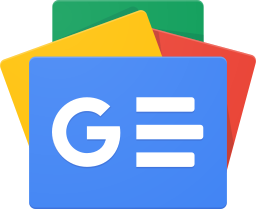 Stay up-to-date and support the site by following Bleeding Cool on Google News today!