Back in the good ol' days, one of the things that made the Marvel Universe feel like a living, breathing place was the minor crossovers between books, where the events happening in, for example, Thor, during any given month might be referenced, for example, in that month's X-Men. At the very least, some throwaway dialog would reveal that The Fantastic Four couldn't help out with some world-threatening event because they were off world at the moment or something like that. Marvel's extremely decompressed story arcs and multiple ongoing monthly titles starring the same characters has made that sort of thing less viable in the current era, but it's still happening in at least one place: February's Unbeatable Squirrel Girl #41.
If you've been reading Amazing Spider-Man, you know that Peter Parker has gone back to school at ESU, and that comes into play in Squirrel-Girl #41. Additionally, the budding romance between Thor and She-Hulk in Avengers will play out here as we see the couple out on a date (something happening in January's Avengers #11).
And to top it all off, this all happens during a one-and-done story!
Check out the solicit below, and pick up Unbeatable Squirrel Girl #41 in February for that old school Marvel feeling.
THE UNBEATABLE SQUIRREL GIRL #41
RYAN NORTH (W)
NAOMI FRANQUIZ (A)
Cover by ERICA HENDERSON
• In the past months, Squirrel Girl has battled Kraven, rescued NYC from supernatural silence, kinda-maybe died and also fought Skrulls! So now it's time for a nice break…which is why in THIS issue, Squirrel Girl does nothing but watch public domain movies on television!
• That's right! She just sits there! You can kinda see the TV screen over her shoulder in a couple of panels, but that's it! It's really quiet and relaxing and nothing much happens.
• …
• …THAT IS, UNTIL NANCY WHITEHEAD AND ANOTHER ESU STUDENT BY THE NAME OF PETER PARKER ARE TAKEN HOSTAGE BY A SUPER VILLAIN INTENT ON PROVING THAT SHE'S THE SMARTEST PERSON ON THE PLANET!
• Then it's super hero battles featuring THOR and SHE-HULK on a DATE! SQUIRREL GIRL matching wits against MS. QUIZZLER! And MORE!
• Artist Naomi Franquiz makes her MARVEL DEBUT in a stanalone adventure you won't want to miss!
32 PGS./Rated T …$3.99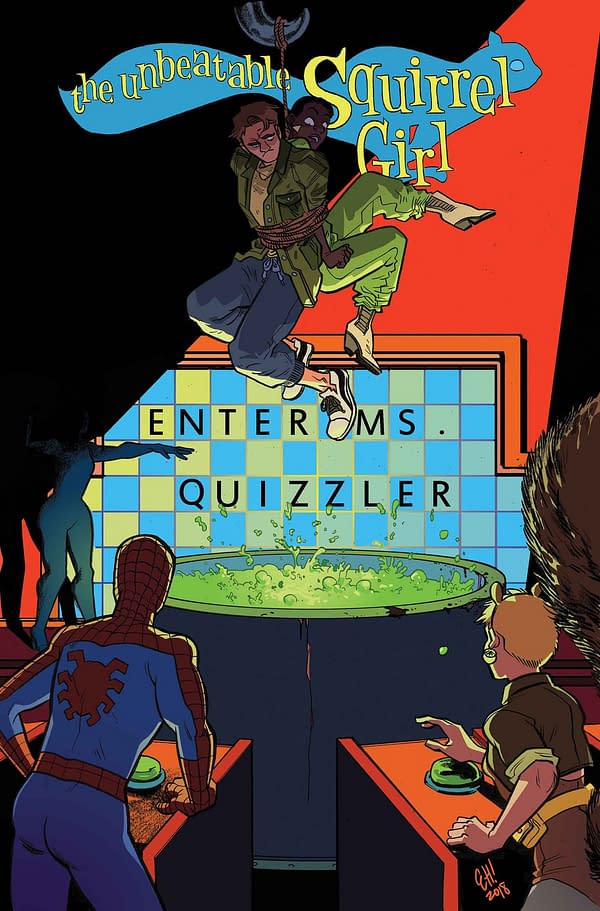 Enjoyed this article? Share it!