Azza The Barbed Left Speechless By Scout Comics
Pat Shand posts on Facebook about Azza The Barded #1, published yesterday from Scout Comics, written by Pat Shand, drawn and coloured by Rio Burton and lettered by Jim Campbell.
"I was informed by multiple retailers that Azza the Barbed #1 is missing its lettering from Page 12 and on. This is not intentional and not something that Rio Burton or I approved. It is not Jim's fault, as he uploaded all the lettering correctly.

Strangely, the metal cover for SDCC was printed correctly. Someone, between then and now, uploaded and approved for print a version without letters in the second half of the issue.
I am not 100% clear on the situation yet but I know that Scout Comics is going to print a new run. It will be out the same day as Azza the Barbed #2. Scout is working on a press release for this and rushing the issue back to print (hopefully with full letters this time), and once that's settled, we're going to talk more so I can learn what happened here.
This is an egregious mistake and I'm not happy that it happened. I picture a bunch of readers thinking I'm getting real avant-garde with my shit. The positive to this, if any, is that there is an error issue out there that could be a collector's item. If you want a complete story, maybe wait until #1 is out, but if you're looking for something that was never meant to exist, Azza the Barbed #1 (or maybe I should call it Azza the Barbed #0.5) is out today."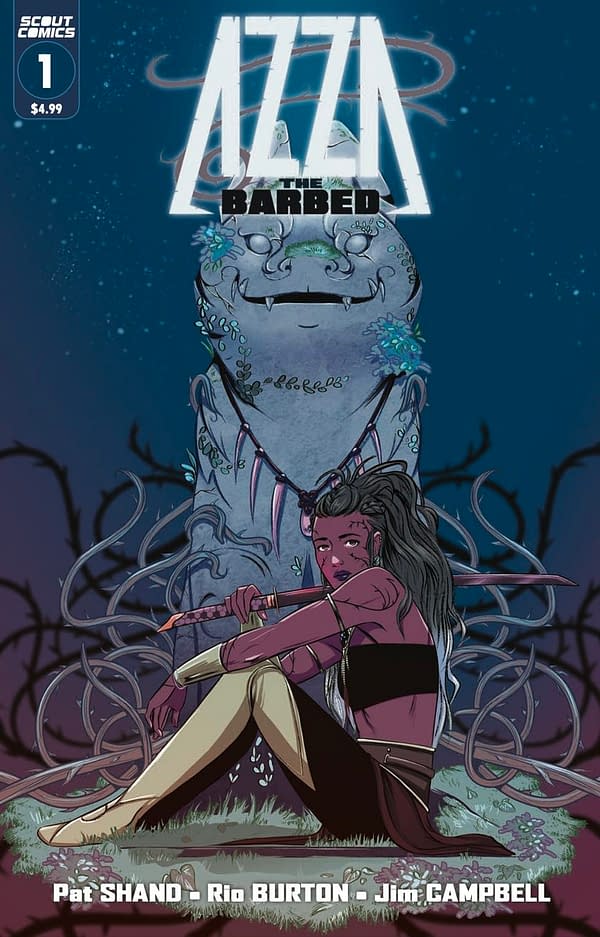 AZZA THE BARBED #1 (OF 5) CVR A BURTON
SCOUT COMICS
JUL221888
(W) Pat Shand (A/CA) Rio Burton
Writer Pat Shand and artist Rio Burton launch a new fantasy epic! Azza was born into a family that, for generations, served in the Obsidian Guard, a military unit of holy warriors. During Azza's Coronation, a magical ceremony that would imbue her with a holy glowing power, something went wrong. Instead of the sacred Obsidian tattoos, she became marred with thorned, black markings and was banished by her people. Now, Azza lives in solitude guarding a great evil… but when that evil escapes and begins to spread its wicked power, Azza must make a choice: save the people that expelled her or allow her home town to fall to evil. With an emotional, comedic, and awe-inspiring story of empowerment, Azza the Barbed blends fantasy, adventure, mythology, horror, and action in this unforgettable new series.In Shops: Sep 21, 2022
SRP: $4.99