Bad Idea Comics Is The Publisher That Cried Wolf – The Bootleg Is Real
So it turns out the fake Bad Idea bootleg comic is a real Bad Idea bootleg comic. But can you blame me for thinking the fake was a fake fake?
---
Yesterday, Bleeding Cool reported that Bad Idea Comics were pretending that "copies of an unauthorized and incomplete version of TREE TWO (planned as the accompaniment to the upcoming BUNSEN BEAVER sequel) are currently circulating within the convention circuit and fan communities." And that they stated that "this bootleg edition is made up of material from early in the production process and does not reflect the final story as intended, nor does it meet the high editorial standards BAD IDEA holds or represent the printing and production quality we maintain."
It states that this was obviously "a vague attempt at hyping up an ashcan of a comic book that they created and got out into the real world." Well, it turns out I was wrong. Really wrong. Apparently, an artist posted some images online, and someone downloaded them and started creating these bootleg ashcans, and it had nothing to do with Bad Idea. It is a genuine bootleg, and I just presumed it was another of Bad Idea's marketing ideas.
I mean, they are taking advantage of this, for marketing, but still. Nevertheless, given some of Bad Idea's previous promotions, this would hardly have been the most outrageous. They have become the comic book publisher that cried wolf. Okay, so…
"The bootleg presents an unfinished, unlettered, black and white, standalone version of the story. Needless to say, BAD IDEA does not endorse this unofficial version and denounces the theft and illegal reproduction of the copyrighted material in the strongest possible terms. We are currently conducting a full investigation into how the production files leaked and who is responsible for its distribution. We urge any BAD IDEA fan with knowledge of the creation of the bootleg edition of TREE TWO to come forward."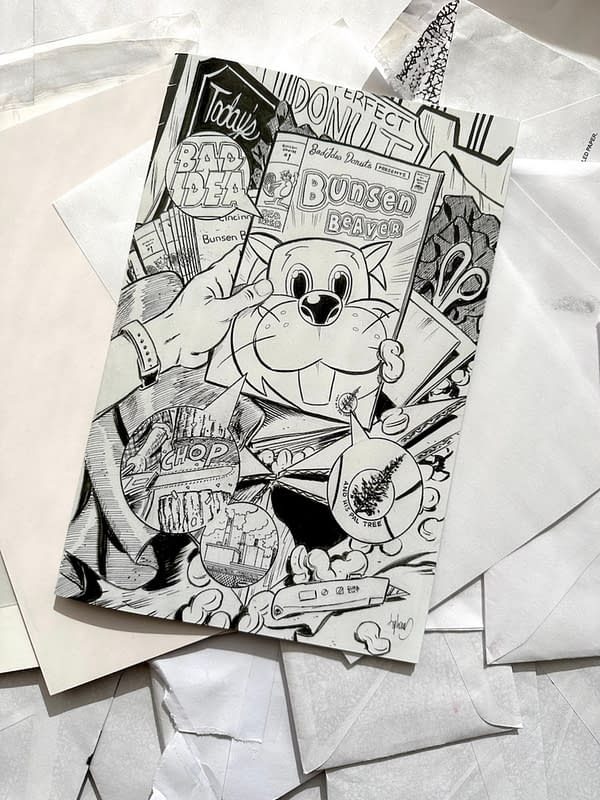 "Our information suggests that, at present, several dozen copies exist. We would like these off the streets and are offering a reward for their seizure. Anyone who sends us a copy of the bootleg edition of TREE TWO postmarked on or before February 8th will receive a $50 cash reward and a $100 BAD IDEA gift card."
Bad Idea is the relatively-new comics publisher from Dinesh Shamdasani, Atom Freeman, Joshua Johns, Karl Bollers, and Anthony Militano. A direct-to-retailer publisher, eschewing digital and trade paperbacks in favour of one-cover one-per-person comic book sales from big comic book names. But now they are trying to crowdfund their own extinction.