$50 Cash If You Find What Bad Idea Pretends Are Bootleg Comics
Bad Idea Comics are pretending that people are making bootlegs of their comic books, but are at least willing to pay cash out as part of the promotion!
---
Bad Idea Comics have followed their unlikely attempt to try and persuade Jim Lee and Todd McFarlane to do covers for their comic books, by pretending that "copies of an unauthorized and incomplete version of TREE TWO (planned as the accompaniment to the upcoming BUNSEN BEAVER sequel) are currently circulating within the convention circuit and fan communities." They state that "this bootleg edition is made up of material from early in the production process and does not reflect the final story as intended, nor does it meet the high editorial standards BAD IDEA holds or represent the printing and production quality we maintain."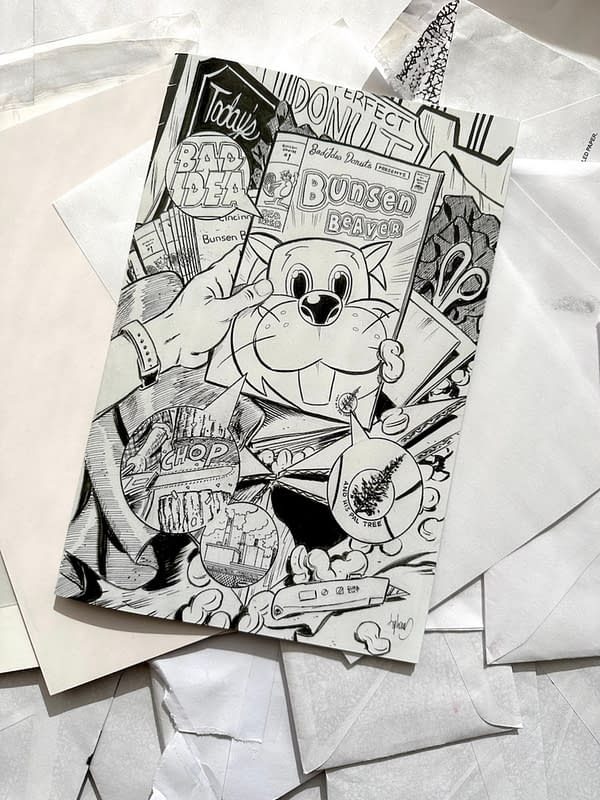 Obviously, this is a vague attempt at hyping up an ashcan of a comic book that they created and got out into the real world. Nevertheless they continue, "The bootleg presents an unfinished, unlettered, black and white, standalone version of the story. Needless to say, BAD IDEA does not endorse this unofficial version and denounces the theft and illegal reproduction of the copyrighted material in the strongest possible terms. We are currently conducting a full investigation into how the production files leaked and who is responsible for its distribution. We urge any BAD IDEA fan with knowledge of the creation of the bootleg edition of TREE TWO to come forward."
Let me be the first. You did it. Obviously.
"Our information suggests that, at present, several dozen copies exist. We would like these off the streets and are offering a reward for their seizure. Anyone who sends us a copy of the bootleg edition of TREE TWO postmarked on or before February 8th will receive a $50 cash reward and a $100 BAD IDEA gift card."
So there you go. If you can find a copy at a show or in a store, you'll get $50.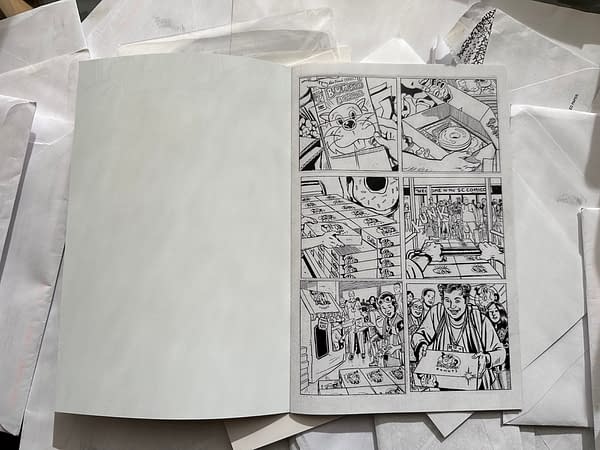 "To those loyal BAD IDEA fans, please stay vigilant and continue to be patient. The BUNSEN BEAVER sequel by Robert Venditti, Juan Jose Ryp, Rich Koslowski, Ulises Arreola, Dave Sharpe, Carlos Valenti and Corey Wolfe is amazing and nearing completion. If the original plan holds and it is determined that it's better to include TREE TWO rather than replace it with material that has not been blighted by these circumstances, the wait will be worth it. The two tales work as a whole to create an even richer experience together."
And finally, "To the perpetrator of this act, we may not find you but we will never stop looking, and, we promise you this, we will have the last laugh."
You'll be laughing in the mirror then…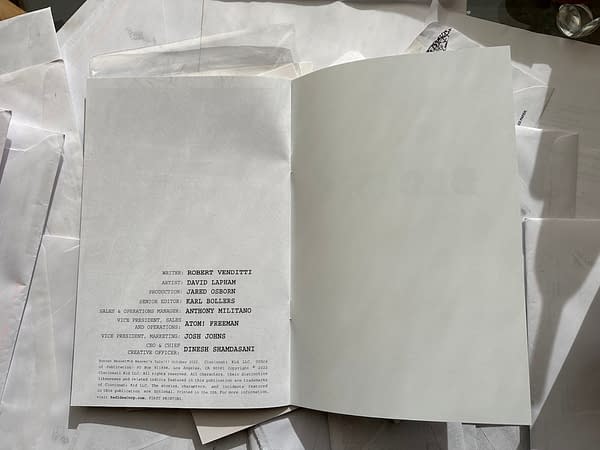 Bad Idea is the relatively-new comics publisher from Dinesh Shamdasani, Atom Freeman, Joshua Johns, Karl Bollers, and Anthony Militano. A direct-to-retailer publisher, eschewing digital and trade paperbacks in favour of one-cover one-per-person comic book sales from big comic book names. But now they are trying to crowdfund their own extinction.