Barry Windsor-Smith's Conan The Barbarian #6 Original Art At Auction
When it comes to Conan The Barbarian comic books, there is no other artist. And no other artist on Conan The Barbarian would be insulted by that being Barry Windsor-Smith. And one of the earliest of his original artwork pages on the character is now up for auction, page 3 from Conan The Barbarian at ComicConnect Auctions. It currently has bids of $5,900 from 14 bids and it will go under the hammer later today.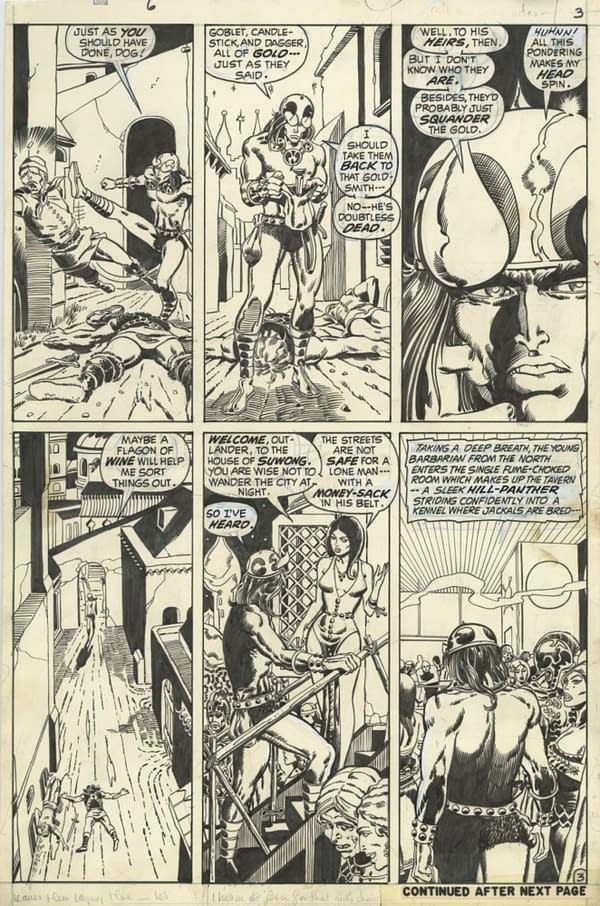 Here's the official listing;
Barry Smith pencils/Sal Buscema inks; page 3; 1971; 10.5" x 16"
A prime page from the artist's historic run on Conan the Barbarian! This page appeared in issue #6 as part of the story entitled "Devil-Wings Over Shadizar". A gorgeous work with dynamic action, great inks and incredible detail. Smith's interpretation of the Robert E. Howard character introduced a new generation to the hero. The world he inhabited and the artist's technical brilliance would help make Conan the Barbarian one of the most influential comic book titles of the Bronze Age of Comics. This page is a prime example illustrative of why the famed artist's work was such a breakthrough at the time. It is being offered individually to the public for the very first time! Executed in inks over graphite on standard bronze-age Marvel board. Art is in very good condition.
NOTE: I cannot verify that Jenna is depicted in the final frame. This is the very first story she appears in. She is definitely on Page 4, but I have not done the research to verify if she is amongst those depicted in the bar in the final frame of Page 3.
I took a look and no, that's not Jenna – unless someone had their hair colour changed in that panel. But this is still one of the earliest Barry Windsor-Smith art pages, from when he was just Barry Smith.