Batgirl, Batman And The Outsiders, Justice League Odyssey Cancelled
As part of their October solicitations, DC Comics has announced that the final issues of Batgirl #50, Justice League Odyssey #25 and Batman And The Outsiders #17 will be published in October. Like Harley Quinn ending with #75, two of the books are ending on double-sized anniversary issues. But Red Hood And The Outlaws gets a #50, is Scott Lobdell's final issue, but it seems it will be continuing, as will Nightwing #75. When Dan DiDio was DC Comics publisher, this was all planned ahead of a relaunch, and Batman #100, Red Hood #75 and Nightwing #75 would also have been final issues, ahead of the 5G/Generation Five reboot. But now… something else.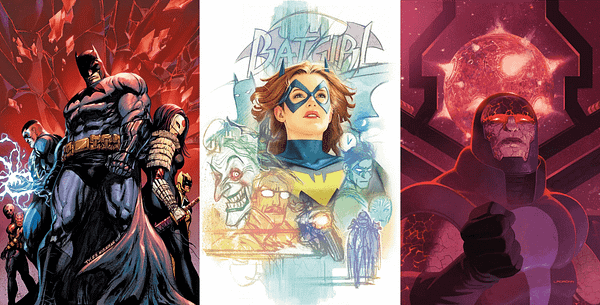 CANCELLED:
BATGIRL #50
written by CECIL CASTELLUCCI
art by EMANUELA LUPACCHINO, MARGUERITE SAUVAGE and ANEKE
cover by JOSHUA MIDDLETON
variant cover by TERRY DODSON and RACHEL DODSON
ON SALE 10/27/20
$5.99 US | 48 PAGES | FC | DC | FINAL ISSUE
Series finale! All good things must come to an end, as we wrap up this run of Batgirl with one final oversized celebratory issue! In the aftermath of "The Joker War," Gotham is left in pieces that need to be picked up by Barbara and Alejo's team—but is Gotham a city worth saving anymore, and how much longer does our girl have it in her to keeping fighting for it as Batgirl? Then, if Barbara is to ever give her relationship with Jason a chance, she knows she has to face him and finally make amends with the act that crippled him.
JUSTICE LEAGUE ODYSSEY #25
written by DAN ABNETT
art by WILL CONRAD
cover by LADRÖNN
variant cover by SKAN
ON SALE 10/13/20
$3.99 US | 32 PAGES | FC | DC
FINAL ISSUE
Final issue! The Justice League's intergalactic team of Green Lantern Jessica Cruz, Orion of the New Gods, Red Lantern Dex-Starr, and New Teen Titans Starfire and Cyborg make a final stand against Darkseid in a battle that reshapes the cosmic landscape across every sector of space!
BATMAN AND THE OUTSIDERS #17
written by BRYAN HILL
art by DEXTER SOY
cover by TYLER KIRKHAM
variant cover by SANFORD GREENE
ON SALE 10/13/20
$3.99 US | 32 PAGES | FC | DC
FINAL ISSUE
Series finale! The war with Ra's al Ghul reaches its end, and none of the Outsiders will ever be the same. And none of them might ever be a team again! Did Batman choose the wrong allies to assemble to fight Ra's? Or did those allies make a mistake in believing in Batman? The critically acclaimed series comes to its end!
NOT CANCELLED:
NIGHTWING #75
written by DAN JURGENS
art by TRAVIS MOORE and RONAN CLIQUET
cover by TRAVIS MOORE
variant cover by ALAN QUAH
ON SALE 10/20/20
$5.99 US | 48 PAGES | FC | DC
In the wake of "The Joker War," Nightwing is back—but is he back for good? And does he remember Bea? With the help of Batman, Batgirl, his Teen Titans friends, and even Alfred, Nightwing must decide for himself which path to take. Then, when KGBeast discovers Nightwing is still alive, his street credibility is on the line if he doesn't go to finish the job he started when he tried to kill Nightwing…and missed! Nightwing better watch his back is he wants to be back for good!
RED HOOD: OUTLAW #50
written by SCOTT LOBDELL
art by PAOLO PANTALENA
cover by DEXTER SOY
variant cover by PHILIP TAN
ON SALE 10/27/20
$5.99 US | 48 PAGES | FC | DC
Jason Todd's downward spiral began when he was murdered by The Joker. But deep in his heart he blamed himself for charging headfirst into deadly danger. His rage and self-loathing caused him to lash out at those around him—keeping friends and family alike at arm's length. Until the Outlaws. First Arsenal and Starfire, and later, Artemis and Bizarro, saw through his defenses. Now it's time to pay it forward to the one person who represents all the mistakes he's made in his own life: Duela Dent. But can he save The Joker's Daughter…when he couldn't even save himself? Don't miss the end of the Outlaw era!