A Drunk Lois Lane and Catwoman Left Alone With Lots of Superman Robots (Batman #68 Preview)
Batman #68 by Tom King and Amanda Conner out this week is a hoax, a dream, an imaginary story. Aren't they all?
Part of the Knightmares series where someone (probably his dad) is putting Bruce Wayne through the dream wringer, examining his life and his loves. Possibly he's strapped up to a heart monitor (beep beep), maybe it's all actually happening and we're being fooled, but this week we get a look at the hen night we didn't get to see with Selina Kyle and the Batpeople.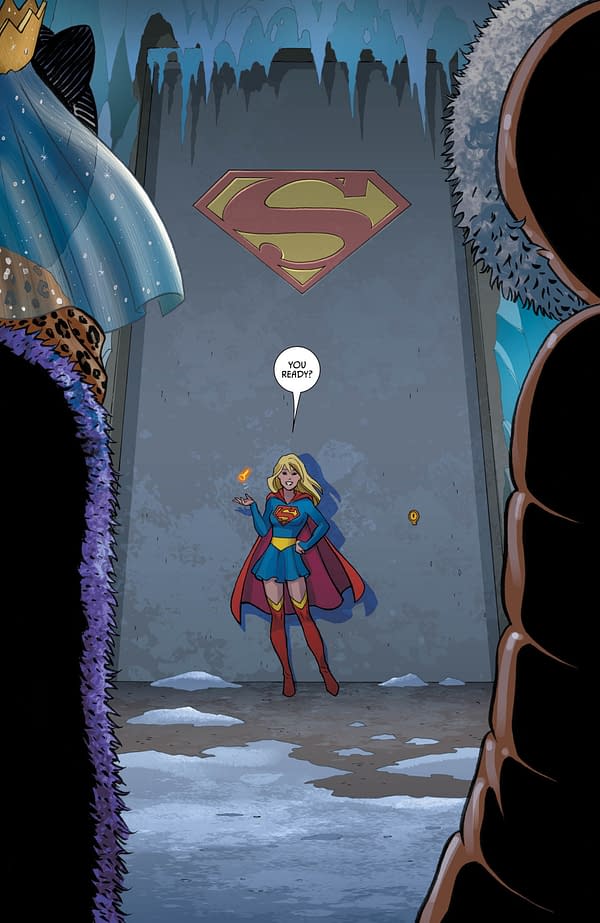 And it begins with the Fortess Of Solitude. Say, isn't that meant to be in the Bermuda Triangle these days, looks pretty chilly… oh wait, no this is a dream.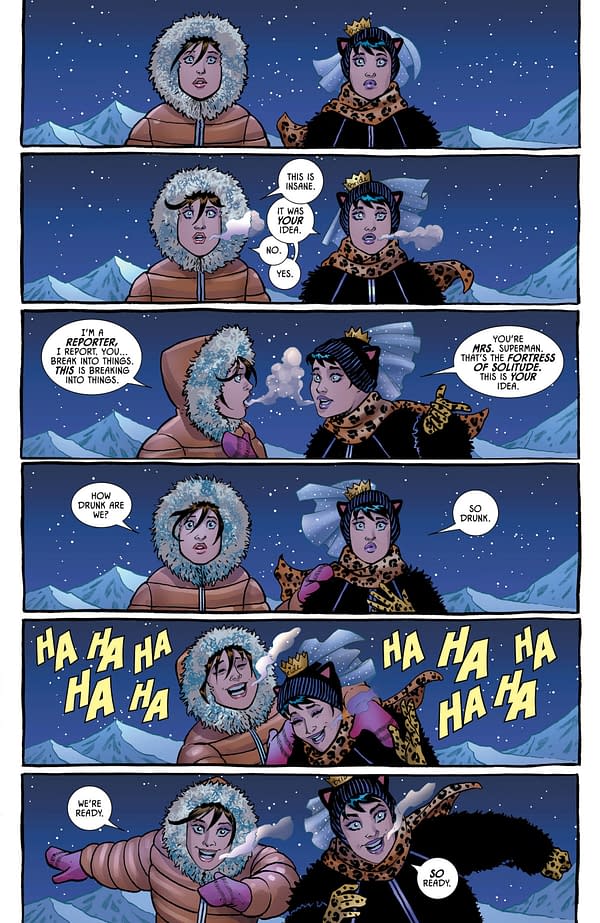 And Batman is dreaming of a drunk Lois Lane and Selina Kyle. Anything could happen.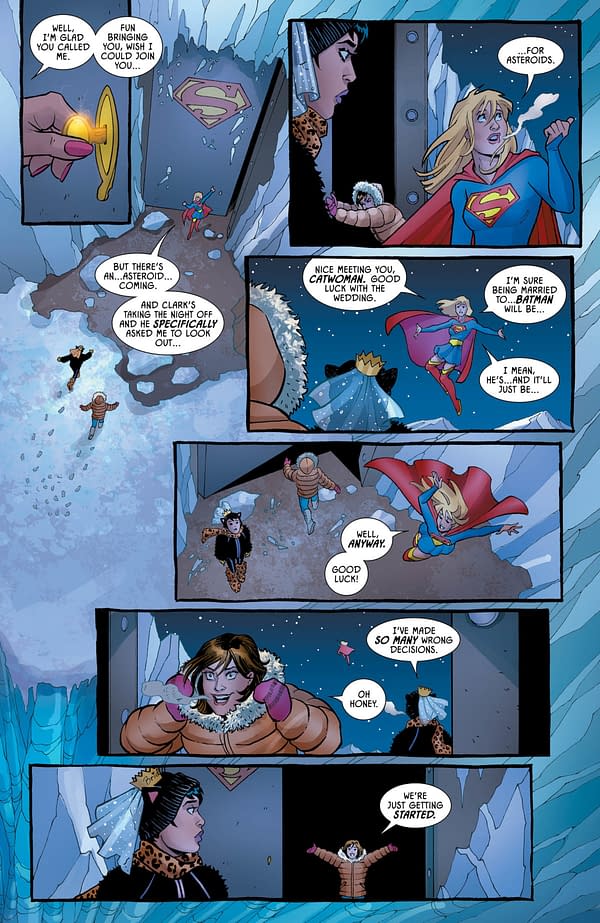 And we get to see Batman's stag night with Superman. That didn't happen.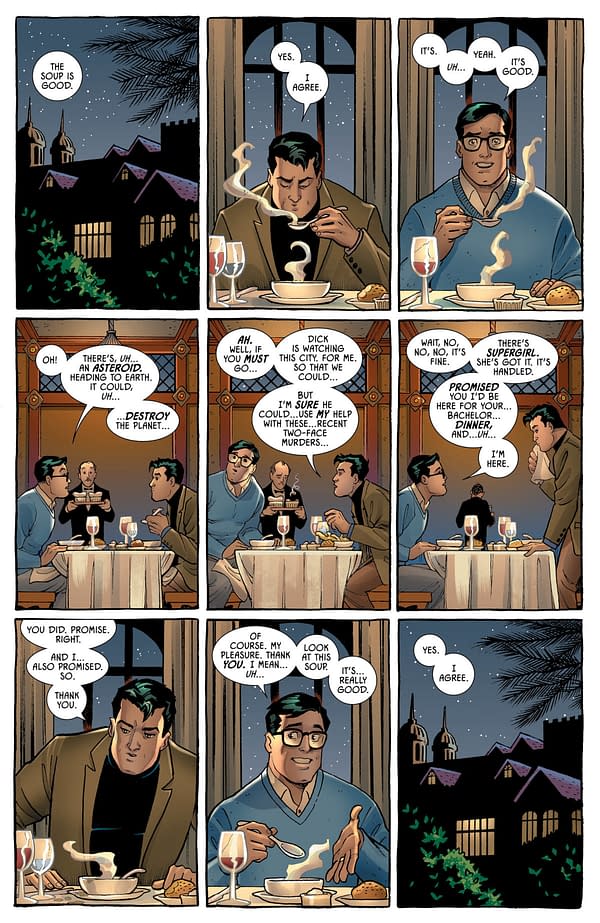 Gotta love Bruce Wayne's polo nek.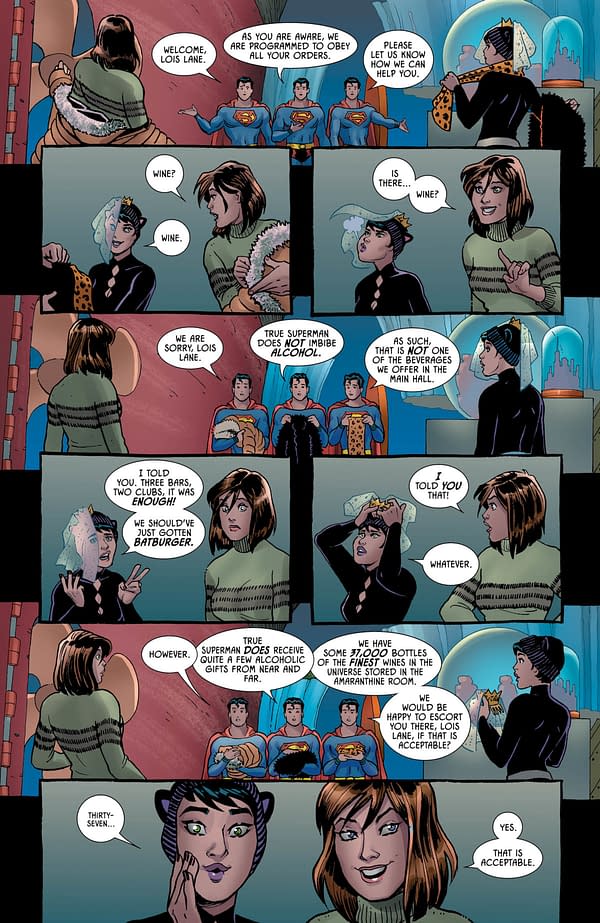 37,000 bottles of wine. And a number of anatomically correct Superman replicant androids. That sounds like a hen night to me… and someone's put the cat among the chickens…
BATMAN #68
(W) Tom King (A/CA) Amanda Conner
Batman is making his way to the end of his Knightmares, but his unseen enemy has a few more tricks up his sleeve. It's time once again to stick a knife into the Caped Crusader's broken heart, letting the groom-that-could-have-been peer in on the bachelorette (or should that be "Catchelorette"?) party that never was. Artist Amanda Conner (Harley Quinn) rejoins the Bat-family for this month's special story-because who else you gonna invite to a shindig like this?In Shops: Apr 10, 2019
SRP: $3.99