The Finest Comic Book Ever Published Is Back in Print: Shane Simmons' Longshot Comics
Every now and then I talk about one of the finest comic books ever published in the English language — and probably the German language as well.
It is funny. It is dense. It is incredibly knowledgeable. It is Hamilton meets Epicurus The Sage meets From Hell. It is some of the best writing I have ever seen in comics, and some of the worst art. That it doesn't matter and indeed is a strength ensures that it is a literary and artistic masterpiece.
It is also 200 panels a page — almost 4000 panels an issue.
Longshot Comics tells a story over centuries following the lineage of one Roland Gethers, against the inevitable rolling drive of history. It is also told as if seen from a far distance, reducing all characters, all objects, all locations to more dots.
It is the comic that does away with the artist and colourist, and in doing so creates one of the best reads you will ever find in comic book form. It challenges the medium and reinvents it in a way that no one has been able to copy. It is unique, and it is brilliant.
The first two issues were published over two decades ago. And that was it. They fell out of print fast. But now they return, and have a final third prequel volume to accompany them. They can be ordered in print on Amazon or digitally on Kindle. I am going to do both right now.
I am quoted on the Amazon listing, and I have never been prouder to see my name in print. But I am not alone. Here are the Amazon listings for all three volumes, each containing a sizeable preview. Prepare to get a new perspective — in longshot.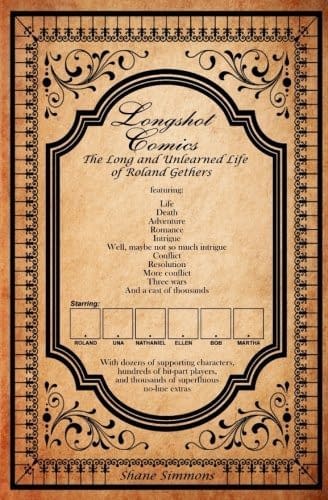 The Long and Unlearned Life of Roland Gethers: Longshot Comics Book One by Shane Simmons
"One of my favourite comics of all time."
-Rich Johnston, Bleeding Cool
"No discussion of art and writing in comics would be complete without mention of the sublime Longshot Comics…which uses insanely minimal art to tell a funny, affecting and epic story. It's astonishingly effective comics storytelling. Powerful stuff."
-Kurt Busiek, Kurt Busiek Resists
The legendary epic-minimalistic graphic novel is back in print for its 25th anniversary! Told in an unprecedented format of 3840 panels in a single comic book, The Long and Unlearned Life of Roland Gethers tells the tale of a Welsh coal-mining family through the highs and lows of the British Empire, the Victorian era, and both World Wars.
With every character depicted as a distant dot, the bare-bones artwork lends itself to subtle visual humour, and opens the story up to a world of rich character development and savagely witty dialogue.
Featured in international museum exhibits, discussed in academic texts, and presented in lectures about sequential storytelling and character design, Longshot Comics has remained a cult favourite through a quarter century of multiple formats, editions, and translations.
Read what critics and celebrated comic-industry writers and artists have had to say about this unique narrative experience over the course of its storied history:
"It's brilliant, it's hilarious, and it's mind-blowing. There's nothing else like this in comics. These books are pure genius."
-Johanna Draper Carlson, Comics Worth Reading
"Longshot Comics! It's great! This should be in every library and comic collection on Earth!"
-Matt Feazell, Cynicalman
"The Long and Unlearned Life of Roland Gethers is the funniest thing I have read in a while. Hilarious and well-written with great dialogue."
-Roberta Gregory, Naughty Bits
"Everyone should have a copy of this once-in-a-lifetime magnum opus."
-Dave Sim, Cerebus
"Shane Simmons must get an award. You hear me?! Someone give this man a medal! Longshot is incredible! A monumental achievement."
-Mark Frischman, Factsheet 5
"Think it's impossible to become attached to a dot? Think again. Shane Simmons has created a beautiful comic/novella that takes you on a journey of a lifetime in 3840 panels."
-Secret City's Instant Teller, Hour
"The storyline and script are, by turns, funny, historically accurate, and moving. Although the main character, Gethers, is not an extraordinary man by any means, his life story touches upon many important markers of the waning days of the British Empire. A well-written and hysterically funny story. Highly recommended."
-Randy Reynaldo, WGC Notes
The Failed Promise of Bradley Gethers: Longshot Comics Book Two by Shane Simmons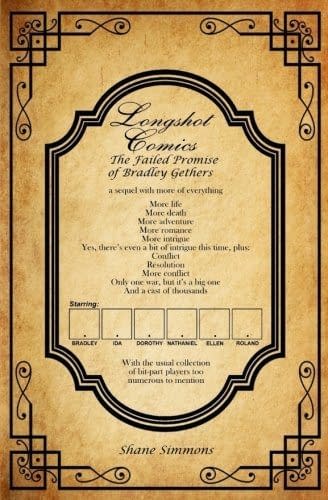 "There's nothing else like this in comics. These books are pure genius."
-Johanna Draper Carlson, Comics Worth Reading
Overlapping and continuing the saga that began with The Long and Unlearned Life of Roland Gethers, the critically acclaimed graphic novel that first took the comics industry by storm in 1993, Book Two follows the journey of Roland's grandson, Bradley, through the turmoil of World War II, the tradition of the British theatre, the glitz of Hollywood, the paranoia of the communist witch hunts, and the hallowed halls of academia.
As epic in scale as its predecessor, The Failed Promise of Bradley Gethers ushers the saga through the 20th century, and into a new modern era that threatens to fragment the Gethers family just as it seeks to escape the lower-class grind of a defunct empire.
The Inauspicious Adventures of Filson Gethers: Longshot Comics Book Three by Shane Simmons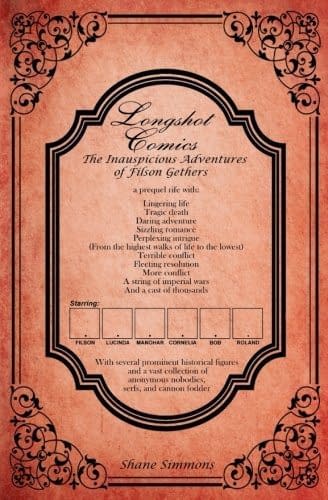 "Longshot is incredible! A monumental achievement."
-Mark Frischman, Factsheet 5
Twenty-five years after the release of The Long and Unlearned Life of Roland Gethers, this highly anticipated prequel charts the daring and disastrous adventures of the Gethers family during the American Revolutionary War, The War of 1812, both Opium Wars, and the misery and majesty of Victorian England.
Another 3840 panels draws readers through the many turns of fortune that threaten to make or break Roland's grandfather, Filson, (as well as the entire British Empire) in the colonial era and beyond.
---
---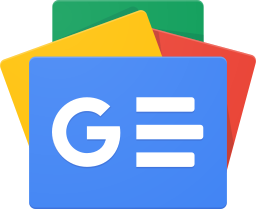 Stay up-to-date and support the site by following Bleeding Cool on Google News today!