To be voted on by comic book retailers, and awarded at NYCC, here are the nominations for Diamond Comic Distributor's Best Practice Awards, under the category of Best Small Business Cross Promotion.
Remember you've got to be in it to win it… and retailers who vote are up for $250 worth of free Diamond Select Toys in-stock merchandise as well.
Space Cadets Collection Collection – Oak Ridge North, TX
We do so many things in our community. We help with the Book Festival, started a Library Convention in the library, have events like FCBD and invite local businesses to set up and cross-promote, we have gotten sponsorships from Microsoft and GameStop by inviting them to run events in our store, we are helping a local artist raise money for a rural community to get their roads repaired, we invite local artists and novelists to appear in our store, allow homeschool groups to use our game rooms to meet and have classes….it goes on.
1st Edition Comics – Peachtree City, GA
At 1st Edition we have gotten to know a number of our peers and other small business owners and our relationships continue to grow in exciting and interesting new ways. Roughly around the time we opened our doors a local Lego boutique also opened and we have been enjoying a mutual synergy and cross-pollination of clients. I have sent a number of clients to their store and as a thank you to me, Atlanta Brick Company had created a custom replica of our store. It has become a center piece and 'must-see' and 'Wow-factor' for our clients. It is detailed, well-crafted and has served not only 1st Edition well but Atlanta Brick Company. It has brought notoriety and awareness to both of our businesses as there is a twin copy at their location. This is our way of saying thank you and showing our pride in their work.
Galactic Quest – Buford, GA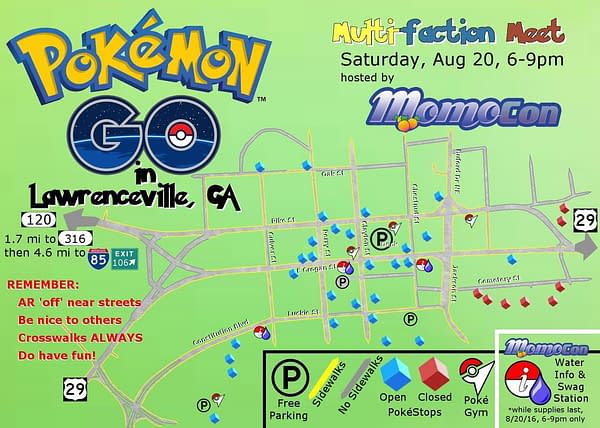 On Saturday August 20th, we successfully partnered with the Momo Con, downtown businesses & the City of Lawrenceville our first ever Poke'mon Go gathering.  We saw a 40% increase in sales for the day.  It was a much bigger turnout than we anticipated.  A very successful promotion that we plan to repeat on September 24th.
Chemshaw 13 DonutZ and Comics – Crown Point, IN We have weekend comic sales that work so well in clearing out comics that have moved slow or we have over stock. We do our $3.00 DonutZ & A Comic…where we bundle the two together and every time we sell out of the comic. This promotion makes it great for us, because we don't loose on the deal, no matter the comic and its gets ride of stock that I DON'T have to mail back to Diamond. Because of it, we have NEVER returned books, because we sell them out.
Ssalefish – Winston-Salem, NC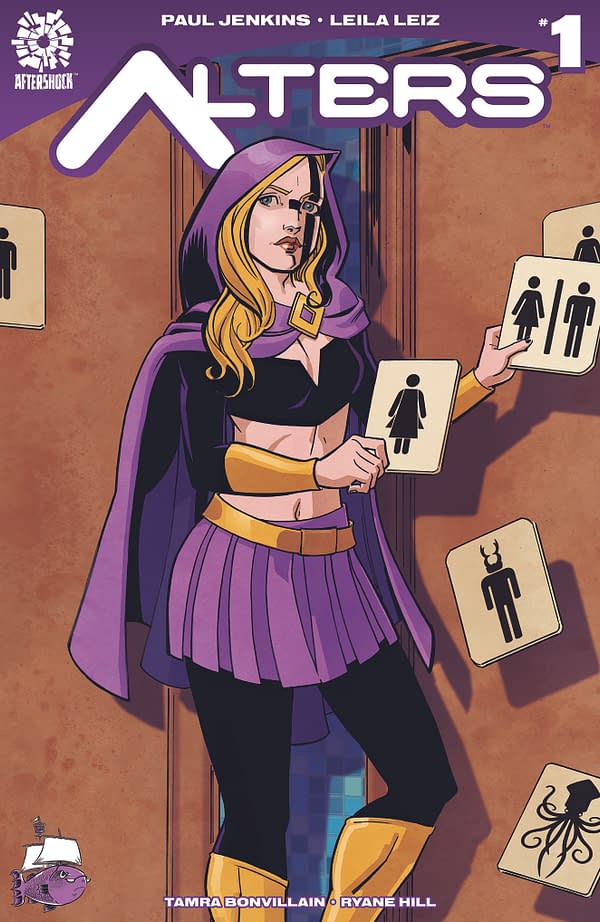 In September we did a special cross promotion with Equality North Carolina.  Thanks to the controversy surrounding House Bill 2, we decided to produce an exclusive cover for Alters #1 featuring the transgender lead character removing bathroom signs as a jab HB2 aka the "bathroom bill".  ENC is a group that supports equal rights and funds attempts at defeating HB2. ENC agreed to sponser the promotoin of the book and our in-store signing with writer /creator Paul Jenkins. This promotion resulted in national news cover for my store and Alters.  We also saw a huge boost in sales and new customers.  We donated $1 per books to ENC.
Viera Comics – Melbourne, FL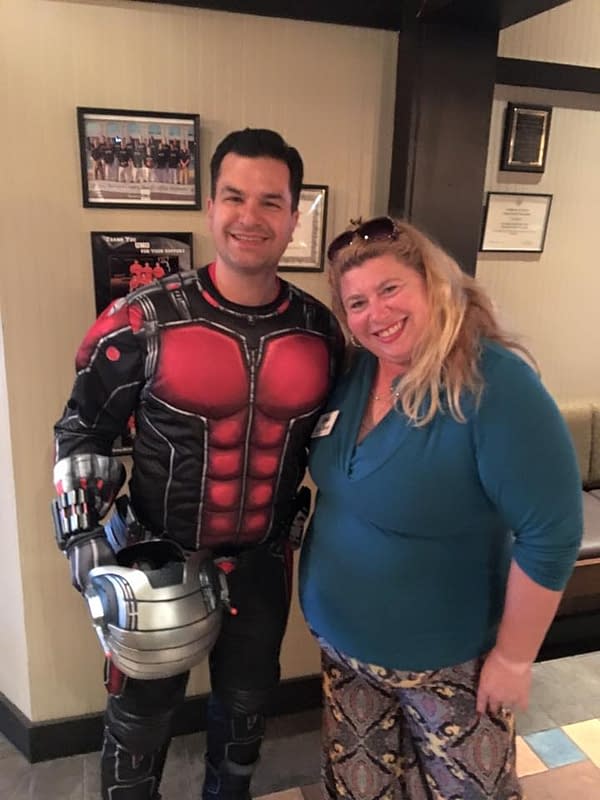 Once a Month I sponsor a Trivia Night at a local restaurant called Pizza Gallery and Grill.  I create my own questions and the themes are comic related or Pop Culture related.  Afterwards everyone that participates gets a 10% off coupon to be used next time they are at the comic shop.  Winners get Pops and gift cards as prizes from both businesses.

I also once a month Cosplay for charity at a restaurant called Uno's Pizza right near me.  The manager and I pick a different charity each month and 10% of the nights proceeds go to the charity and me and a group from the store Cosplay and do meet and greets and photos with the customers.  Plus every customer gets a 10% off coupon for Viera Comics and raffled off gift cards.  I then get to hand out 10% off coupons at for Unos at the comic shop to customers.
Uncanny! Comics – King of Prussia, PA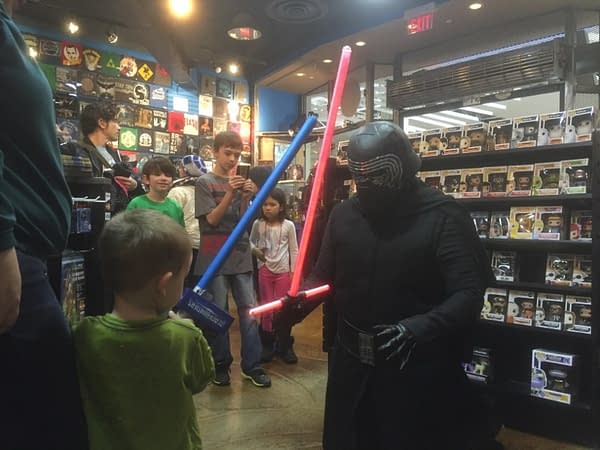 On July 9, 2016 Uncanny! partnered with Real Women of Gaming (www.realwomenofgaming.com) in an event to benefit the STOMP Out Bullying charity.

You're Not Alone was an open to close event at all of our Uncanny! locations (King of Prussia Mall, Plymouth Meeting Mall, and Montgomery Mall) to raise awareness about the ever growing problem of bullying. We joined forces with Real Women of Gaming to raise funds for a charity dear to our hearts: STOMP Out Bullying.

The event featured cos-players and other amazing guests, live bands. We provided fun activities, (Magic the Gathering Tournaments, Dungeons and Dragons, Kids Activities, Board Games, Cos-players galore, Cupids Victim, Raffle, Food!) and chances to win awesome prizes. Real Women of Gaming Founder Margot Shenton was thrilled with the turnout at all of our locations, and was very happy that they surpassed last year's donation to STOMP out Bullying.
Pulp 716 – Lockport, NY
We set up and displayed hundreds of DC Pin-up covers at a local woman's pin-up clothing store called "Cat's Like Us". It introduced us to many new, and awesome, people that had no idea there were books like that available. Just in one weekend we increased our DC Bombshells subscription customers by 400%

Comic shops have a unique advantage in the business world-guaranteed repeat customers every week. We team up with a different local restaurant every week and keep a new menu on our counter. They have even provided free samples at our shop so our customers can try different items. Every week we have thousands of customers and many of them have got in the habit of asking us "Where should we go for dinner this week?". Our customers get free samples, the restaurant gets great exposure-win win.

We created a "Walk Main Street" promotion. We team up with different businesses on Main street and on certain promo days, the customer can show a sales receipt from another shop on Main street and save 10% on any item in our store, and vice versa. We saw many new faces during this promo, and the best part is that a lot of them are now regulars.

Weekly Small business "Pop up shops". We donate a whole corner of our shop to a different non-store front small business every Saturday. These are businesses that usually work out of their homes. We introduce them to the public and allow them to sell their goods in our shop. We've had glass blowers, painters, authors, game designers, and many more businesses appear.  They promote their own event through social media. Sometimes these events bring in hundreds of customers that have never been to our shop in just one day. We estimate, based on sign ins,  that these events bring 5,000-10,000 new people in our shop annually.
Cape & Cowl Comics – Oakland, CA For our first ever Free Comic Book Day we teamed up with Sacred Tattoo Oakland on a food drive benefiting the Alameda County Community Food Bank. Anyone who brought a $40 food donation (with receipt) to Cape and Cowl on FCBD were given a whole bunch of free comics and a coupon which they could take over to Sacred Tattoo and redeem for a free comic book themed tattoo. We raised over 1,300 lbs. of food and over 30 people got tattoos!
Jesse James Comics – Glendale, AZ This year we were able to team up with Dave and Busters.  Not only to give our comics in D & B Bags, including other swag like coupons and game cards.  In return we are able to use their pool area for after party signing and other events at no or little charge.   We have teamed up also with restaurants and named Burgers for events. We have done Exclusive teams up on comic covers with Dave and busters and Exceed (bottling company).
Enjoyed this article? Share it!