Dynamite has sent over a Writer's Commentary by Amy Chu for Red Sonja #0, that came out last week. The cover art is by Nick Bradshaw with interiors by Carlos Gomez. So this was a really tough story to write, because originally it was supposed to be a gigantic SECRET leading up to an enormous reveal on the last page. (You'll also notice there aren't any narrative captions.)
Page 1
Let's start off with a bang. I basically told Carlos he could go to town on this splash page and boy, did he! I think this was actually the last page to come in, so I know he put a lot of work into it. You can see that Carlos' style is quite… cheeky. Pages 2-3
Here I figured we needed a lot of action, partly to show off Sonja's fighting prowess and her character, but also to set the stage for this particular back story which we explore more in future issues.
Don't you love Sonja's expressions here?! The original script was almost a silent movie, but when the artwork came in it seemed strange not to have her taunting her dragon-like opponent. I also wanted to build off of some of Gail Simone's characterization work — namely the She-Devil's love of drink.
Also take a moment to appreciate here the fine work of the great letterer Simon Bowland. A real pro, and I'm grateful for his contribution to the book.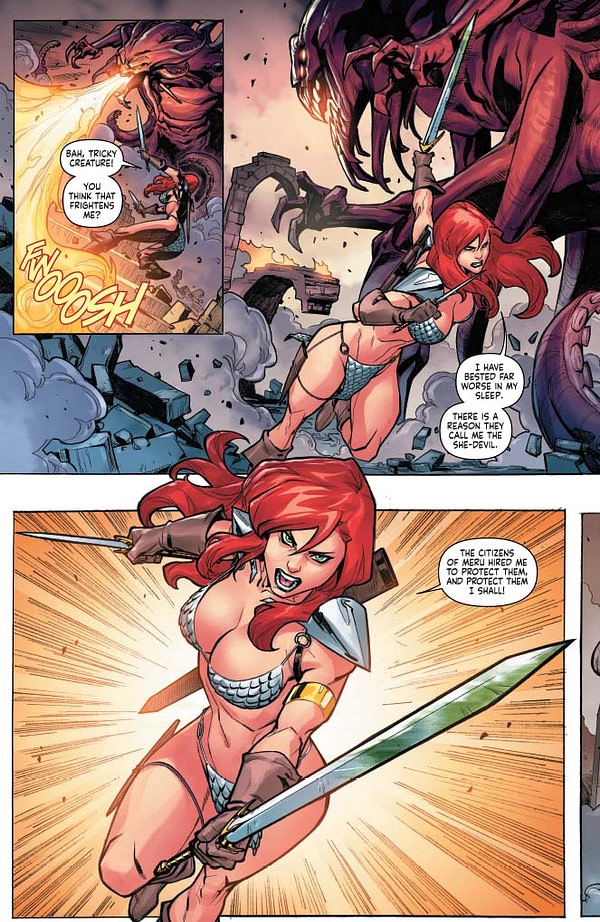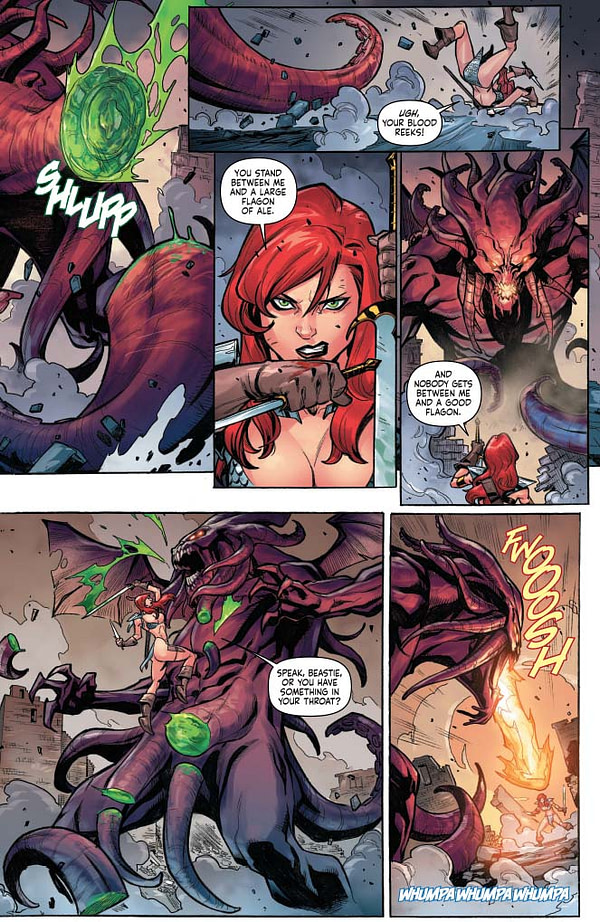 Pages 4-5
I would say these next several pages were the hardest for me as writer to wrestle with.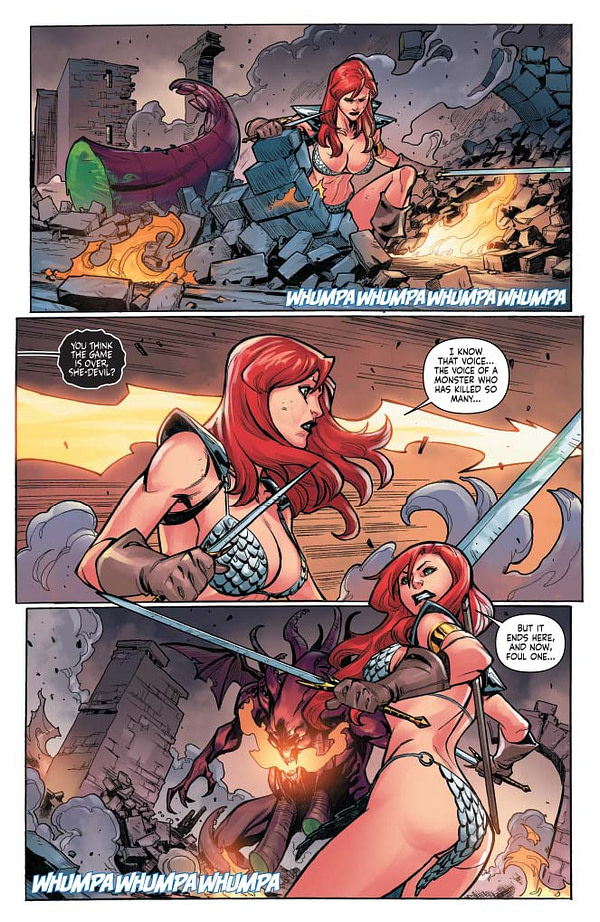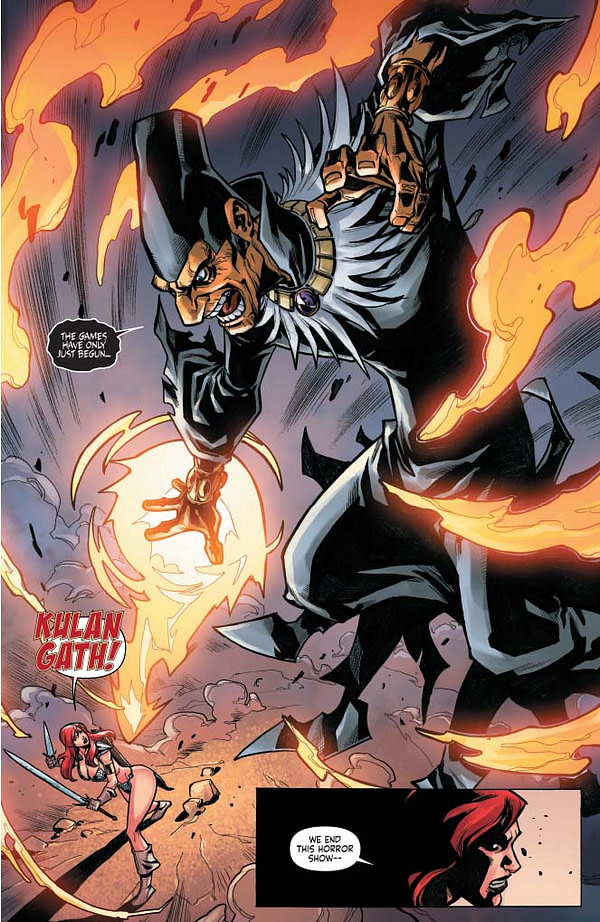 Pages 6-7
Boom — change of scenery here. Sonja underground. It should seem she's woken from a deep sleep for who knows how long, hence the dust…
The kissing of the blade was a last minute revision but I'm glad for it. Originally I had her sword as missing and she would have to fight barehanded with rocks and such, but my editors didn't go for it. So the blade came back and I think that made Sonja much happier…
Page 8
It was really hard to do this page making Sonja confused and disoriented without giving away the reveal, but I think Carlos did a great job with the perspective and lens flares!
Page 9
If you think about it there's no way Sonja or the "demons" should be able to understand each other, but trying to stay true to Sonja's perspective got in the way of the storytelling, so everything here is in good old plain English for the sake of simplicity…
Pages 10-11
Sonja starts to understand she's not in Hyboria anymore … again, Carlos did an admirable job of drawing tunnels without really giving away the whole thing here.
Page 12
This is really the first true reveal — from Sonja's perspective, she has no idea what this creature is, but of course we know it to be a subway train.
Pages 14-15
I'm pretty happy with these pages. If you've ever been to New York, you know about the rats … Sir Rat became super convenient as a way to have Sonja not just keep talking to herself.
Page 16
Finally, the reveal. We're really not in Kansas anymore!  This was originally scripted to be Times Square, but I figured that had been done already in Poison Ivy and so many other books, so Freedom Tower it became.
Now I know some of you are going, "But wait — this has all been done before. What about the What Ifs? And the Team-Ups from the 70s and 80s?" If you read those, you know those were entertaining, but just one shots. The arc that lies ahead is going to be pure Sonja, but in an entirely different environment (with some nods to the previous stories here and there) and new friends. So stick around and see what happens in Red Sonja #1!