Black Panther's Costume Was Redesigned at Marvel to Placate Racists
We mentioned this on the live streaming Marvel D23 panel report with Marvel executives C.B.Cebulski and Tom Brevoort that ran on Bleeding Cool, but it might be worth going back and fleshing it out. Specifically the difference between Black Panther's first design by Jack Kirby, when he was known as Coal Tiger. And then how he appeared on the cover of Fantastic Four #52.
And below is Jack Kirby's original cover design, with what was intended to be the final design for the Black Panther. It is notable that he does not have a full face mask and we can see his nose, mouth chin – and skin.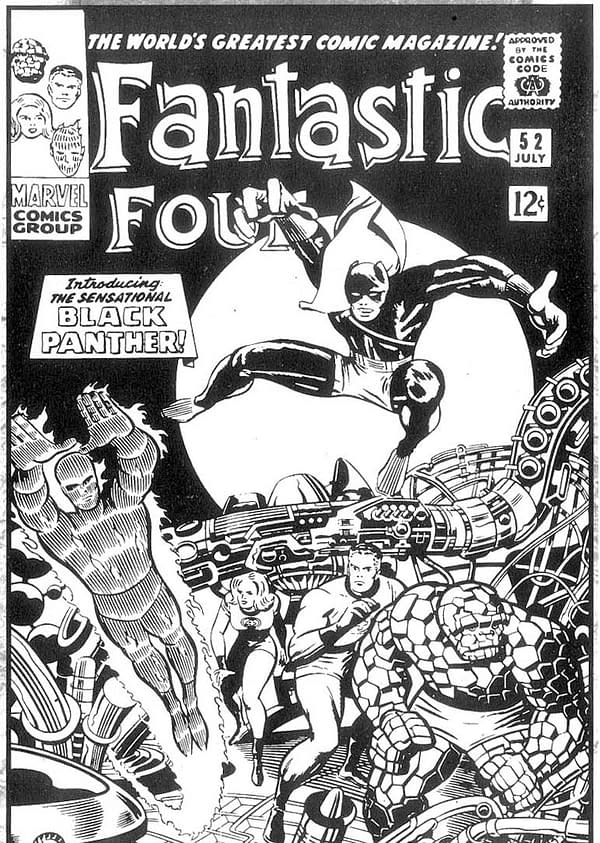 Tom Brevoort explained,
This was in 1966 and having a black superhero in 1966 was a fairly revolutionary thing… it's kind of impossible to think about that these days but it was true, and in fact there was such concern and what this might do to the sale of the Fantastic Four in southern states or whatnot, that's the whole reason his costume was changed and he got the full cat face mask, so that on that first appearance cover, he looks cool but you can't tell what his ethnicity is. It worked out, he looks great, it was a great moment, but there's a little underbelly to it that's not as wonderful.
Indeed. Black Panther's costume is the way it is, because Marvel had to consider the feelings and reactions of racists – whether that be printers, distributors, retailers or readers. To whom, the front page promotion of a black superhero standing alongside white superheroes – and getting star billing – was unacceptable. On the cover at least.
This came to mind when I found myself arguing with certain comic book speculators over the appearance of DNA in the comic book Red Hood: Outlaw #37, a non-binary superhero character, with people saying they were fed up of comics featuring characters like that, and why did that aspect even have to be mentioned in the comic book. Maybe, Tom, it's not that impossible to think about it these days.
By the way, this is (I think) DC's third specifically stated non-binary character. Out of about 10,000. Red Hood Outlaw #37 is currently selling anywhere from $10 to $23. Fantastic Four #52 in 8.0 sells for over $3000. Time has a pattern of sorting this kind of thing out.