Blackberry Vs Marvel Comics Over Jarvis Trademark
Personal digital assistant manufacturers Blackberry have been trying to trademark the word 'Jarvis' for their cybersecurity software for cars. They are registering its use for the following services.
'Design and development of computer software; Platform as a service (PAAS) and Software as a service (SAAS) services featuring software and software platform for use in performing vulnerability assessment and penetration testing; providing temporary use of on-line non- downloadable computer software for endpoint security, malware analysis, vulnerability testing, penetration testing, and vulnerability assessment'.
And from their website, they use the trademark notation, saying,
BlackBerry® Jarvis™ is a transformational, binary static application security testing (SAST) platform that can help automakers and other embedded developers secure their software supply chains. Through cutting-edge system exploration technology, BlackBerry Jarvis inspects compiled software in an easy, quick, scalable and cost-effective way, and delivers deep insights into security vulnerabilities and craftsmanship of deployed software.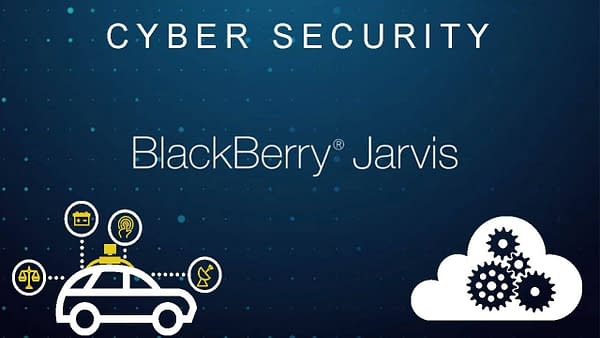 While the news has been reported, thus:
Phone maker, Blackberry Ltd. has developed a cybersecurity software, Jarvis, for self-driving cars. Sharing the same name as the A.I. developed by Marvel's Tony Stark, also the Iron Man, Blackberry's Jarvis is also an advanced security software for the much-arguable self-driven cars.
Well, that got the attention of Marvel lawyers, who are now opposing this registration. Jarvis was originally the name of Iron Man's butler and became part of the family at the Avengers Mansion. He was used as the name of the English-accented AI by Tony Stark in the Iron Man films, and it was revealed to be based on the Stark family butler in the Agent Carter TV series with the character, played by Paul Bettany, transformed into The Vision for Avengers; Age Of Ultron. And they'd rather like to keep the use of the trademark. Marvel already has the trademark registered for 'Computer application software that may be downloaded via global computer networks and electronic communication networks for use in connection with mobile computers, mobile phones, and tablet computers, namely, software for use as a voice-controlled personal digital assistant.' and claim it was first used commercially be them in 2013.
Also, just for good measure, the company Nimbix is challenging Blackberry, citing their own similarly titled and trademarked service,
JARVICE™ is the high performance cloud platform built for true accelerated computing. Built from the ground up for today's most demanding workflows, it delivers superior performance, capabilities, and ease of use – whether enabling simulation, cognitive, life sciences, or other applications. Code runs faster on JARVICE thanks to Nimbix's innovative, patented Reconfigurable Cloud Computing, which runs containers on baremetal instead of virtual machines, eliminating the "hypervisor tax" that plagues other public clouds and datacenter infrastructures.
Will we have a three-way battle over this particular trademark?